Konica Minolta Planetarium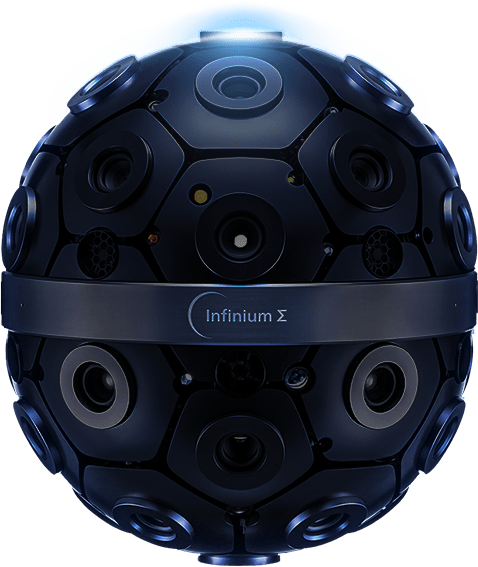 01
Konica Minolta Theaters
Konica Minolta Planetarium is the only planetarium manufacturer to operate direct management theaters. Having successfully operated 2 planetarium theaters in Tokyo, we utilize our vast combined management expertise to greatly enhance visitor attendance.
Presenting spectacular star shows and highest-quality content projection are the primary function of the planetariums, but are not the their only use.
Since our managed theaters are singularly unique spaces, we can offer our customers a multitude of exciting possibilities, including children's space events, live music events, corporate public relations activities, birthday celebrations – even marriage proposals under the stars!
02
Achievements
Each year, a total of 800,000 people visits the two Konica Minolta Planetarium Theaters,
"MANTEN" and "TENKU", in Tokyo. This is 10% of the 8 million overall planetarium visitors in Japan.
These impressive numbers are the result of our ongoing mission to improve and maintain facility attractiveness
for the patrons of these two theaters.
Unrivaled management skills of the Konica Minolta Planetarium Theater team is the key
to creating uncommonly special spaces that continually attract visitors.
The fruit of our efforts not only meets our customer's expectations,
it exceeds them. We are confident that we will exceed your expectations, too!
"MANTEN" and "TENKU" are operated by
Konica Minolta Planetarium
(approx. 350 planetariums in Japan)

visit Konica Minolta
Planetarium Theaters,
"MANTEN" and "TENKU", annually.

from Japan have visited
"MANTEN" and "TENKU".
(Total 8 million visitors in Japan)
Case Study / Fukuoka City Science Museum
In its first 6 months since first opening in October 2017, over 150,000 people of all ages have visited the "DOME THEATER", located within the Fukuoka City Science Museum. Combining this advanced facility, continual improvement, educational programming and Konica Minolta's track record of theater management proficiency, we have exceeded our attendance forecasts. We also collaborate with popular musicians to create numerous original entertainment programs. The "DOME THEATER" experience is so beloved by the citizens of Fukuoka Prefecture that many local visitors return time after time.
Dome Spec : 25m, horizontal, 220 seats
Projection System : Gemini Star Σ Fukuoka
(Infinium Σ + Media Globe Σ.8KTE-W)
03
Today, Konica Minolta Planetarium continues to research optical technology as it has for over 60 years.
We incorporate our planetarium products and programming into our direct management theaters.
This gives us the ability to stir the imagination of each planetarium audience.
The short movie, "Imagination In A Bottle", speaks conceptually to
Konica Minolta Planetarium's methodology and introduces you to our state-of-the-art product line up.
04
Advantage
In designing or renovating your planetarium,
the location of the projector to be installed is always a key consideration.
Bottom line? Konica Minolta Planetarium systems always display precise,
highly-accurate images without degrading appearance of your "space".

05
One-stop Service
Konica Minolta Planetarium is your complete Planetarium provider.
We offer one-stop services and turnkey solutions in order to respond to the needs of individual customers,
while taking the diverse characteristics of each customer's facility into consideration.
R & D
MANUFACTURING

Product Design
Development
Improvements

SALES &
INSTALLATION

Consultation
Installation
Ongoing Support

CONTENT
PROVIDER

Content Design
Production
Distribution

MAINTENANCE

System Repair
Updates
Upgrades

THEATER
MANAGEMENT

Facility Improvement
Program Support
Management Expertise
"MANTEN" combines enchanting programming and pleasant aromas
that beckon visitors to delight in a completely new
and unique experience that transcends the traditional planetarium!
Another special feature of "MANTEN" is the original Cloud and Lawn seating.
Audiences gaze upon majestic starfields as they lay on these comfortable
and relaxing seats.
Healing and fragrant aromas, calm narration, astonishing images and music. It was completely different from any planetarium experience I have had in the past.
The theater is always clean and the staff's hospitality and assistance is very good. I enjoy it every time I visit.
Survey results Nov-Dec, 2017
"TENKU" is unparalleled in both audio and visual performance.
The newly-installed 3D SOUND DOME® audio system offers
an unprecedented acoustic environment where music,
imagery and narrations come to life as never before!
A total of 43 speakers and 4 subwoofers are strategically placed
within the domed theatre and delivers an entirely new level of refinement
to the movement of sound - a truly immersive experience!
The effect of stereoscopic stars cascading down from above is breathtaking. The beauty of the starry sky moved me to tears.
All the images, music and narration were wonderful and healed my mind so I could forget daily life for a little while.
Nothing like the movies. My favorite part of the planetarium is that it allows me to imagine a peaceful world and feel the beauty of the universe without any need for words.
Survey results Nov-Dec, 2017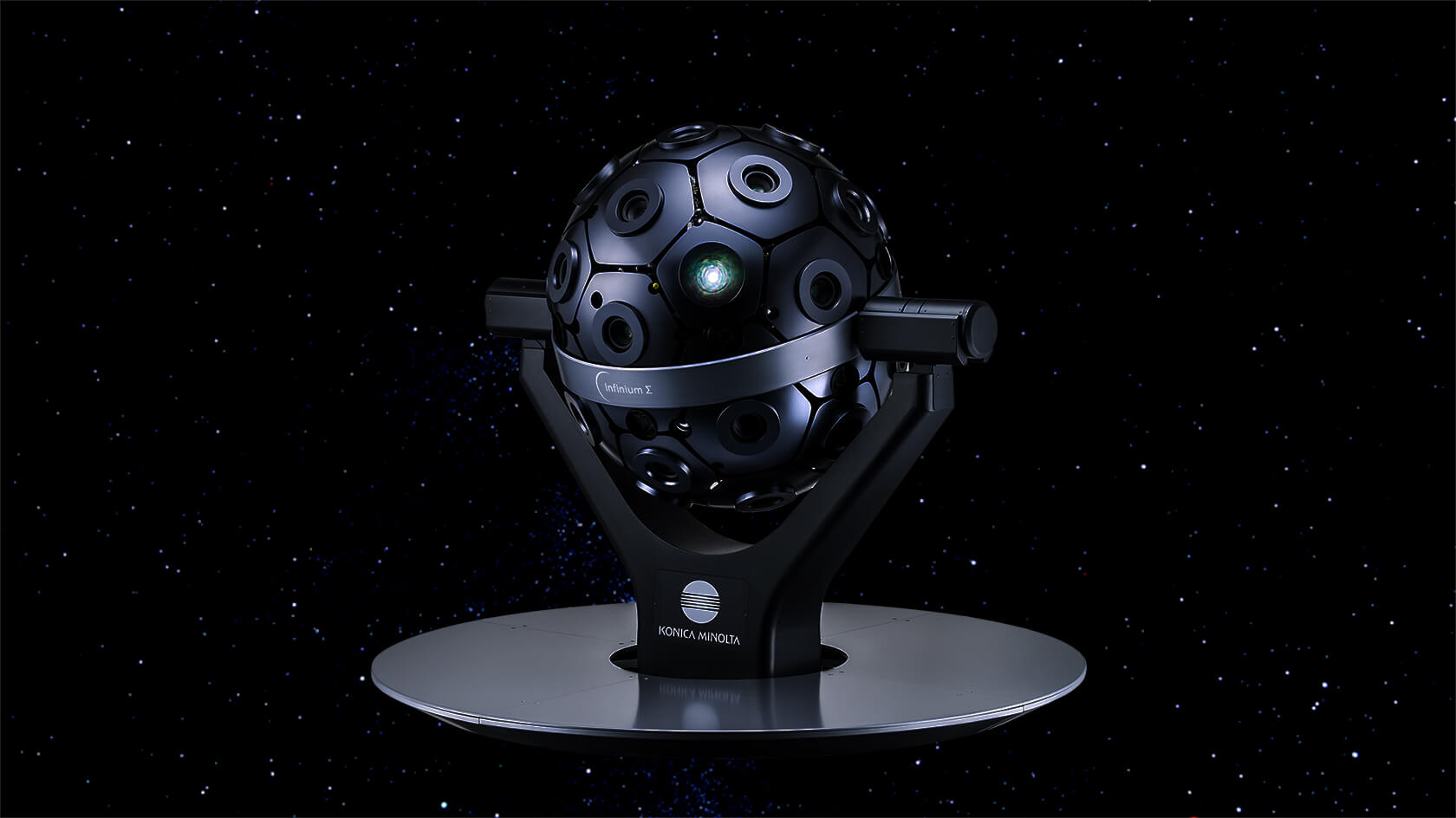 Infinium Σ wins the 2017 Good Design Award!
Konica Minolta's flagship optical planetarium is designed precisely to reproduce
a breathtaking night sky.
Infinium Σ is characterized by a star ball (star projector) with an exterior that
marries innovative design principles with exceptional artistic beauty that
the audience will notice the moment they enter the theater!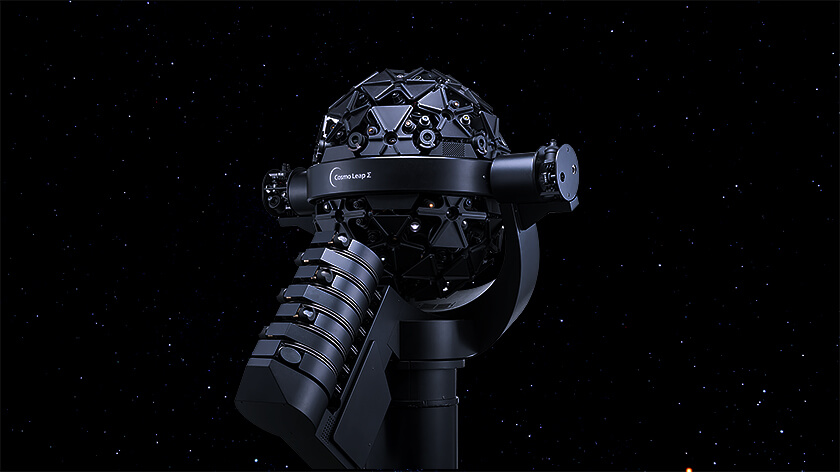 Cosmo Leap Σ is an extremely compact,
yet incredibly quiet optical planetarium that creates an exotic,
star-filled sky in your facility. Movement of the Cosmo Leap Σ is barely audible.
Sound during operation measures at approximately 41 dB;
essentially no different than sitting in a library.
Cosmo Leap Σ will never disturb the audience while in operation.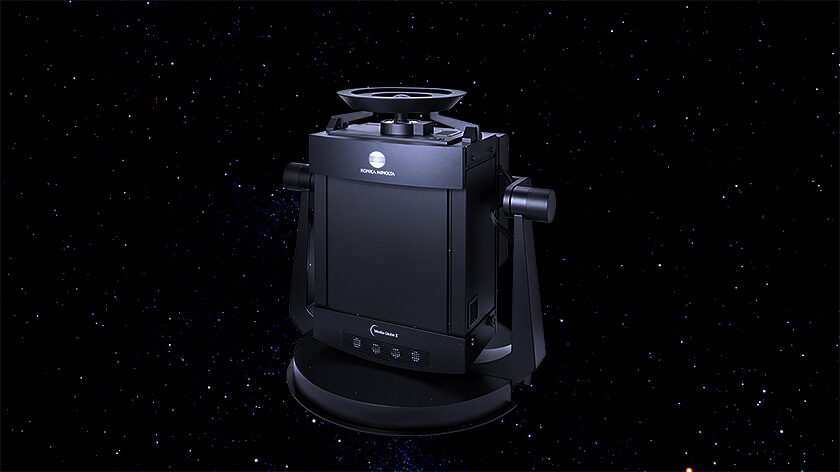 Media Globe Σ beautifully displays the most recent scientific
and artistic visualizations in astronomy, space travel, earth & space sciences,
climatology and other STEM-related disciplines.
Its easy-to-use playback function can project virtually any full dome show and creating
your own live-action content has never been easier!
Media Globe Σ is also perfect for entertainment production,
projection mapping and space mapping at events.