Message from the President
We strive to earn social support and be a company that is vital to society by creating value that contributes to people's lives.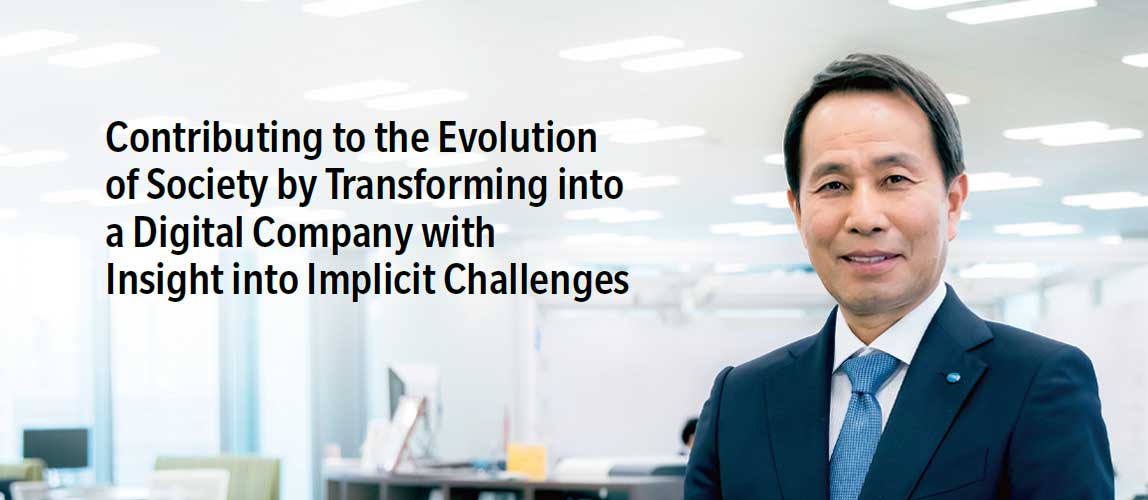 Continuing to Embrace the Challenge of Creating Value That Contributes to Society
Technological innovation and globalization are spurring "creative destruction" worldwide. In this era, we believe it is crucial that our business helps provide solutions to social issues so that we can achieve our management vision of making Konica Minolta a global company that is vital to society. By using the core technology and expertise that we have built up throughout our history to produce products and services that help to resolve society's issues, I believe that we can achieve sustainable growth as a company that society can depend on.
In line with this belief, our Medium-Term Business Plan, TRANSFORM 2016, aims to create value that contributes to society. It is driven by two aspirations: resolving global environmental problems and contributing to a better quality of life for people everywhere.
Leading the Way in Environmental Management by Striving to Reduce Global Environmental Impact
Addressing environmental problems such as climate change is a pressing issue for the global community. Konica Minolta established Eco Vision 2050, a long-term environmental plan that aims to reduce CO2 emissions by 80% over the product life cycle compared to fiscal 2005. Reducing the environmental impact of CO2 emissions and use of resources helps to realize a sustainable society and also creates economic value as a result of cost savings. This awareness lies behind Konica Minolta's commitment to initiatives that raise corporate value by both creating environmental value and enhancing business value. For example, given the importance of the sustainable use of resources, we developed our own upgraded recycling technology that recycles milk bottles to produce toner bottles for multi-functional peripherals (MFPs). This is both an effective use of resources and a way of reducing material procurement costs.
In addition, we share the environmental expertise we have gained through experience with customers and suppliers, thereby making a greater impact through collaboration. By sharing our knowledge with customers and suppliers, our initiatives and efforts expand beyond the walls of our company, and have a much greater effect in reducing environmental impact.
We aim to achieve business growth and contribute to the environment by expanding our activities globally.
Building a Problem-Solving Company That Improves the Quality of Life
Technological innovations such as the Internet of Things, artificial intelligence, and robots are not just solutions for our customers' problems; they also have the possibility to solve social issues. At Konica Minolta, we are working to become a problem-solving digital company that generates solutions for social issues by proactively integrating these cutting-edge technologies with our area of expertise, digital input/output technology.
Konica Minolta's strength in this area is our ability to transform the workflow of people working in offices and other facilities across a wide variety of industries and sectors. One example is our Care Support Solutions, integrating sensing technology with information and communication technology (ICT). This system focuses on nursing homes, which are experiencing staff shortages as populations are aging. We have begun to expand this solution, which was developed to improve the operational efficiency of nursing staff.
I am confident that we will achieve business growth while enhancing quality of life by creating and offering this kind of high value-added solutions business.
Emphasizing Diversity in Management
Our world currently faces a wide range of challenges, and social values and needs are diversifying. This means that we need to incorporate a broad range of sensibilities into our business activities in order to create value that contributes to society quickly and continually.
For this reason, the entire Group is working together to create a system and culture that makes the most of diverse human resources, providing opportunity to talented individuals regardless of nationality, culture, race, religion, gender, age and area of expertise. As president, I will be sincere in my efforts to utilize human resources from countries and regions all over the world, train a global staff with broad perspectives, and foster an environment where women can perform to their full potential. I believe this will lead to innovation and growth born from diverse ideas.
Bringing Together the Group's Strengths and Meeting Responsibilities to the Global Community
Konica Minolta is a signatory to the United Nation Global Compact (UNGC). By signing the UNGC, we have demonstrated our resolve to fulfill our social responsibilities in a wide range of areas, and to pursue CSR activities in line with the UNGC principles. In recent years, companies have been called on to be more proactive to help resolve social issues. The Sustainable Development Goals (SDGs), adopted by the United Nations in September 2015, exemplify this.
Konica Minolta has reviewed a broad range of social issues and designated six material issues that we aim to tackle with priority. All 40,000 of our Group employees around the world will work together as one to address these key issues in order to achieve sustainable growth while contributing to society.
I invite you to look forward to what Konica Minolta will achieve in the future.
Shoei Yamana
President and CEO
Konica Minolta, Inc.