Message from the President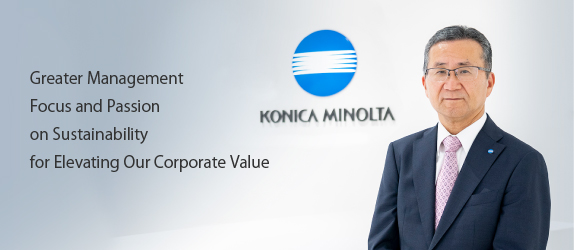 Redefining the risks and opportunities facing our company as society is dramatically changed by COVID-19
COVID-19 has had a major impact on societies and economies around the world, greatly accelerating changes to our values and the way we work and live, and has had a great impact on the business of the Konica Minolta Group. This year has seen the Group face many new risks and opportunities due to such changes to society and human behavior.
Such risks include an acceleration in the decline of print volumes due to the reduced numbers of employees commuting to an office caused by the expansion and normalization of working from home. This is a structural change that we were expecting to happen gradually, but COVID-19 has certainly accelerated such change. The cancelation of events and closing of stores has led to a drastic decline in demand for commercial printing.
On the other hand, COVID-19 has accelerated behavioral changes in the way we live and work, which can be expressed by keywords such as individualization/decentralization and remote /non-contact services, and has led to demand for safety, security, and health. I believe that such changes to society provide us with a new business opportunity. For example, the popularization of working from home has increased the importance of information security. This has led to various customers asking us for proposals on workflow reforms that utilize the advanced security technologies and digitalization of the Company, and our solutions have been well received. Various workplaces have also been investigating methods for avoiding infection and ensuring social distancing, and this has led to many inquiries about projects such as temperature screening services via image diagnosis, remote medical care at hospitals, and services for automating the inspection process at factories. With COVID-19 also increasing consumer interest in health, I feel that demand for services that support personalized medical care and early diagnosis will certainly grow.
We have been promoting the three-year DX2022 medium-term business plan since fiscal 2020, and the fundamental objectives of DX2022 are to "leap to highly profitable businesses through DX" and to "evolve into a company clearly committed to solving social issues." Viewing the social changes being prompted by COVID-19 as an opportunity, we seek to establish high-profit businesses that contribute to solving social issues.
Placing sustainability at the foundation of management strategy to improve our medium to long-term corporate value
To formulate DX2022, we held deep discussions on what we want society to be like a decade from now in the year 2030, and what environmental/social issues we will need to solve in order to achieve that vision. As the world moves toward an autonomous distributed society that develops sustainably, we have redefined our purpose as contributing to "Support people to achieve their own purpose" and "Realize a sustainable society."
This is the stance that has been at the foundation of our management strategy since the merger between Konica and Minolta in 2003, and since being appointed President, I have focused management based on my belief that contributing to the realization of a sustainable society where everyone can live with a purpose is the only way to achieve the sustainable growth of the Company. This idea has carried over to our employees and we are seeing more and more voluntary initiatives, such as projects for solving social issues that were proposed and started by young employees. I find it extremely encouraging that we have such human resources that truly want to improve the world.
In fiscal 2020, we clarified our five material issues for contributing to solving social issues via our business activities as " Improving fulfillment in work and corporate dynamism ," " Supporting healthy, high-quality living," "Ensuring social safety and security," "Addressing climate change," and "Using limited resources effectively." In regard to climate change in particular, we have worked toward long-term goals since establishing the Eco Vision 2050 long-term environment plan in 2009. In fiscal 2020, we pushed forward our timeline for achieving Carbon Minus status to the ambitious target of 2030. We aim to increase the amount that we can contribute to reducing CO2 emissions at client companies and business partners compared to our own CO2 emissions, by sharing our expertise and knowledge on environmental management in order to reduce the environmental impact of the entire value chain. As for to material issues not related to the environment, we will continue to quantify the social and economic impact that our business activities have, and set specific KPIs to accelerate our initiatives.
Guided by our philosophy—"The Creation of New Value," we will continue to create environmental/social value and economic value via all kinds of business activities. We will also contribute to a sustainable society as a company clearly committed to solving social issues, while simultaneously improving our medium to long-term corporate value, and I hope for the continued support of all of our stakeholders.

Shoei Yamana
President and CEO, Representative Executive Officer
Konica Minolta, Inc.
August 2021