Message from the President
Continually Creating New Value to Contribute to the Evolution of Business and Society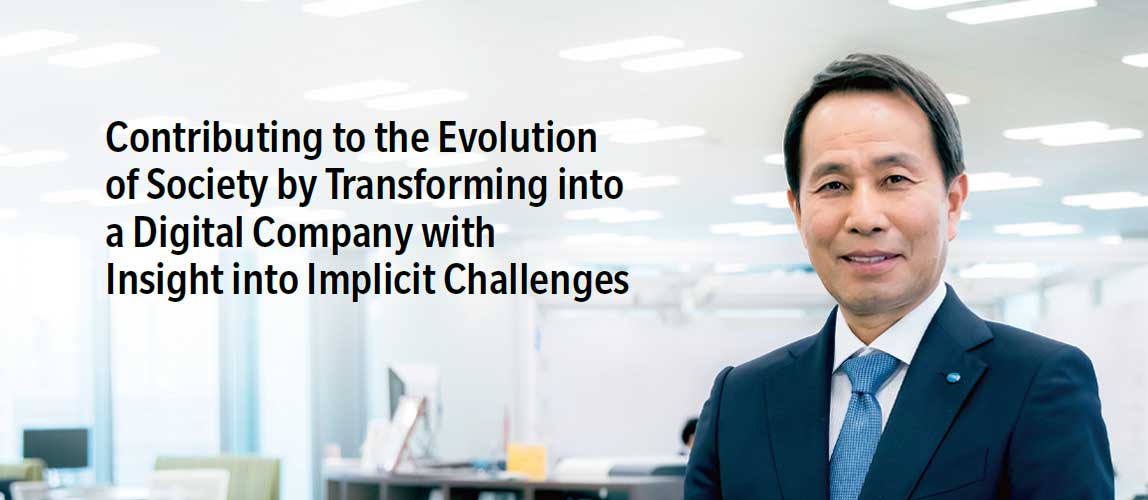 Being a Digital Company with Insight into Implicit Challenges to Support the Transformation of Corporate Clients
As our global society continues to evolve rapidly, companies must offer more innovation than ever before. This innovation should express the innate creativity of humankind while improving the overall quality of society. Today's companies are also expected to take action to address wide-ranging social issues, such as those specified in the Sustainable Development Goals (SDGs) adopted at the United Nations Sustainable Development Summit in September 2015.
Beginning in fiscal 2017, Konica Minolta enters into a new medium-term business plan, SHINKA 2019, with the aim of continuing to be a company that creates new value. SHINKA (which means "evolution" in Japanese) is a concept that embodies our strong commitment to supporting customer business transformation and creating new value that fosters the ongoing evolution of business and society.
Under this plan, we are working to evolve continuously into a digital company that provides solutions with insight into implicit challenges facing society. We are aiming to help our customers address not only their current concerns but also issues they have not yet identified. Working closely with customers, we want to continue to find sustainable solutions by leveraging innovative technologies such as AI, robotics and IoT, in addition to the digital technologies we have developed over many years.
Konica Minolta has evolved into a company that offers cutting-edge, customer-centric products and services. Moving forward, we will continue to contribute to both our customers and the global society by providing support for client transformation via identification of diverse issues for our two million corporate customers worldwide.
Aiming to be an ESG Leader and Improve Corporate Value over the Medium and Long Term
In recent years, commitment to environmental, social, and governance (ESG) programs has become increasingly important as a non-financial measure of a company's value. Rather than passively addressing risks in the ESG areas, Konica Minolta is taking action to become a global ESG leader. To that end, we identified six material issues last year.
In particular, we are focused on promoting environmental sustainability and mitigating climate change, which are urgent challenges for the international community. In order to contribute to the creation of a sustainable society by managing our environmental impact, we have established Eco Vision 2050, a set of long-term environmental objectives. Under Eco Vision 2050, we are taking actions to solve environmental problems while also driving corporate growth. In fiscal 2017, we set a new, more ambitious goal of achieving Carbon Minus status. This involves collaborating with various stakeholders including suppliers, customers, and local communities to facilitate broad-based CO2 emissions reductions that exceed Konica Minolta's own CO2 emissions by 2050. Through these efforts, we aim to make an impact beyond the reach of just one company.
We also focus on social innovation by developing new businesses that contribute to social challenges. The areas where we can use our resources and expertise for the greater good include: enhancing nursing and primary care in aging societies, helping to develop personalized cancer medicine in the field of bio-healthcare, reforming work styles and improving productivity and creativity in offices, generating manufacturing innovation at production sites, and developing new business models in distribution and retailing.
By tackling these issues, we intend to strengthen our competitiveness as a global company. As a signatory of the United Nations Global Compact, these efforts will also help us contribute to the achievement of the SDGs and help build a more sustainable world.
Encouraging Human Resources to Pursue Transformation So They Can Resolve Issues for Customers and Society
At Konica Minolta, we strive to be the consistent choice of our customers by being a reliable partner. We work closely with customers to support their transformation by tackling issues, even where solutions are not yet clear. I believe this approach leads to both business and social evolution, while also helping to solve various problems faced by society.
To continually create value for society, it is necessary for Konica Minolta Group employees to work together and fulfill their respective missions to the best of their abilities. I believe that the key to evolving into a digital company with insight into implicit challenges lies in offering transformation opportunities to our own employees.
Accordingly, we will continue to develop an environment where diverse employees can demonstrate their potential and creativity, regardless of nationality, gender or age. To achieve this, we will promote employee diversity, health management, work style reform, career advancement programs, and other measures involving reform of organizational structures and corporate culture.
I am confident that our employees worldwide can enable Konica Minolta to fulfill even greater social responsibilities as they combine their strengths with determination and cooperate with people in and outside of their organizations. With operations in more than 150 countries, we aim to be a global corporate group that is trusted and supported by the international community. I invite you to expect even more from Konica Minolta.
Shoei Yamana
President and CEO
Konica Minolta, Inc.