Konica Minolta Holdings, Inc.
Konica Minolta Photo Imaging, Inc.
Konica Minolta Camera, Inc.
February 13, 2004
Konica Minolta Photo Imaging and Konica Minolta Camera
Unify Brand under "Konica Minolta" for New Film and Cameras
Konica Minolta Photo Imaging, Inc. (president: Hideaki Iwama) and Konica Minolta Camera, Inc. (president: Hiroshi Fujii) announce unification of a brand under "Konica Minolta", in principle, for the upcoming new products of the both companies.
[ New Konica Minolta logo ]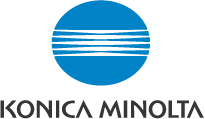 Konica Minolta Group was formed in 2003 as a new corporate group through the management integration and the following reorganization. Konica Minolta Photo Imaging and Konica Minolta Camera have continued to use familiar Konica brand for color film and paper and Minolta brand for cameras after the reorganization in October to avoid confusion among customers, who have long favored our respective products.
On the other hand, we have heard from many of our customers that we should unify our brand to strengthen our brand image to maximize synergy effects of the total Konica Minolta Group. Furthermore, digitization and networking is accelerating in the field of imaging we are involved in. For the corporate group widely operating not only in the photographic materials and camera industries but also in the office equipment such as digital multi-functional machines and printers, we came to the conclusion that we could provide more reliable products and services to customers and consumers through operating under one brand. We, therefore, decided to introduce new products, in principle, under the unified brand, "Konica Minolta" from now on.
Both Konica Minolta Photo Imaging and Konica Minolta Camera aim to firmly establish "Konica Minolta" brand through this brand unification and provision of convenient and versatile solutions and products -- from input to output -- for customers.
Our symbol logo represents the new value it offers to customers, an expression of the trust and security, and an expression of precision and quality in the technologies and products created by Konica Minolta. We will make efforts in creating and providing products symbolized by Konica Minolta logo to customers around the world.
Cautionary Statement Regarding Forward-Looking Statements:
This press release includes forward-looking statements that reflect the plans and expectations of Konica Minolta Holdings, Inc. To the extent that statements in this press release do not relate to historical or current facts, they constitute forward-looking statements. The forward-looking statements are based on the current assumptions and beliefs of Konica Minolta Holdings, Inc. in light of the information available to it, and involve known and unknown risks and uncertainties. Potential risks and uncertainties include, but are not limited to, the ability of Konica Minolta Holdings, Inc. to integrate the operations of Konica Corporation and Minolta Co., Ltd. effectively, as well as the factors identified under "Forward-Looking Statements" of the Annual Report 2002 of Konica Corporation and "Disclaimer Regarding Forward-Looking Statements" of the Annual Report 2002 of Minolta Co., Ltd. Such risks, uncertainties and other factors may cause the actual results, performance or financial position of Konica Minolta Holdings, Inc. to differ materially from those expressed or implied in the forward-looking statements. Konica Minolta Holdings, Inc. undertakes no obligation to update publicly any forward-looking statements after the date of this press release.