May 14, 2008
Konica Minolta Launches a High Resolution Monochrome Inkjet Print Unit for Fine Characters and Barcodes
Tokyo (May 14, 2008) -- Konica Minolta IJ Technologies, Inc. (Konica Minolta) is proud to announce that it will introduce SP-M0320HR, a high resolution monochrome inkjet print unit for over-printing barcodes and variable numbering on May 15, 2008.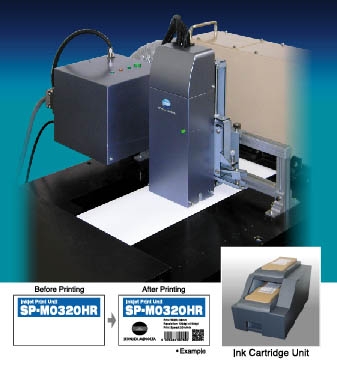 The new SP-M0320HR is the second product in the inkjet print unit series introduced last year, featuring printing of fine characters and barcodes, which was difficult to reproduce previously. The SP-M0320HR consists of three units – a printhead unit, a sub-tank unit, and an ink cartridge unit – and its compact design allows each unit to be located flexibly according to the space availability.
The print unit is designed to be used with the Konica Minolta's new cationic UV ink, and possible to print over various media including coated paper, uncoated paper and PET film. Compared with conventional UV inks, it is easier to handle and environmentally sound – safer and emits far less odor.
Thanks to the single pass printing method, a practical print speed of 20m per minute has been achieved and ensures efficient productivity. In addition, the maintenance necessary for the inkjet printing unit can be easily carried out just by following the instructions on the computer screen.
The printhead unit, employed for the SP-M0320HR is KM512, a shear-mode piezo on-demand inkjet printhead that has won acceptance in the industrial market. Since piezo on-demand inkjet ejects ink drops by deformation of ink chambers by applying electric fields and requires no heat, it allows lower power consumption. Thus, it is considered to be an environmental conscious technology.
As inkjet is characterized by noncontact plate-less printing, it is able to print on various materials including uneven or three-dimensional surfaces, and is able to flexibly print on diverse media in small quantities, to shorten delivery time and to enable variable printing.
The 720dpi high resolution capability precisely reproduces even fine letters and small barcodes
Boasts a print speed of 20m per minute at print width of 36mm
Employs cationic UV ink (black) having a higher level of safety and lower odor emission
Inkjet allows to print on diverse media in small quantities, and meet the needs of variable printing
Compact design in three units allows flexible layout according to the space availability
Konica Minolta, on the basis of its unique material and nano-fabrication technologies, offers high quality inkjet printheads and multi-function inks for industrial inkjet applications. The launching of the SP-M0320HR will further expand the application of industrial use inkjet technology in the field of label printing.
Specifications of SP-M0320HR
Print method
Single pass inkjet printing
Resolution
Media width direction: 720dpi
Print direction: 360, 540, 720 (default), 900, 1080dpi
Print width
36mm
Print speed
20m/min (720dpi)
Application Media
Coated paper, uncoated paper, films (PET, etc.)
Ink
Konica Minolta cationic ink (black)
Ink cartridge
1 litre / 2packs (one for back up)
Ink supply system
Automatic switching between two lines
Head maintenance
Pressure purge, manual wiping, manual capping
PC interface
USB 2.0 Hi-speed
Power supply
AC100 – 240V/240W
Power consumption
Idling: 130W or less
Printing: 170W or less
Bundle software
Hydra Label Designer, Hydra Print Control
Printer control software (Japanese/ English respectively)
Operating system
Windows Vista (Japanese/ English)
Operational environment
Temperature: 15 - 28 deg. C
Humidity: 30 – 75% (no condensation)
Size (W × D × H [mm])
Printhead unit: 104.4 × 79.8 × 298.8
Sub-tank unit: 195.8 × 181.2 × 215
Ink cartridge unit: 288.5 × 693 × 311.6
Packaged items
Wiping unit, Head cap/ Drain ink pan
*

Above specifications may be changed without prior notice.