Jun 16, 2008
Konica Minolta Opens a New European Distribution Center for its Office Equipment
Tokyo (June 16, 2008) -- Konica Minolta Business Solutions Europe GmbH, headquartered in Langenhagen, Germany (KMBEU), the European sales subsidiary of Konica Minolta Business Technologies, Inc. (Konica Minolta), will open a new distribution center in Emmerich, Germany, by integrating its existing distribution centers in Germany and Belgium.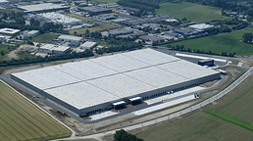 Since 2007, KMBEU has been implementing a project to study the feasibility of building a supply chain to ensure more prompt and flexible provision of various office solutions with Konica Minolta's office equipment to dealers, business partners and customers in the ever-growing European market.
For Konica Minolta, the opening of a new distribution center means more than mere integration of the existing distribution centers. More importantly, it is a step toward our goal of establishing a supply chain network in Europe that will better serve our customers, by enhancing our ability to offer more accurate ATP information more promptly and to deliver products directly to our customers.
Operation of the new distribution center will be undertaken by BLG in.add.out. Logistics GmbH, headquartered in Bremen, Germany (BLG), under contract with KMBEU, and will start from July 2008 on a phased basis. In the future, all of Konica Minolta's office equipment, including bizhub, magicolor and PagePro series, will be stored in and shipped from this new distribution center.
The new distribution center is housed in a building owned by BLG, covering an area of 60,000 m2, and boasts both excellent access to and from the highway network and proximity to an inland port that is conveniently linked to Rotterdam, the largest port in Europe, via the Rhine River. These geographical advantages allow us to expand the areas in which next-day delivery is guaranteed in the U.K., Germany, France and other major markets in Europe, and also to transport containers from the trade port to the new distribution center around the clock. In addition, introduction of the latest warehouse management system will result in drastic reduction of the lead time from order receipt to shipment, and enable us to ship more than 80% of orders on the day of receipt, if orders are received before the specified time and shipped directly to customers.
The new distribution center also contributes to reducing the total transport distance to customers, and is thus expected to curtail freight charges by about 10%.
As described above, the opening of the new distribution center aims not only to integrate the existing distribution centers but also to serve as a core facility of Konica Minolta's European supply chain system, to ensure more prompt and flexible provision of services to our dealers, business partners and customers, and to reduce distribution costs.
We at Konica Minolta remain committed to enhancing our ability to ensure more effective and stable distribution of our office equipment, and to further developing our office equipment business in the ever-growing European market.
| | |
| --- | --- |
| Name | European Distribution Centre Emmerich |
| Location | Budberger str. 2, Emmerich am Rhein, Germany |
| Established | May, 2008 |
| Start of operation | July, 2008 |
| Business | Warehousing, storage (bonded), and customs clearance of MFPs, printers, optional equipment and consumable supplies, as well as OEM branding and product setup before installation at customer sites |
| Warehouse space | 60,000m2 |