Konica Minolta Launches New 72mm-Wide Inkjet Print Head for Industrial Use, Reducing Energy Consumption by 50%*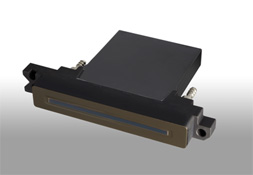 Tokyo (November 4, 2009) -- Konica Minolta IJ Technologies, Inc. today announced the introduction of 72-mm wide KM1024 series inkjet print head for industrial use with 1024 nozzles in the middle of November. Compared with the conventional inkjet head, it greatly reduced the energy consumption, thus making it environmentally sound product.
The new KM1024 is cutting-edge piezo on-demand print head developed by Konica Minolta to meet industrial needs for higher printing quality. It is characterized by its 1,024 nozzles as well as its 72mm-wide print head, which means that it has twice the number of nozzles and is double the width of the KM512 series inkjet print head that has been chosen by many industrial customers. The characteristics of the new KM1024 print head make it an ideal choice for print systems that require higher productivity, such as single-pass inkjet printers.
By incorporating a newly developed lower capacitance actuators, KM1024 reduced power consumption by 50% compared with the conventional KM512, making it more environmentally sound. Another new technology is the development of IC, enabling printing in eight grayscale levels, and thus better satisfies the needs of customers for higher-resolution print images. In addition, the thin body of the print head enables simple and compact design of head mount systems when mounting a number of print heads into a printer. To cater to a wider range of industrial needs and for greater ink compatibility, the new print head is offered in two versions: with or without a heater.
*

In comparison with the energy consumption per nozzle of the conventional KM512 series.
Adoption of 1,024 nozzles and the 72mm-wide print head has resulted in a drastic increase in productivity.
The newly developed lower capacitance actuators reduce energy consumption by 50% compared with the per nozzle energy consumption of the KM512 series.
The new IC is capable of reproducing 360dpi x 360dpi images in maximum of eight grayscale levels, delivering rich color tones and high resolution.
The thin print head, which measures 131mm (W) x 18mm (D) x 89mm (H) and weighs only 140g, enables compact design of head mount systems and print systems.
To better serve industrial needs, a print head with a heater is also available. Solvent, oil and UV inks can be used.
Konica Minolta's inkjet business continues to offer to industrial inkjet printer users high-performance inkjet print heads, multi-functional inks, and related equipment and systems -- all incorporating its proprietary material and precision processing technologies. With the introduction of the KM1024 series inkjet print head, Konica Minolta aims to broaden the applications of its industrial inkjet printer technology.