Konica Minolta Contributes to CO2 Cut Down by Installing Photovoltaic
System to the Belgian Subsidiary
Tokyo (March 30, 2010) – Konica Minolta Business Solutions (Belgium) N.V./S.A. (Konica Minolta Belgium) located in Zaventem, Belgium, the Belgian office equipment sales subsidiary of Konica Minolta Business Technologies, Inc. (Konica Minolta BT), has installed a photovoltaic power generation system to its office buildings.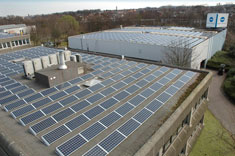 The EU countries are aggressively promoting introduction of the environmentally sound solar and wind power generations. Among the EU countries, the Belgian government recently adopted photovoltaic promotion measures, so that even though the total area is merely about 30,000 kilo square meters, the total photovoltaic capacity is fifth and per capita is forth within EU.
In Flanders region, where Konica Minolta Belgium is located, regional government agency is also actively promoting measures to increase photovoltaics such as establishing Green Certificate. Konica Minolta Belgium has also been certified as an enterprise generating renewable energy source – solar power. The company will be able to sell solar energy generated on holidays and contribute to the penetration of the natural energy.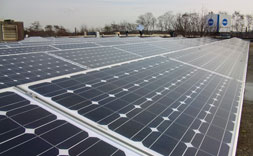 The newly installed photovoltaic system is the first among the office equipment companies within Belgium. The system mounted fully onto the flat roof top annually generates 115 Megawatt-hour, which contributes to decrease in CO2 emission by 46 tons per year. This is equivalent to 25 per cent of all the energy demand of the company's office buildings, and the new showroom, demonstrating the digital multi-functional peripherals featuring state-of-the-art energy conservation technologies, will be solely operated by the photovoltaics.
Konica Minolta Group including Konica Minolta BT considers global environmental protection as backbone of the corporate management and is making efforts in reducing environmental impact from time to time. As the severity of environmental problems accelerates, it became essential to manage environmental issues from a long-term perspective. With this understanding, Konica Minolta formulated Eco Vision 2050 for a sustainable Earth and society as its goal, and Medium-Term Environmental Plan 2015 as a milestone marker toward the goals outlined in its Eco Vision 2050. In Eco Vision 2050, Konica Minolta set the target of reducing CO2 emissions by 80 percent from fiscal 2005 levels throughout products life cycles by 2050.
Konica Minolta BT will endeavor to further reduce environmental impacts by promoting environmental measures in all of its business activities -- development, production, marketing and sales.