Konica Minolta Contributes to Minimize Environmental Impact
with a New MFP for Emerging Markets
-- bizhub 184/164 Featuring Low Energy Consumption, Compact and Lightweight Design --
Tokyo (May 17, 2010) --Konica Minolta Business Technologies, Inc. (Konica Minolta) is pleased to announce that the company has started shipment of a new digital monochrome multi-functional peripherals (MFPs), bizhub 184/164, for emerging markets. As the latest in the bizhub series, it features superb environmental performance with the industry's top class*1 low energy- consumption.
All of Konica Minolta's products including MFPs always pursue global environmental consideration throughout the life cycle from research and development to procurement, production, distribution, sales, usage and recycling. In the case of bizhub 184/164, it overall contributes to the environmental conservation by achieving more than 50 percent reduction in energy consumption compared to the level set by the International Energy Star program.*2 It also features biomass-based polymerized toner, compact and lightweight design, and reduction of packaging materials.
Having excellent eco-functions and featuring Simitri HD polymerized toner with superior image quality, Konica Minolta will provide this feature-rich 3-in-1 model -- printing, copying and scanning -- to middle to small size offices in the emerging markets.
[Main features of the bizhub 184/164]
1. Industry's top class energy-saving performance
By significantly reducing energy consumption to minimize environmental impact, bizhub 184 realized a TEC value *3 of 1.01 kWh for bizhub184 and 0.92 kWh for bizhub164. Through minimizing the energy consumption, bizhub 184/164 contributes to reduction of CO2 emissions.
2. Resource- and space-saving compact and lightweight design
In pursuit of resource-saving, the light weight body of the bizhub 184/164 is merely 23.5kg. Compared to the conventional machine (bizhub 163), body size has been reduced by approximately 30 percent, number of parts by approximately 35 percent, and packaging material by approximately 40 percent.*4 In addition, with its compact footprint (width x depth: 570 x 531mm) having output paper tray within the main unit, bizhub 184/164 can be placed even on desktops.
3. Adoption of eco-conscious polymerized toner "Simitri HD with Biomass" *5
Konica Minolta is early to pay special attention to a polymerized toner (Simitri toner) with energy-saving manufacturing process, and started research and development of emulsion polymerization technology using biomass-based toner materials since 2000 when it began manufacturing. In terms of carbon neutral, the usage of biomass-based materials results in absorption of CO2 by photosynthesis contributing to environmental performance even during disposal. Thereby Konica Minolta`s Simitri HD with Biomass greatly reduces the total environmental impact throughout the life cycle from production to disposal.
4. Excellent functionality
By adopting polymerized toner with uniform and smaller particles that is used in high-end machines, the bizhub 184/164 sharply reproduces thin lines and small text. Together with printing, copying and scanning as standard functions, it can cut paper volumes by combining several pages into one sheet known as "N-in-1" copying. The bizhub 184/164 also features basic functions required in the middle to small size offices. The operation panel is simply designed and front access to the unit makes changing the toner cartridge and replenishing paper simple and convenient.
*1

Top class in Typical Electricity Consumption (TEC) value for A3 size monochrome MFP, 16-18ppm, as of April 2010

*2

Energy-consumption obtained using measurement methods defined by the international Energy Star program for 230V machine. Please refer to the graph below.

*3

Typical Electricity Consumption: Energy consumption values obtained using measurement methods defined by the International Energy Star program in a conceptual week. It is based on the assumption that average usage of MFPs in the office is five days of operation with sleep/off repeated, plus two days of sleep/off..

*4

Comparison by mass volume

*5

Biomass: Renewable biological organic materials except petrochemicals
Energy-saving design to significantly reduce energy consumption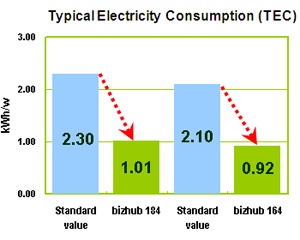 Space-saving compact design