Konica Minolta to Globalize Optimized Print Services.
Extended Initiative Manages Customers' Print and Document Environments to Reduce Costs and Drive Office Efficiencies Anywhere in the World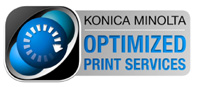 Tokyo (Sep 1, 2010) - Konica Minolta Business Technologies, Inc (Konica Minolta) announces that it will globally provide Optimized Print Services (OPS), the approach to optimize customers print and document environment.
Konica Minolta has been delivering OPS at regional level by focusing the markets of North America and Europe so far. To meet global enterprises satisfaction concerning asset management, transparency, cost reduction, and standardized processes within a company; Konica Minolta provides these former regional services now as global consistent services.
Last year, Konica Minolta set up a global OPS program with participants from Asia-Pacific, North America, and Europe. Focusing on service menus which are most frequently demanded by customers, Konica Minolta has unified tools and processes in place to deploy and deliver Optimized Print Services. Amongst others, Konica Minolta established several key services such as "Remote Management", a service to manage MFP and printer without geographic limitation on a high service level, and "Centralized Monitoring", a service to provide high transparency of the total fleet by monitoring service incidents, volumes and asset data for consolidated management reporting.
To close the loop, Konica Minoltas OPS program also provides the same services (consult, implement, manage) for business processes, security and financial aspects to offer customers a holistic solution design for cost reduction and improvement of productivity.
With its completion, Konica Minolta targets to acquire the business of 300 million USD(*1) in FY2012.
The global Konica Minolta OPS program is based on a three-pillared approach that encompasses the ability to Consult, Implement and Manage. It combines expert support with detailed individual optimization design and management for a smooth transition, not only to help companies install their optimal printing infrastructure, but also to penetrate it in the most efficient way. This results in continuous reduction in total cost of ownership (TCO), direct and indirect, to minimize risk and interference with daily business operations.
All improvements resulting from OPS Consult are based on defined consulting procedures and powerful analysis tools allowing customers to understand every single step on the way to a tailor-made solution.
Capture: Software-based identification of existing print assets, precise monitoring of the current utilization patterns and printing volumes. User interviews to detect specific document work-flows, individual needs and service-level demands.
Analyze: Precise TCO calculation with benchmarking against average market costs. Detailed analysis of needed and recommended print services to meet document-based business process requirements.
Optimize: Designing a print environment that fits each organization's business needs through analytics and visualization via comprehensive floor plans.
OPS is more than just installing a new print solution. It provides change management based on the customer requirements. This includes dedicated project management in accordance with recognized standards as well as support for appropriate involvement of stakeholders and users. Companies benefit from the strong direct organization and the experience of a market leader.
Project: Dedicated project management resources, organized and controlled processes from start to finish.
Change: Delivery of all products, licenses and consumables for a pre-determined and agreed upon testing period where Konica Minolta provides technical consulting and remote support. Rollout management where appropriate due to the size of the project.
Information and training: Provision of detailed documentation for users and administrators. Standard or tailor-made internal promotion material and events. Tailored training to key users and internal support staff.
After having tested and established the new print infrastructure, OPS offers a scalable portfolio of services to run and manage the fleet. Tailored to individual requirements, these can complement existing IT services or take over full operational responsibility.
Monitor: Continuous supervision of all networked and locally attached devices to monitor the machines' utilization, status and alerts.
Improve: Regular management reports, review meetings, and active searches for further improvements and optimization.
Operate: Pro-active service, remote and on-site, automatic delivery of consumables and replacement parts.
*1.

According to the report from Gartner Inc, the world's leading information technology research and advisory company, it is assumed that the market size of MPS is about 6 billions US dollar in 2009.