Digital Monochrome MFPs "bizhub 423/363/283/223"
Receive Good Design Gold Award 2010
Tokyo (November 16, 2010) - Konica Minolta Holdings, Inc. (Konica Minolta) today announced that its digital monochrome MFPs (Multi-functional Peripherals) received the honor of Good Design Gold Award 2010, organized by Japan Industrial Design Promotion Organization (JIDPO).
Konica Minolta's digital monochrome MFP "bizhub 423/363/283/223" series with a stylish black body and application of the principles of universal design, had been nominated as Good Design Award Best 15 within the entire submissions of 3,136 products and services this year.
On November 10, the prestigious award ceremony at the Tokyo Midtown commercial complex was filled with excitement from presentations by each of 15 nominees and Konica Minolta's digital monochrome MFPs "bizhub 423/363/283/223" were honored with Good Design Gold Award as a particularly outstanding entry among all the awarded entries.
Since the launch of the "bizhub C550" in 2007, Konica Minolta has held the consistent concept in actively pursuing to explore new designs that can harmonize with various office environment in the field of digital MFPs. At the same time, they have undergone further upgrades for easier accessibility and operability as office information devices, such as the "360-degree design" in stylish black-and-white coloring and "large color LCD panel" that can adjust tilt angles both upward/downward and to right and left. Konica Minolta is extremely delighted to be honored with the Good Design Gold Award for the first time with high remarks not only for the strength of unique design but also for the company's continued posture to develop high-quality design and software features such as intuitive UI*1
*1

UI (User Interface): A representation of "operational feeling" in a computer system, including method to display information for users and rules and definition of data entry.
Konica Minolta Group will continue to be an innovative corporation that continues to inspire customers in the field of imaging and a global corporation that leads the market by advanced technologies and reliability by providing essential products and services in the evolving digital and networking society.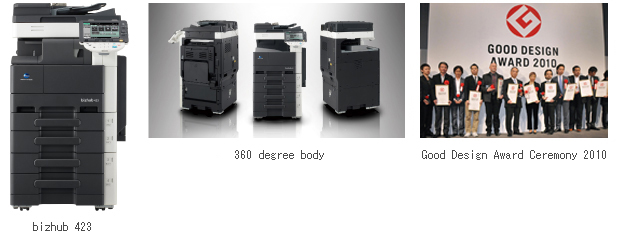 <An overview of the Good Design Awards>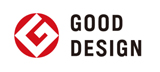 The Good Design Awards is a comprehensive program for the evaluation and encouragement of design organized by Japan Industrial Design Promotion Organization since 1998. Its parent organization is the Good Design Products Selection System, established in 1957 by the Ministry of International Trade and Industry (the current Ministry of Economy, Trade and Industry). Approximately 35,000 products have been selected in continuation with these efforts. This award activity is not merely a product fineness competition but an action to promote good design in our society thereby improving our quality of life and encouraging sound industrial development at the same time.