Konica Minolta bizhub Series Wins MFP "Line of the Year" Award from BLI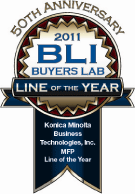 Tokyo (Jan 31, 2011)- Konica Minolta Business Technologies, Inc. (Konica Minolta) is pleased to announce that Buyers Laboratory Inc. *1 (BLI), the leading global provider of information and testing services to the digital imaging industry, honored Konica Minolta as the winner of its most coveted award, 2011 MFP *2 "Line of the Year."
BLI's "Line of the Year" is a prestigious award given once a year to the manufacturer, whose product line is determined to be the best overall in its category, based on the various cumulative test results of all model's in BLI's rigorous laboratory evaluation.
In the last year, Konica Minolta's bizhub series has won more MFP "Pick*3" awards in MFP category than any other vendors and its outstanding performance was recognized as 2011 MFP "Line of the Year."
<Pick of the Year awarded bizhub series*4>
"bizhub C360", "bizhub C280","bizhub C220"
"bizhub C452", "bizhub C552/C552DS", "bizhub C652/C652DS"
Konica Minolta products received high marks from the BLI rigorous laboratory evaluation tests in key areas that mattered most to end users - reliability, ease of use, productivity, image quality and a host of connectivity attributes. In addition, the color MFPs have been highly recognized for the superiority of color reproduction, for both business graphics and photographic images, and their consistent output. For the monochrome MFPs, the reliability for high-volume prints and excellent print productivity for producing sets of single- and double-sided documents have received outstanding evaluation by BLI.
This distinguished award has been the proof of Konica Minolta's superiority not only in product quality and reliability but also in its technological strength. Konica Minolta will put in further efforts to improve product performance and continue to deliver products to achieve higher customer satisfaction.
*1

Since 1961, BLI has been the leading independent office-equipment testing lab and business consumer advocate. In addition to publishing the industry's most comprehensive and accurate test reports on office document imaging devices, each representing months of exhaustive hands-on testing in BLI's US and UK laboratories, the company has been the leading source for extensive databases of specifications and pricing on copiers, printers, fax machines and multifunctional products.

*2

Multi-functional Peripherals (Versatile computer peripherals with various functions such as faxing, printing, scanning, as well as copying.)

*3

Twice yearly, BLI's experienced editorial and test technician teams review all of the equipment they've evaluated during the previous six months and present the prestigious "Pick of the Year" award to the devices that they determine are the "best of the best."

*4

Some products may not be available in all areas.