Konica Minolta Awarded " Prime" Status by Oekom Research for Corporate Social Responsibility: International Recognition among World's Best Companies in Social and Environmental Performance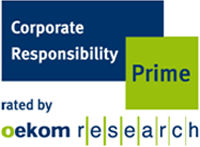 Tokyo (July 25, 2011) - Konica Minolta Holdings, Inc. (Konica Minolta) is pleased to announce that the company has been awarded Prime Status by the Germany-based oekom research AG (oekom) as one of global leading companies for corporate social responsibility (CSR) within the industry segment of computers, peripherals and office electronics.
Known as one of the world's leading rating agencies for its internationally-acclaimed researches in sustainable investment and sustainability ratings, oekom has been evaluating companies around the world through its original Corporate Rating with a comprehensive set of criteria in terms of social and environmental measures. A company is given Prime Status if it ranks among the best companies in the same industry segment in the overall rating.
Konica Minolta regards CSR as corporate management itself and aims at pursuing and creating " new values" sought by the society. The company's group-wide efforts, including mid- to long-term initiatives to reduce environmental impact, compliance promotion, and strengthening corporate governance, have been recognized as a leading company that promotes CSR on a global scale.
Besides the oekom Prime Status, Konica Minolta has been included in the Dow Jones Sustainability Asia Pacific Index by Dow Jones and Switzerland-based SAM (Sustainable Asset Management) Group and the Japan-based Morningstar Socially Responsible Investment Index. The company has also been included in the FTSE4Good Global Index by the FTSE International in the UK for eight years in a row. Additionally, Konica Minolta has been recognized with SAM Sliver Class for two consecutive years and selected in the Global 100 Most Sustainable Corporations by Canada-based Corporate Knights Inc.
Through development of innovative technologies, Konica Minolta will continue efforts to create new businesses that help global environment and contribute to sustainable development of human society worldwide.
For additional information on Konica Minolta's CSR and environmental efforts, visit
//www.konicaminolta.com/about/csr/index.html