Konica Minolta Starts Selling OLED Lighting Panel Sample Kit with World's Highest-Level Efficacy
Unveiling New Brand "Symfos" for Next-Generation Lighting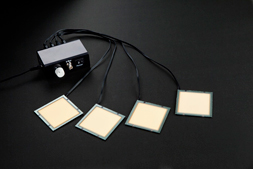 「Symfos OLED-010K」 Tokyo (October 3, 2011) - Konica Minolta Holdings, Inc. (Konica Minolta) is pleased to announce that it has commercialized Organic Light Emitting Diode (OLED) lighting panels with the world's highest-level luminous efficacy*1 using all phosphorescent emitters for the first time in the world*2 and starts selling sample kit from today.
Konica Minolta also announces that it has adopted "Symfos" as its new brand for the next-generation lighting, including OLED lighting.
Product Name
Konica Minolta OLED Lighting Panel Sample Kit
"Symfos OLED-010K"
Contents
Panel Units (4), External Driver Box and AC adapter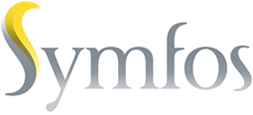 "Symfos" brand logo
There are two types of mechanisms used for OLED emission: fluorescence and phosphorescence. Phosphorescent emitters are theoretically expected to be four times more efficient than the conventional fluorescent emitters and are regarded as a key technology to achieve low power consumption.
By adopting proprietary blue phosphorescent materials, Konica Minolta has accomplished to commercialize all-phosphorescent OLED product for the first time in the world.
On this Sample Kit sales start occasion, Konica Minolta is launching a new website dedicated for OLED lighting with information such as sample kit specifications, case studies, and online order-taking.
Konica Minolta OLED Lighting Website*: //www.konicaminolta.com/oled/
*Available from mid-October.
Contact:https://wwws.konicaminolta.net/neoqa/gl/oled/input.php
Konica Minolta is showcasing two demonstration models using the OLED lighting panels in Smart Community Innovation 2011 Zone at CEATEC Japan 2011, the largest-class cutting-edge IT & electronics comprehensive exhibition in Asia, to be held from October 4 to 8, 2011, at Makuhari Messe, Chiba, Japan, as follows:
Demonstration model "Sprout" at Smart Cottage Booth in Smart Community "ZERO" Area (Booth Location:3B16)
Small-size demonstration model at NEDO (New Energy and Industrial Technology Development Organization) Booth (Booth Location:2B12)
OLED lighting is attracting attention as the next generation lighting having such unprecedented features as thin, light weight, and surface light source. In addition, it features high energy efficacy, no scalding surface, and reduced environmental footprint since it is mercury-free unlike fluorescent lightings. Furthermore, OLED lighting technology is mild to eyes and friendly to people, since it is flat light source and free of ultra-violet rays.
Konica Minolta considers OLED lighting as one of the most promising environmental and energy conscious new businesses, where we can fully build on our own core technologies, and will continue to aggressively drive research and development work and marketing activities.
"Symfos OLED-010K" Specifications
Luminance
1,000 cd/m2
Luminous efficacy
45 lm/W
Luminous flux
12 lm
Current
71.5 mA
Voltage
3.6 V
Life time (LT50)
8,000 hours(@71.5mA)
Color temperature
2,800 K
Size (L×W×T)
74×74×2.8mm* (excluding socket, cord and protruding parts)
*Thickness of panel: 1.9mm
| | |
| --- | --- |
| Output current | 71.5mA/ch |
| Brightness control | Variable current type |
| Size(L×W×H) | 65×105×40mm(excluding protruding parts) |
| | |
| --- | --- |
| Voltage | AC100~240V 50/60Hz with Japanese plug |
| Size(L×W×H) | 55×48×26mm(excluding protruding parts) |
*1

Among OLED lighting panels sold this year as mass-production (as of October 3, 2011; research by Konica Minolta).

*2

As OLED lighting panel using all-phosphorescent emitter (as of October 3, 2011; research by Konica Minolta).
Symfos is a trademark of Konica Minolta Holdings, Inc.
UniversalPHOLEDTM Phosphorescent OLED Technology from Universal Display Corporation