Konica Minolta Wins Prestigious Environmental Award in UK
- Green Apple Award in Recognition of Innovative Program to Assist Environmentally Considerate Offices -
Tokyo (November 28, 2011) - Konica Minolta Business Solutions (UK) Ltd. (Konica Minolta UK) located in Basildon, Essex, the UK office equipment and production print system sales subsidiary of Konica Minolta Business Technologies, Inc. (Konica Minolta BT), has won the prestigious Green Apple Award in recognition of its innovative environmental project, "OPS* Green Audit Process."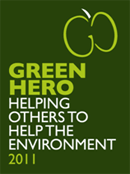 The Green Apple Awards are organized by the Green Organisation, an independent, non-profit environment group dedicated to promoting environmental conservation. The aim of the Green Apple Awards is to recognize, reward and promote environmental best-practice. Konica Minolta's awards submission for the OPS Green Audit Process was considered by a panel of judges against criteria including environmental benefit, innovation and economic benefit. The Award was presented at a recent ceremony held in the House of Commons, Westminster, London.
As part of the OPS Green Audit Process, Konica Minolta aims to reduce customer print fleets and volumes by installing improved efficiency devices, to reduce the environmental impact of customers' document production, with the consequent benefit of reducing operating costs. Customer businesses typically do not have the in-house skills or knowledge to ascertain their current environmental performance. Following a successful OPS Green Audit Process, Konica Minolta UK can calculate the amount of energy, paper and toner used by customer devices. From this information, Konica Minolta UK is able to determine the amount of carbon dioxide generated. The project is a holistic approach to the customers' document workflow needs, encompassing every facet of the process, including environmental impact, as part of the company's customer intimate approach.
In 2009, Konica Minolta UK received the Green Apple Award for its efforts with local communities on an educational program to enhance environmental awareness of children in the region. Additionally Konica Minolta UK was chosen as a "Green Hero 2010" by the Green Organisation, the special honor reserved for previous Green Apple Award winners that go the extra mile for environmental commitment and awareness.
The Konica Minolta Group's long-term environmental vision, Eco Vision 2050, declares the Group's intention to reach certain goals by the year 2050 to fulfill its responsibility as a global corporation by contributing to a sustainable earth and human societies. Aiming to reduce carbon dioxide emissions through the product life cycle by 80 percent compared to 2005 levels, the Konica Minolta Group has been implementing innovative initiatives worldwide.
To learn more about Konica Minolta's environmental initiatives, please visit
//www.konicaminolta.com/about/csr/
*OPS (Optimized Print Services): Konica Minolta's service set in which we undertake the comprehensive operation of the customer's office equipment and deliver printing optimization solutions that result in the best technology deployments for the conditions at hand and increase operation efficiency.
Names, logos, brands and other trademarks referred to in this release are the property of their respective trademark holders.