Konica Minolta Delivers Wireless Printing Free App for Android Mobile Devices To Connect with bizhub MFPs
Tokyo (April 3, 2012) - Konica Minolta Business Technologies, Inc. (Konica Minolta) is pleased to announce that it starts worldwide offering of "PageScope Mobile" application for Android to work with Konica Minolta MFP* "bizhub" (bizhub) through Google Play free of charge from today.
※

Multi-functional Peripherals (Versatile computer peripherals with various functions such as faxing, printing, scanning, as well as copying.)
"PageScope Mobile for Android" is an application that connects Android devices with the bizhub to wirelessly print documents, e-mails and web pages held on the Android devices. Also, it enables users to initiate bizhub's scan job from mobile devices to save and print documents and pictures. While this application offers many user-friendly functions, it can also be used to establish a secured printing environment utilizing the bizhub authentication system (user authentication, account track), thereby contributing to TCO (Total Cost of Ownership) reduction in workplace. Along with "PageScope Mobile for the iPhone, iPad and iPod touch," which has launched since last year, Konica Minolta responds to growing needs of mobile users.
Additionally, "PageScope Mobile for Android" can be connected with external cloud services such as Evernote or Google Docs. This function makes it possible to download the stored data from cloud service to the mobile devices and print by bizhub. Utilizing this application with the linkage of other applications can help in realizing more flexible approach to the diversified needs of the customers and further enhance business productivity.
Konica Minolta is committed to continue offering innovative solutions to fulfill the diverse needs of office work through increasing use of mobilization and cloud computing, thereby contributing to enhancement of productivity and convenience to customers with our communication message of "Giving Shape to Ideas."
Outline of "PageScope Mobile for Android"
Documents print
- PDF, TIFF, XPS, JPEG, GIF, BMP, PNG and Microsoft Office formats (DOCX, XLSX, PPTX) *1 are supported.
Emails (text and HTML mail) and attachment files print
- PDF, TIFF, XPS, JPEG, GIF, BMP, PNG and Microsoft Office formats (DOCX, XLSX, PPTX) *1 are supported.
Web Pages print
Pictures print
- JPEG, GIF BMP and PNG are supported.
Documents print from other applications of mobile device
Scan documents and pictures and save to mobile devices
Save albums of images captured with the Android device's built-in camera
Link with bizhub authentication system (user authentication, account track)
Open scanned data or saved documents in MyDocument of PageScope Mobile through other applications*2
Note: Wireless LAN connection is required.
*1:

Only available with Office2007 or later version and bizhub C754/C654.

*2:

This functionality is built on the intent features of Android OS.
Free of charge
Note: Internet access fee may apply.
Compatible models*1:
Color MFPs
bizhub C754/C654, bizhub C652DS/C552DS, bizhub C652/C552/C452, bizhub C650/C550/C451
bizhub C360/C280/C220, bizhub C353/C253/C203, bizhub C35
Monochrome MFPs
bizhub 751/601, bizhub 652/602/552/502, bizhub 501/421/361, bizhub 423/363/283/223, bizhub 42/36
*1:

Some models may not be available in all areas.
Future bizhub series will support this application accordingly but certain exception may apply.

*2:

Some models may need additional options or software update.
Android 2.2, 2.3, 3.1, 3.2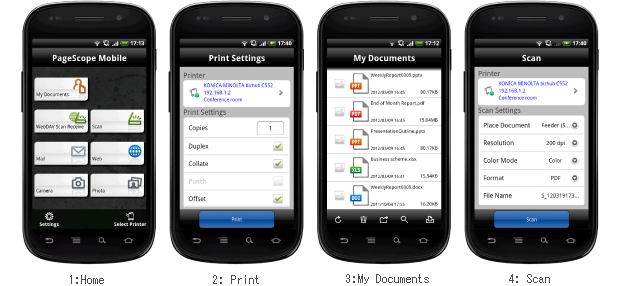 Each function can be used from home screen.
Choose bizhub to print. It offers the optional settings such as the number of copies, duplex and the bizhub authentication system.
Choose documents to print, send or open through other applications. It is possible to search and update file list for stored documents in MyDocument holder.
Designate bizhub and its setting to scan from each device. Documents and pictures can be saved in MyDocument holder.
*

bizhub and PageScope are registered trademarks of Konica Minolta Business Technologies, Inc.

*

iPhone, iPad, and iPod touch are trademarks of Apple Inc., registered in the U.S. and other countries.

*

Google , Google Docs, Android and Google play are trademarks or registered trademarks of Google Inc.

*

Evernote is a registered trademark or trademark of Evernote Corporation.

*

It is required to have the wireless LAN printing environment to link with Android devices.