More Than 1,000 Units of AeroDR Series, the World's Lightest Cassette-type Digital Radiography System, Have Been Sold Just Over a Year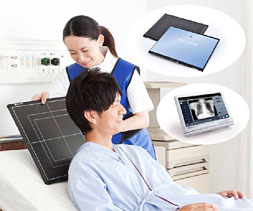 Tokyo (July 19, 2012) - Konica Minolta Medical & Graphic, Inc. (Konica Minolta) launched the AeroDR series, the world's lightest*1 cassette-type digital radiography system, onto the market on March 18, 2011. Backed by a great popularity among medical institutions around the world, sales of this system reached the 1,000-unit milestone in cumulative total approximately one year after release.
Weighing only 2.9 kg, the AeroDR is the world's lightest*1 DR system*2 capable of wireless transmission of image data. This model is characterized by lower doses, high image quality, and outstanding durability. Furthermore, it is equipped with a lithium ion capacitor,*3 the next-generation alternative to a battery that is currently drawing increasing attention, as the first in the industry. It can be used together with a conventional X-ray generator and portable radiography system, and its outstanding serviceability is highly appreciated by medical specialists in various fields.
To facilitate a shift to DR in medical settings, the new AeroSync technology was incorporated into AeroDR in November 2011, enabling AeroDR to be used with any existing analog portable X-ray systems. In February 2012, the lineup was expanded with the introduction of the AeroDR Long Length Imaging System that can capture long-length DR images using an existing X-ray generator and the AeroDR1717HQ which weighs 3.6 kg and is the world's lightest among 17" × 17" wireless cassette-type digital radiography systems.*1 These additions have made DR more easily accessible, contributing to reducing X-ray radiation and enhancing diagnostic imaging efficiency.
*1

Among wireless cassette-type digital radiography systems in the same size category available on the market as of June 4, 2012.

*2

DR stands for digital radiography, which collectively refers to an X-ray imaging method that receives X-ray radiation on the sensor panel and directly captures digital images. In general, DR can produce higher quality images than CR and boasts outstanding immediacy.

*3

Capacitor is a general term that refers to an electronic component with capacitance, or the ability to store and discharge an electric charge. In Japan, a capacitor is generally called a condenser. Capacitors are safe and have no ignition risk. Also, they can charge quickly and hardly deteriorate even after repeated charging and recharging.