Konica Minolta Delivers Updated Version of its Free App for Android Mobile Devices to Connect with Cloud Services or Existing File Servers
Powerful Support for New Work Style among Growing Cloud and Mobile Business users
Tokyo (February 18, 2013) - Konica Minolta Business Technologies, Inc. (Konica Minolta) is pleased to announce that it has started offering an updated version of the "PageScope Mobile" (Ver. 2.0) application for Android worldwide, to work with Konica Minolta MFP*1 "bizhub" (bizhub) through Google Play free of charge.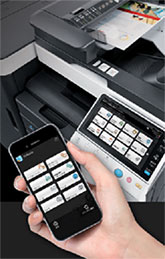 Image: MFP and mobile connection "PageScope Mobile for Android", launched in April 2012, has received high reputation among business users worldwide as an application that connects Android devices with the bizhub to wirelessly print documents, e-mails and web pages held on the Android devices. Also, it enables users to initiate bizhub's scan job from mobile devices to save and print documents and pictures.
This version upgrade enables the "PageScope Mobile for Android" app to be connected with external cloud services such as Google Drive*2 or Dropbox*3 in response to the growing needs of mobile users.
Also to accommodate the requests of the increasing numbers of "bring your own device" (BYOD) users, it enables access to existing file servers*4 for the first time in the industry*5, in order to maintain and build a secured print environment by utilizing the existing file servers in corporations.
This function makes it possible to provide the same level of work environment, even through remote access such as from outside the company while enhancing productivity, work efficiency and reducing additional operating cost.
Additionally, in order to cater to the growing needs for an optimized print environment in the office, this application can be also linked with A4-sized MFPs or bizhub PRO series production print systems along with A3-sized MFPs to extend user accessibility.
Furthermore, the application user interface has adopted the same design as of INFO-Palette in the bizhub C754 and bizhub C554 series*6 as operating panel which gives the users an intuitive and smartphone-like operability for various functions.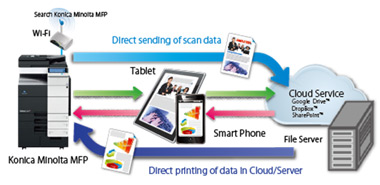 System Overview
Konica Minolta is committed to continue offering innovative solutions to fulfill the diverse needs of office work through increasing use of mobilization and cloud computing, thereby contributing to enhancement of productivity and convenience to customers with our communication message of "Giving Shape to Ideas."
*1

Multi-functional Peripherals (Versatile computer peripherals with various functions such as faxing, printing, scanning, as well as copying.)

*2

Google Drive is a file storage and synchronization service provided by Google that enables to use documents, spreadsheets and presentation. Google account is required to use the service.

*3

Dropbox account is required to use the storage service.

*4

Windows Samba server supports the connection with SMB1.0 client. The same local area network with PageScope Mobile connection is required.

*5

Among Android free application provided from MFP makers as of February 18, 2013, research by Konica Minolta.

*6

bizhub C754/C654, bizhub C554/C454/C364/C284/C224
Enhanced Functions of Updated Version of "PageScope Mobile for Android Ver. 2.0"
1: Connect with Google Drive, Dropbox and SharePoint
Print documents saved in compatible cloud storage and send scanned data to compatible cloud storage
Preview scanned data
Indicate scan or print results to notification area of Android OS*7
2: Connect with existing file server in the company
Save scanned data to the file server
3: Adopt new operation panel with high usability through GUI design development
*7

Notification bar/status bar is at the top of long sideways belt-shaped home screen. Notification area is for checking the details shown in Notification bar/status. Notification area appears by flicking downward direction.
Pricing: Free of charge
Note: Internet access fee may apply.
Distribution: Downloadable from Google Play (formerly Android Market)



Note: Wireless LAN connection is required.
Compatible models
Color MFPs
bizhub C754/C654, bizhubC554/C454/C364/C284/C224, bizhub C652DS/C552DS
bizhub C652/C552/C452, bizhub C650/C550/C451, bizhub C360/C280/C220,
bizhub C353/C253/C203, bizhub C35/C35P, bizhub C25, bizhub C20/C20P,
bizhub PRO C6000L+IC-601, magicolor 4750EN, magicolor 4750DN
Monochrome MFPs
bizhub 751/601, bizhub 652/602/552/502, bizhub 501/421/361, bizhub 423/363/283/223
bizhub 42/36, bizhub 40P, bizhub PRO 951
*

Some models may not be available in all areas.

*

Future bizhub series will support this application accordingly but certain exception may apply.

*

Some models may need additional options or software update.
Android 2.2, 2.3, 3.1, 3.2, 4.0, 4.1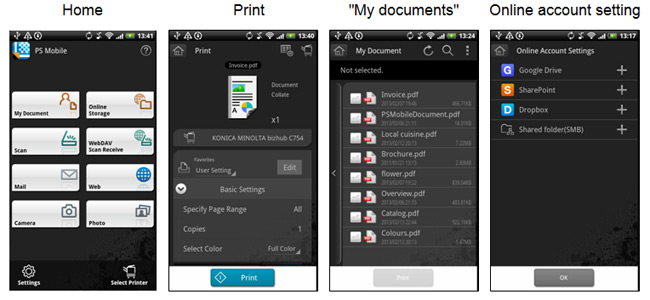 bizhub and PageScope are registered trademarks of Konica Minolta Business Technologies, Inc.
iPhone, iPad, and iPod touch are trademarks of Apple Inc., registered in the U.S. and other countries.
Google , Google Drive, Android and Google Play are trademarks or registered trademarks of Google Inc.
Dropbox is a registered trademark of Dropbox, Inc.
SharePoint is a registered trademark of Microsoft Corporation.
It is required to have the wireless LAN printing environment to link with Android devices.