"Konica Minolta Field Day" Gives Shape to School Kids' Big Wishes (Social Contribution Activities)
-- Children from Quake-stricken Area Invited to Watch FIFA World Cup Asian Qualifiers and Learn Astronomy --
Tokyo (May 28, 2013) - Konica Minolta, Inc. (Konica Minolta) today announced that the company holds "Konica Minolta Field Day," inviting pupils from a quake-stricken area to the Japan-Australia football match in the FIFA World Cup Asian Qualifiers at Saitama Stadium 2002 on June 4, 2013, as well as pre-game activities, among others.
The event is one of Konica Minolta's social contribution initiatives, helping children in regions affected by the Great East Earthquake have an exceptional experience at the special game, final qualifier held in Japan, and build on their dreams and hopes.
Thirty-four school children from Kinto Elementary School, Koriyama City, Fukushima, and their teachers are participating in the extracurricular program as part of their school-finishing trip. The sixth-graders will be watching the exciting football match up close in the stadium. Some are to join a back-stage tour before the game begins.
On June 5, the children are visiting Konica Minolta Planetarium "Tenku" and taking part in "Astronomy Seminar." After a talk about the sky and stars by an expert of the planetarium, a show will be played in the dome for the kids.
The "Konica Minolta Field Day" is coordinated in cooperation with United Sports Foundation, a general incorporated foundation to promote social contribution activities through sports.
Konica Minolta has been supporting promotion of younger generation's health through sports sponsorship over the years. In October 2012, the company held a football seminar in Sendai, Miyagi, giving shape to "dreams" and "hopes" of children in the quake-stricken Sendai and Ishinomaki areas. The company has also been helping society growing interest and dream in the space and science through its planetarium business. Going forward, Konica Minolta will keep developing social contribution activities in response to social demand and hopes for a better future.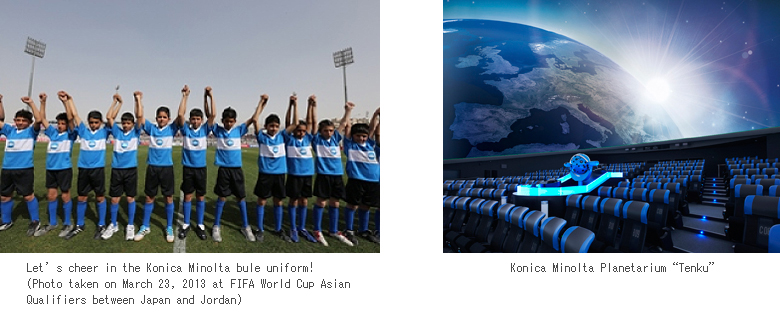 For additional information about Giving Shape to Ideas, please visit: