Konica Minolta Launches New High-Speed Inkjet Printhead KM1024i for Ceramic Printing
Tokyo (June 18, 2013) - Konica Minolta, Inc. (Konica Minolta) today announced the introduction of the KM1024i inkjet printhead for industrial use with the drive speed at approximately three times as fast as the existing models.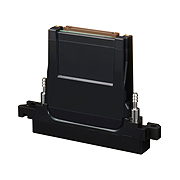 The new KM1024i is cutting-edge piezo on-demand printhead for industrial use with independent drive system of each nozzle channel, while the existing KM1024 series use 3-cycle drive system. The independent drive system enables the KM1024i to realize approximately triple the speed of the existing models.
The higher drive speed has significantly upgraded the new printhead's performance for industrial-use inkjet printers designed primarily for ceramic printing or label printing that demand higher productivity. The printhead structure with high ink durability and the high-performance built-in heater support stable print quality when used with high-viscosity ink for ceramic printing, among others. The KM1024's slim and compact body contributes to development of smaller industrial printers. The environmentally-considerate KM1024i has reduced petroleum-based resource usage and toxic chemical substance usage approximately to one-third of existing models and been certified as "Green Products."*
Countries such as Spain, Italy, China and those in South America have seen increasing demand in inkjet printing for building exterior materials and tiles, as the technology is suited for high-mix, small-lot printing. Expectations have risen for further growth of ceramic printing in those regions. Konica Minolta exhibited the KM1024i at drupa 2012 (May 2012), the world's largest print media trade show, and drew widespread attention in the printing industry. With the addition of the KM1024i, Konica Minolta enhances its product lineup and continues to meet various needs of customers, assisting higher productivity and efficiency in the printing businesses.
Multi-row structure inkjet printhead with independent drive system for all nozzles
Maximum drive frequency (45kHz), approximately tripled from the KM1024 series
Stable ejection performance and printhead structure with superb ink durability
High-performance built-in heater to control ink temperature
360npi high-resolution nozzles, capable of maximum eight grayscale levels
Environmentally-considerate "Certified Green Products"
*

Certified Green Products: Konica Minolta's Green Products Certification System assesses its products with good environmental performance. Under the system, products that meet specific set of standards are certified as "Green Products." Not only must the product meet standards for environmental performance, it must also fulfill requirements such as being produced at a certified "Green Factory" and management in accordance with the company's CSR procurement plan.
For more information, please visit