Konica Minolta Wins Prestigious Good Design Awards 2013 for Eleven Models
- All Submissions Accepted in Recognition of Intuitive and Comfortable Operation & Workflow -
Tokyo (October 2, 2013) - Konica Minolta, Inc. (Konica Minolta) is pleased to announce that the company has been awarded Good Design Awards 2013 by Japan Institute of Design Promotion (JDP) for as many as eleven models total: five models of the "bizhub" series color MFP (multi-functional peripheral); two models of the "bizhub PRESS" series digital printing system for production print market; "AeroDR Portable Solution" mobile digital X-ray diagnostic imaging system; and "Unitea α" digital X-ray diagnostic imaging system for clinics. The awarded models of the "bizhub" series and "bizhub PRESS" series are mainstay products in the company's Business Technology Business.

Konica Minolta's Design Center has been working on a wide range of design development, under its vision and mission of contributing to the businesses, the brand value enhancement, and the growth of the company through uninterrupted creation of design with greater values for society and customers. Winning the prestigious Good Design Awards for four series of products has been made possible through the Design Center's commitment to bring to life what customers truly value, such as intuitive and comfortable operability, and to establish high-grade design that enhances Konica Minolta's brand integrity. All these efforts are based on the vision and mission of the Design Center. As a result, all submissions of the eleven models to this year's selection have won the awards.
The five models of "bizhub" color MFP have evolved and developed the black-and-white main body design, which gained high appreciation among office customers, and further improved intuitive user interface to strengthen operability of document processing. The two models of "bizhub PRESS" digital printing system nicely fit into the production site and come with solid, strong and reliable outer design, as well as the new control panel that supports comfortable workflow for operators.
In designing products for the healthcare field, Konica Minolta has a set of priorities aimed at "design to improve diagnosis quality" and "design to bring better communications between patients and doctors." "AeroDR Portable Solution" and "Unitea α" are designed to enable healthcare providers to take advantage of improved look and feel, whether working in patients' rooms, examination rooms, operation rooms or emergency rooms. At the same time, those products look friendly in the patients' eyes.
Konica Minolta is proud of this recognition and intends to continue working on development of design that delivers excellent experience of Konica Minolta brand to customers.
Color MFP "bizhub" Series
Models
bizhub C554e/C454e/C364e/C284e/C224e
Comments from the screening committee of JDP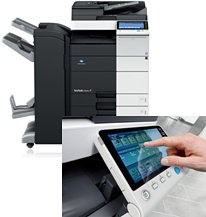 High evaluation has been given to the interface, particularly the design of display and control panel, that works well in both small and large offices. The display and control panel succeeded the "INFO-Palette" to handle a large number of functions required for MFPs, has bigger and easer-to-see preview display for document print processing, introduces multi-window [design] and touch operations such as drag and drop, and aims at further comfort and higher productivity through intuitive operation. Additionally, the audio has been improved to enable users to select sound to confirm operation, as well as alarm sound.
Digital Printing System "bizhub PRESS" Series
Models
bizhub PRESS C1070/C1060
Comments from the screening committee of JDP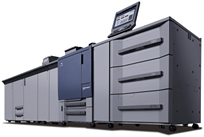 In addition to the intuitive touch-operation control panel, the systems provide professional operators with mouse operation for controlling fuller lists or tables and setting up greater details. Complex and professional settings have been well combined with simpler and intuitive ones.
The systems have been designed in such a compact size that equipment layout can be optimized in a limited space of the workplace. Additionally, they are also compatible with options from preceding models: for instance, operators can use the tops of options on both ends of the print unit as work space. Those merits have been highly evaluated. Furthermore, the systems are environmentally considerate by reducing power consumption during use through low-temperature toner fixing system and reducing end-of-life carbon emissions with the use of biomass material.
AeroDR Portable Solution
Models
AeroDR /AeroDR UF Unit/CS-7Portable
Comments from the screening committee of JDP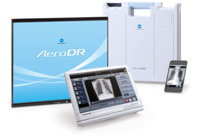 The AeroDR Portable Solution easily upgrades existing porbatle analog X-ray units into digital X-ray units without modifications or overall replacement. It takes on particular significance for early detection of disease and wider availability of early treatment that hospitals, operation rooms and emergency rooms are able to perform digital X-ray on patients easily without a huge initial cost. The DR casette has a very light-weight and robust design, with clear identification of front and back as practical consideration to usability on site. The UF Unit (Portable Retrofit Unit) is thoughtfully made for good portability and easy storage in a visiting car. The tablet PC is designed for use at bedside with unified interface design so that operators will not hesitate what to do. In addition, the clear color coordination among each unit has been highly evaluated for its design integration as a system.
Digital X-ray Diagnostic Imaging System for Clinics
Models
Unitea α/AeroDR
Comments from the screening committee of JDP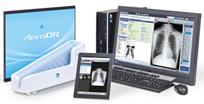 While medical institutions are rapidly adopting information technology, they also face many challenges in data integration among multiple devices and systems. By not only managing diagnostic images but also integrating electronic health record, this system works as advanced all-in-one solution that can centrally manage data of patients.
Making progress as the X-ray diagnostic imaging migrates from analog to digital, Konica Minolta's DR system has constituted achievements in advancing diagnostic accuracy and enhancing productivity with higher image quality, reducing exposure risk of patients and growing efficiency in space. In addition, it has been highly evaluated for offering a complete service as an X-ray diagnostic solution by collaborating with integrated application. The screening committee has also lauded Konica Minolta's tireless efforts to rise to new challenges such as proposals of new values in using tablet devices, while maintaining existing user-interface protocols with emphasis on operability.
Under the communication message "Giving Shape to Ideas," Konica Minolta understands the problems the customers have from their point of view and creates new values by bringing the ideas into shape. Going forward, the company will continue to create innovative products, services and solutions that bring joy, give surprise and stir emotions for businesses and everyday lives across the world.
*

bizhub, bizhubPRESS, AeroDR and Unitea are registered trademarks of Konica Minolta, Inc.
About Good Design Award
The Good Design Award is a sole comprehensive design evaluation and commendation system in Japan since 1957. For more than 55 years, the Good Design Award has been given to outstanding designs for the creation of culture for the new era in the pursuit of prosperous lives and industrial development. Approximately 38,000 Good Design Awards have been given in continuing these efforts, with submissions from a number of companies and institutions from inside and outside of Japan every year. "G Mark," the symbol of the award, has been recognized widely as a mark representing good design.
For additional information about Konica Minolta products, please visit: www.konicaminolta.com