Konica Minolta joins the Mopria Alliance as an executive member

- Aiming to realize a simple printing environment with mobile devices -
Konica Minolta, Inc. (Headquarters: Tokyo, President Masatoshi Matsuzaki; hereinafter "Konica Minolta") will become an executive member of the Mopria Alliance, a non-profit membership organization that promotes the standardization of wireless printing from smartphones, tablets and other mobile devices.
New work styles have emerged in recent years with the growing use of cloud services and mobile devices in offices and business. To meet such changes in our customers'office environments, Konica Minolta is focusing on enhancing usability and productivity in the office by strengthening compatibility between multi-functional peripherals (MFP) and mobile devices as part of our business strategy.
PageScope Mobile*, a printing application for mobile devices utilizing our unique technologies, is one such example.
And now, Konica Minolta has joined the Mopria Alliance, which promotes to realize the standardization of an intuitive printing environment, as an executive member.
The Mopria Alliance is developing an interface standard that provides extensive compatibility with printers by any manufacturer for easy printing from mobile devices such as smartphones and tablets regardless of location, with the intention of significantly improving convenience for customers, and is currently preparing to begin support for Android OS mobile devices, the most popular mobile operating system in terms of number of users.
We will agree to the mission of the Mopria Alliance, and actively participate in the selection and development of printing standards for the realization of an easy mobile printing environment for our customers.
Konica Minolta supports the changes in work styles by providing value-added services that match customer needs under our communication message, "Giving Shape to ideas."
About the Mopria Alliance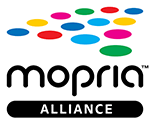 The Mopria Alliance is a non-profit membership organization of leading global technology companies with the shared goal of providing intuitively simple wireless printing from smartphones, tablets and other mobile devices. The Mopria Alliance's goal is to bring together the entire industry to drive selected standards adoption, support mobile software application providers to deploy print functionality in their applications, develop experience guidelines in the interaction of mobile and print devices, certify products which will carry the Mopria logo and educate consumers and business customers about the ability to easily print from mobile devices.
Please refer to the Mopria Alliance Website (www.mopria.org) for more information about this article.
*

PageScope Mobile is a free-of-charge application that integrates functions such as printing, scanning and viewing with iOS and Android OS tablets, smartphones and other mobile devices. With PageScope Mobile, images and documents stored in mobile devices can be printed wirelessly to a Konica Minolta's bizhub multi peripheral device; scanned data can be saved from the bizhub to a mobile device; and through cloud services, data stored in cloud can be printed and scanned data can be saved to cloud.