Konica Minolta's Seven MFPs Win
Globally Prestigious "Red Dot Award: Product Design 2014"
Tokyo (March 25, 2014) - Konica Minolta, Inc. (Konica Minolta) today announced that the company has been awarded the "Red Dot Award: Product Design 2014" for its main products in the Business Technologies business: five models of the bizhub-series A3 color MFPs (multi-functional peripherals) and two models of the bizhub-series A4 color MFPs.
The Red Dot Design Award is an international design competition organized by the Design Center Nordrhein Westfalen, Germany, and reputed as one of the world's most recognized design awards, along with the iF Design Award (Germany) and the IDEA awards (the U.S.).
The winners of the Red Dot Design Award have been chosen by the jury of international experts based on nine criteria including level of innovation, functionality, ecological compatibility, quality and ergonomics.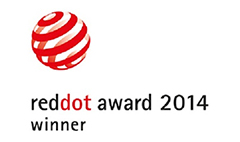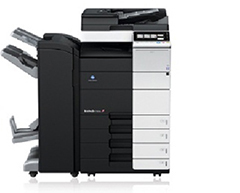 The bizhub C554e series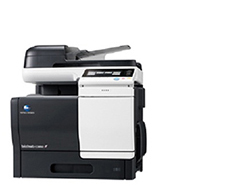 The bizhub C3850 series
Award-winning Products
The bizhub C554e/C454e/C364e/C284e/C224e
The bizhub C3850/C3350*
The Design Center of Konica Minolta has been committed to contributing to the company's growth and enhancement of brand values through continuous creation of design with greater values for society and the customers.
Based on the new-generation design concept "INFO-Palette," the award-winning bizhub-series MFPs aim to meet diversifying office work style and create value for customers. As a result, the winning products have realized intuitive user interface design that is easy to operate multiple functions. The large, easy-to-see 9-inch control panel for the bizhub C554e series and the 7-inch control panel for the bizhub C3850 series adopt unified interface that seamlessly works on MFPs and mobile devices. The entire product design has pursued Konica Minolta's design philosophy for Business Technologies products: Smart and Comfortable. The endeavors include Konica Minolta's signature stylish coloring of black and white across the series models, aesthetic form factor that flexibly fits various types of office layout, and universal design with ease of use for a wide range of end-users.
The bizhub C554e series has also been awarded Good Design Award 2013 by Japan Institute of Design Promotion.
Under the communication message "Giving Shape to Ideas," Konica Minolta will continue driving design development with enhanced capabilities for innovative proposals to respond to diversifying social changes and offering products and services with greater added values for the customers.
*

The bizhub C3350 is not available in Japan.
- bizhub is a registered trademark of Konica Minolta, Inc.