Konica Minolta's Inkjet Textile Printers to Make Full-Scale Entrance into Chinese Market

- Introducing Flagship Model with High Productivity, Superb Quality and Reduced Environmental Impact into Digital-Driven Growth Market -
Tokyo (June 4, 2014) - Konica Minolta, Inc. (Konica Minolta) today announced that it intends to make full-scale entrance into Chinese textile print market where digital printing has been growing rapidly. The company will showcase its flagship inkjet textile printer, the Nassenger PRO1000, at an international trade show to be held in June in Shanghai, China. This is the first time for Konica Minolta to exhibit the top-of-the-line product at a Chinese trade fair. The Nassenger PRO1000 delivers high quality and high productivity while reducing the environmental impact. In addition, Konica Minolta will open an office for textile inkjet printer business in Shanghai this summer toward its expansion into the growth market.
In China, which accounts for about 30 percent of the global textile print market, digital technologies have been gaining ground at a fast speed. These days the apparel industry is leaning toward production of many designs in small quantities and in superior quality with fine, high-definition details which are difficult to reproduce through traditional analog textile printing. Digital inkjet print technologies are suitable to respond to those needs and have been increasingly adopted in Italy and other countries. Fast-fashion manufacturers have also begun to utilize more and more inkjet printing to support their frequent changes of merchandise.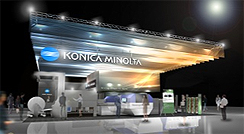 ITMA ASIA + CITME 2014
Konica Minolta booth plan
At the same time, from the viewpoint of environmental protection, textile printers must meet the enhanced environmental regulations in China, such as use and discharging of the water. As Inkjet textile printers have advantage in significantly reducing the amount of water usage over traditional analog printing, the digital inkjet technologies are more and more embraced for its environmental soundness.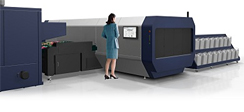 Nassenger PRO1000
Building on its top-tier position in the European market, and with an eye toward an expansion in the growing Chinese market, Konica Minolta has introduced its popular model, the Nassenger PRO60, targeting at sample and small-quantity production and the mid-range-speed model, the Nassenger PRO120. As the company recognizes that there will be increased needs in China for high-end inkjet textile printers that can handle full-scale mass production with high productivity, high quality and smaller environmental impact, it will roll out in the Chinese market the flagship Nassenger PRO1000 which is equipped with the proprietary, highly precise and vastly reliable printheads and can run at the world's fastest print speed* as scan type. With the addition of the Nassenger PRO1000, Konica Minolta will complete its full product lineup and accelerate the inkjet textile printer business in China.
For one of its first steps toward the business expansion, Konica Minolta will showcase the Nassenger PRO1000 at ITMA ASIA + CITME 2014, Asia's largest international textile machinery exhibition to be held in Shanghai (June 16 – 20). This is the first time for the company to exhibit the product at a trade show in China. The on-site demonstration will be best communicating to visitors the superb quality and high productivity of the flagship model.
Furthermore, Konica Minolta will be opening an office in Shanghai around July 2014, focusing on its inkjet textile printer business. With sales and after-sales services staff, the new office will work on improving customer satisfaction through delivery of high-quality and speedy services. The new foothold in china will help Konica Minolta move on to develop the business in the growth market.
With its Brand Proposition "Giving Shape to Ideas," Konica Minolta will continue contributing to customers' innovations in manufacturing process and skills through its offerings of products and services emerging from the fusion of proprietary core technologies.
*

As of June 4, 2014. (Research by Konica Minolta)
Nassenger is a registered trademark of Konica Minolta, Inc.