Konica Corporation
March 2, 2003
Konica Launches Ultra-fine Grain Professional Film for Shooting Portraits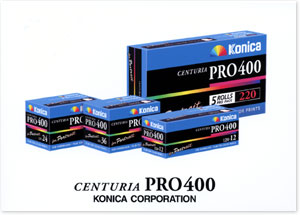 Tokyo (March 2, 2003) - Konica Corporation is proud to announce the introduction of Konica Color CENTURIA PRO 400, the company's new professional ISO 400 color negative film featuring rich gradation and ultra-fine grain for face tone depiction. The new film will be unveiled at the PMA 2003, being held from March 2 to 5 in Las Vegas, USA, and will be launched in the US market starting from May, 2003.
Konica CENTURIA PRO 400, which succeeds the advanced technologies of the CENTURIA SUPER series, is a new type of film that offers superior granularity, sharpness, and color reproduction, in addition to meeting strict professional requirements for gradations and neutrality. The film is available in 120/220 format and 135-size to satisfy not only professionals but also advanced amateurs and fans of the CENTURIA SUPER series who are looking for long-lasting stability, professional finish and the highest level of image quality.
Main features of the Konica CENTURIA PRO 400
The highest level granularity in its class

Super-fine crystal technology delivers exceptionally outstanding granularity in an ISO 400 film. Having high image quality without sacrificing speed, Konica CENTURIA PRO 400 is versatile film to use under any conditions.

Subtle and beautiful face tones

Thanks to the above outstanding granularity, it constantly delivers beautiful skin tones with natural transitions from highlights to shadows, even when shooting with flash.

Soft gradations and exceptional neutrality

The latest advanced emulsion technology offers soft and low-contrast gradations, which make this film ideal for portraits and other applications where smooth and elegant natural color reproduction is paramount.
Colors are evenly expressed with a neutral gray balance for shooting delicate texture of wedding dress and tuxedos. Even rich red color and velvet touch of roses can be depicted beautifully with high saturation.

Robust crystal design ensures long life stability

Konica's innovative ultra-consistent crystals are designed to also block heat and natural radiation. This resistance to heat and natural radiation reduces degradation in sensitivity and granularity, thus contributing to enhance long life stability.
The addition of Konica CENTURIA PRO 400 to the Konica's professional product lineup will enhance the ease and confidence of taking portraits for demanding on-locations shots under various conditions.
Notice to U.S. Investors
This press release includes forward-looking statements that reflect the plans and expectations of Konica Corporation and Minolta Co., Ltd., in relation to the proposed share exchange and integration of management and the benefits resulting from them. To the extent that statements in this press release do not relate to historical or current facts, they constitute forward-looking statements. The forward-looking statements are based on the current assumptions and beliefs of Konica Corporation and Minolta Co., Ltd. in light of the information available to them, and involve known and unknown risks and uncertainties. Potential risks and uncertainties include, but are not limited to, the ability of Konica Corporation and Minolta Co., Ltd. to integrate their operations effectively, as well as the factors identified under "Forward-Looking Statements" of the Annual Report 2002 of Konica Corporation and "Disclaimer Regarding Forward-Looking Statements" of the Annual Report 2002 of Minolta Co., Ltd. Such risks, uncertainties and other factors may cause the actual results, performance or financial position of the new corporate group referred to in this press release to differ materially from those expressed or implied in the forward-looking statements. Konica Corporation and Minolta Co., Ltd. undertake no obligation to update publicly any forward-looking statements after the date of this press release.
This press release relates to a proposed share exchange which involves the securities of two Japanese companies, Konica Corporation and Minolta Co., Ltd. The share exchange is subject to Japanese disclosure requirements that are different from those of the United States. Financial information included in the document has been prepared in accordance with Japanese accounting standards that may not be comparable to the financial statements of United States companies.
It may be difficult for you to enforce your rights and any claim you may have arising under the U.S. federal securities laws, since Konica Corporation and Minolta Co., Ltd. are located in Japan, and some or all of their officers and directors are residents of Japan. You may not be able to sue the companies or their officers or directors in a Japanese court for violations of the U.S. securities laws. It may be difficult to compel the companies and their affiliates to subject themselves to a U.S. court's judgment.
You should be aware that Konica Corporation and Minolta Co., Ltd. may purchase securities otherwise than under the share exchange, such as in open market or privately negotiated purchases.