Minolta Co., Ltd.
February 3, 2003
Minolta's DiALTA Color Series CF3102 and CF2002 receive the "Editor's Choice Award" from Better Buys for Business and the "Five Star Exceptional Rating" from BERTL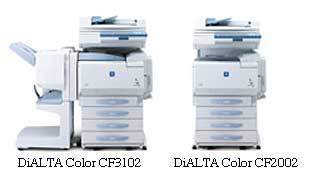 Osaka, February 3, 2003 - Minolta Co., Ltd. (Yoshikatsu Ota, president) is proud to announce that the DiALTA Color series CF3102 and CF2002 copier-printer-scanners each received the "Editor's Choice Award" in the color copier category from Better Buys for Business and the "Five Star Exceptional Rating" from BERTL (Business Equipment Research & Test Laboratories).
We are very proud that the CF3102 and CF2002 received the "Editor's Choice Award," matching the success of their predecessor, the CF2001, and the "Five Star Exceptional Rating," matching the CF2001 and CF1501, thus making the latest two generations of color copier-printer-scanners award winners. Minolta will strive to further expand the color product lineup, as well as strengthen management policy by focusing on color output devices.
The CF3102 and CF2002 are 31 and 20 page-per-minute digital color copier-printer-scanners built for general office environments. Better Buys for Business and BERTL report the reasons for bestowing the awards as follows.
Highlights from Better Buys for Business Report
Better Buys for Business writes, "The CF2002 and CF3102 have a lot going for them in terms of penetrating the office color market. They offer excellent color speed for the money and their black-and-white speed should meet the needs of most users. Further, paper-handling capabilities are excellent, as is image quality, and the machines' prices will fit within the budgets of most cost-sensitive corporate buyers."
Highlights of the BERTL Report
The BERTL Report complimented a number of CF3102 and CF2002 features, including their high productivity across both network print and copy jobs, scan ahead copy reservation capability, high proportion of user replaceable parts, aggressive prices, extensive print on demand capabilities, and the wide range of network scanning options. The report sums up its thoughts on the two copier-printer-scanners by saying that it "earned its 5 star status through a combination of high print and copy productivity, functionality, extensive finishing options, and aggressive price point.
About the Editor's Choice Selections
Initiated by editors with years of experience in the office equipment industry, the Better Buys for Business conducts extensive and objective research then publishes the results for all models in a given category (e.g., low-volume copiers & multifunctionals, mid-volume printers, laser fax machines, etc.). The coveted "Editor's Choice Award" goes to the products in each category that deliver the highest level of performance at the best cost-performance.
About the Five Star Exceptional Rating Selections
BERTL, on the other hand, awards the "Five Star Exceptional Rating" to products considered innovative, productive, highly functional, and well designed, in addition to providing outstanding image quality at a cost-effective price point. BERTL tests approximately 200 different competitive products each year and, historically, only 6 to 12 of those products receive the prestigious "Five Star Exceptional Rating".
CF3102 and CF2002
The Minolta's newest color copier-printer-scanners have the simplicity workgroups desire and the power and speed to handle workgroup productivity at an affordable price. In addition to 600 dpi x 1800 dpi equivalent resolution, the CF3102 and CF2002 utilize newly developed polymerized toner, which needs no oil for fusing, as well as the unique Minolta Advanced Color Conversion System (MACCS) for more precise reproduction of color tones. Finishing options include a staple finisher and a booklet finisher with hole punching capabilities. Customers may also add an automatic document feeder, a 500-sheet paper cassette, a large capacity cassette (2,500 sheets), and/or a duplex unit.
The CF3102 and CF2002 offer a choice of controller options. The print controller gives users the power to share, store, and distribute color documents over a local network or via the Internet. Options include the Minolta CN3101e basic embedded controller and the CN3102e, an embedded controller developed by Electronics for Imaging (EFI). The print controllers offer a host of software tools to manage the production of color documents.
About Better Buys for Business
Better Buys for Business publishes 10 buyer's guides for office equipment every year. Its independent evaluations, covering models from all major office equipment manufacturers, help buyers make more informed decisions. Because it has no ties to manufacturers and accepts no advertising, its analysis is wholly objective and unbiased. The buyer's guides cover copiers, printers, fax machines, multifunctional devices, document scanners, and electronic filing systems. For more information, visit www.betterbuys.com.
About BERTL (Business Equipment Research & Test Laboratories)
BERTL's experience working with digital systems stretches back over 20 years to the introduction of the first mini computers and connected digital printing systems. BERTL publishes the widest range of On-line Information Services. BERTL has pioneered new methods of testing multifunctional devices, introduced a highly sophisticated range of user-relevant tests on "connected" imaging output devices, and is the developer of the world's leading image analysis software, PageCheck. For more information on BERTL, visit www.BERTL.com.
About Minolta
Minolta Co., Ltd. (TSE 7753) is a leading manufacturer of image information and optical products with operation bases in 33 countries worldwide. Group sales for the period ended March 2002 totaled 510 billion yen, 80% from sales outside Japan. With the major emphasis on the business of photocopiers and laser printers, especially in the area of color output, Minolta's color models provide efficient document processing for high customer satisfaction. With a strong core of optical and image processing technologies, Minolta offers products and services that are essential to all aspects of the digital imaging field.
Terms and product names may be trademarks or registered trademarks of their respective holders and are hereby acknowledged.
---
Notice to U.S. Investors
This press release includes forward-looking statements that reflect the plans and expectations of Minolta Co., Ltd. To the extent that statements in this press release do not relate to historical or current facts, they constitute forward-looking statements. The forward-looking statements are based on the current assumptions and beliefs of Konica Corporation and Minolta Co., Ltd. in light of the information available to them, and involve known and unknown risks and uncertainties. Potential risks and uncertainties include, but are not limited to, the ability of Konica Corporation and Minolta Co., Ltd. to integrate their operations effectively, as well as the factors identified under "Forward-Looking Statements" of the Annual Report 2002 of Konica Corporation and "Disclaimer Regarding Forward-Looking Statements" of the Annual Report 2002 of Minolta Co., Ltd. Such risks, uncertainties and other factors may cause the actual results, performance or financial position of Minolta Co., Ltd. and the new corporate group (referred to in the press release issued by Konica Corporation and Minolta Co., Ltd. on January 7, 2003, and any subsequent press releases by either or both of them relating to the proposed share exchange and integration of management described therein) to differ materially from those expressed or implied in the forward-looking statements. Minolta Co., Ltd. undertakes no obligation to update publicly any forward-looking statements after the date of this press release.