Minolta Co., Ltd.
March 27, 2003
Minolta Ranks Highest in Customer Satisfaction in China
- J.D. Power Asia Pacific 2002 China Copier Customer Satisfaction Study SM -
Osaka--March 27, 2003--Minolta Co., Ltd. (Yoshikatsu Ota, president) is very pleased to announce that it ranked highest in customer satisfaction according to the J.D. Power Asia Pacific 2002 China Copier Satisfaction Study SM.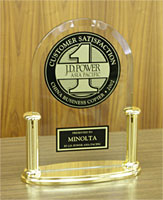 The study, now in its second year, was conducted from mid-August till December 2002 in three major cities of the rapidly growing Chinese market: Beijing, Guangzhou and Shanghai. The survey obtained 1800 responses from businesses with 20 employees and more.
The results of the survey revealed afresh that customer satisfaction for copiers in China is comprised of three factors: products, maintenance service, and sales activities. Minolta is evaluated highly in all three factors among the six companies included in the ranking and ranked highest in the sales activities and maintenance service factors, which are both related to human services.
Minolta has made every effort to provide products based on concepts from CS Technologies that emphasize comfort and satisfaction, well-suited business solutions, and comprehensive maintenance support programs. We would like to express our gratitude for the support shown for our consistent activities and will strive to further strengthen our activities for higher customer satisfaction.
About J.D. Power Asia Pacific
J.D. Power Asia Pacific, established in 1990, conducts customer satisfaction research and provides consulting services in the automotive, information technology and finance industries. Information regarding J.D. Power Asia Pacific and its products can be accessed through the Internet at www.jdpower.co.jp.
About Minolta
Minolta Co., Ltd. (TSE 7753) is a leading manufacturer of image information and optical products with operation bases in 33 countries worldwide. Group sales for the period ended March 2002 totaled 510 billion yen, 80% from sales outside Japan. With the major emphasis on the business of photocopiers and laser printers, especially in the area of color output, Minolta's color models provide efficient document processing for high customer satisfaction. With a strong core of optical and image processing technologies, Minolta offers products and services that are essential to all aspects of the digital imaging field.
---
Notice to U.S. Investors
This press release includes forward-looking statements that reflect the plans and expectations of Minolta Co., Ltd. To the extent that statements in this press release do not relate to historical or current facts, they constitute forward-looking statements. The forward-looking statements are based on the current assumptions and beliefs of Konica Corporation and Minolta Co., Ltd. in light of the information available to them, and involve known and unknown risks and uncertainties. Potential risks and uncertainties include, but are not limited to, the ability of Konica Corporation and Minolta Co., Ltd. to integrate their operations effectively, as well as the factors identified under "Forward-Looking Statements" of the Annual Report 2002 of Konica Corporation and "Disclaimer Regarding Forward-Looking Statements" of the Annual Report 2002 of Minolta Co., Ltd. Such risks, uncertainties and other factors may cause the actual results, performance or financial position of Minolta Co., Ltd. and the new corporate group (referred to in the press release issued by Konica Corporation and Minolta Co., Ltd. on January 7, 2003, and any subsequent press releases by either or both of them relating to the proposed share exchange and integration of management described therein) to differ materially from those expressed or implied in the forward-looking statements. Minolta Co., Ltd. undertakes no obligation to update publicly any forward-looking statements after the date of this press release.