Konica Minolta is pursuing a strategy focused on growth in both the Office and Professional Print Businesses. The entire Group will focus on expanding earnings by providing added value in sales efforts and reforming the global cost structure.
Steadily generate profits by providing added value in sales efforts
and reforming the cost structure
Konica Minolta operates the Office Business which provides solutions through a combination of MFPs and IT services, as well as the Professional Print Business, which focuses on providing digital printing equipment. The Business Technologies Business encompasses these two business segments and accounts for more than 70% of the company's consolidated revenue. Its customer base of roughly two million companies and global sales and service system that it has built up through years of business are major assets that enable Konica Minolta's growth strategies. Amid difficult market conditions owing to intensifying competition and stagnant demand for color printers in developed countries, Konica Minolta is looking to strengthen its sales capabilities and cut costs while boosting profits for the entire Group.
To improve our sales capabilities, we are aiming to strengthen the solutions we offer to help solve our customers' business issues, while at the same time improving sales efficiency. In the U.S. and other countries, we are beginning to undertake efforts to improve the efficiency of our sales activities. We are doing this by analyzing past business negotiations, identifying commonalities in negotiations involving high contract rate and profit ratios, and comparing our figures with potential customer data. Through highly effective approaches to proposing high added-value products and services to customers and through efforts to build greater trust with these customers, we are looking to secure profits for the long-term.
Production costs and service costs are the areas we are particularly focused on in reducing costs. Examples of measures to cut production costs include automating the machining, assembly, and inspection processes and reducing downtime by using data to perform predictive maintenance. We are also cutting service costs through measures that include optimizing the frequency with which our service engineers visit customers by offering longer-life replacement parts for MFPs, and building in sensors that collect data on how these parts are functioning.
Through efforts such as this, the Business Technologies Business is aiming to achieve continued revenue and profit growth in fiscal 2018 through a dual focus on raising the added-value sales and cutting costs.
Business Technologies Business operating profit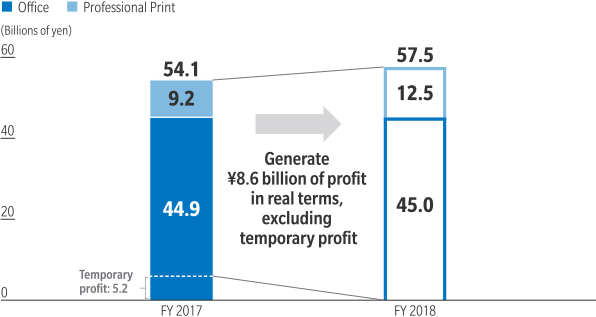 Profit generating measures
| | |
| --- | --- |
| Production cost reduction | ¥2.5 billion |
| Service cost reduction | ¥2.6 billion |
| Impact of structural reform | ¥3.1 billion |
Office Business:
Expanding market share in growth markets and conducting hybrid sales
Since the 2003 business merger between Konica and Minolta, we have consistently pursued genre-top strategies in the color MFP segment. This has seen us expand market share in potentially growth markets for color MFPs in primarily emerging nations. In terms of units shipped, we are number one in China and the Central/Eastern Europe region and number two in India (Konica Minolta estimate). This makes us primary driver of market growth in these countries.
As a strategy for providing high added value in the Office Business, we are conducting hybrid sales that involve proposing solutions that incorporate both MFPs and IT services. We not only provide single products in the form of MFPs, we also provide solutions that help solve our customers' business issues. Whether by improving business processes, comprehensively managing IT environments and content, or strengthening security, we aim to build long-term relationships with customers.
The customers we mainly target for hybrid sales are small and medium-sized enterprises around the world. Since our 2011 acquisition of U.S.-based managed IT service company All Covered, we have conducted M&A for multiple IT service companies primarily in the U.S. and Europe, have worked to expand our system for conducting hybrid sales and providing services, and have provided fine-grained support for the issues faced by each of our customers.
As a result of these efforts, hybrid sales are growing as a percentage of total sales around the world while contract renewal rates are rising alongside revenue and profits per customer.
Hybrid sales ratios in the U.S. and Europe markets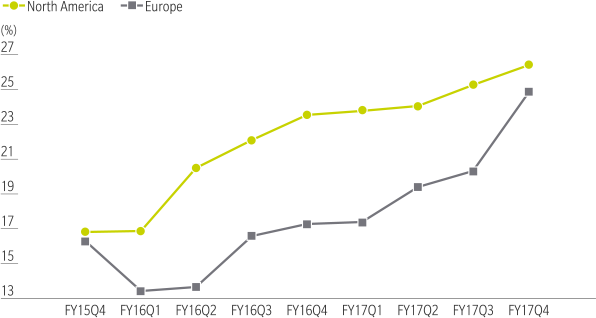 Developing stronger relationships with customers through hybrid sales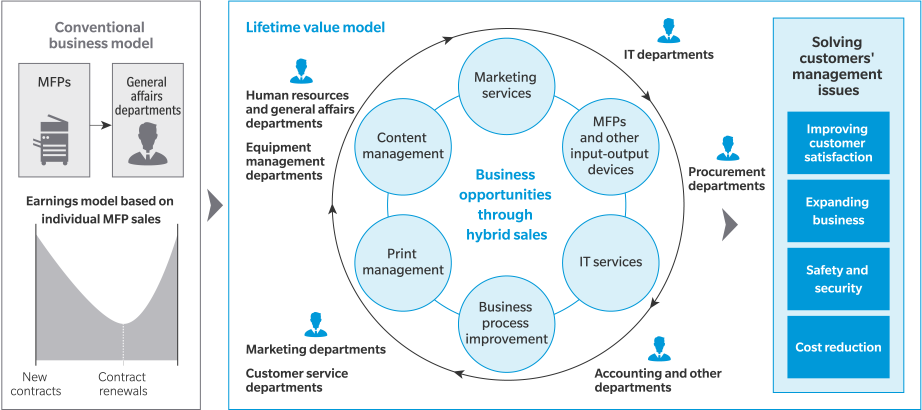 Achieving further business growth by enhancing value-added solutions
in the Professional Print Business
The commercial and industrial printing markets are much bigger than the office printing market, and the demand for digital printing that can accommodate small lot, high-mix jobs with quick turnaround still has plenty of room to grow. To further boost growth in these markets, we are differentiating ourselves from competitors by enhancing our value-added solutions with a focus on solving customer issues.
In the commercial printing area, for example, many companies use in-house operators to handle the calibration of things such as density, color tone, and front-to-back registration. This leads to major quality control and business efficiency issues. This prompted us to begin offering the automated Intelligent Quality Optimizer (IQ-501) unit in June 2017 for digital printers. A solution for automating work done by operators, the IQ-501 keeps quality high while shortening job times. And by helping to improve customer uptime, it can be counted on to increase the print volume of Konica Minolta products. This added value of the IQ-501 has been well received by our customers and has begun to make an undeniable contribution to earnings as well.
In the industrial printing area, we are focusing on a sales approach tailored to marketing needs. Marketing departments around the world are being compelled to come up with more fine-tuned approaches. These approaches include developing products that are only available in certain regions or during certain times of the year or that are customized to individual consumers, creating small numbers of labels and packaging, and fostering feelings of exclusivity by printing names and dates via gold foil stamping on the labels of wines given as gifts. To accommodate the sophisticated printing needs of these industrial printing area, Konica Minolta is making a number of efforts to improve its product lineup. These include launching the AccurioJet KM-1 inkjet digital printer, which excels in a wide range of printing applications spanning general commercial printing to small-sized packages, and the AccurioLabel 190 digital label printer, as well as acquiring a stake in France-based MGI for its varnishing, foil stamping, and other high value-added decorative printing technologies.
Commercial and Industrial Printing — Market Size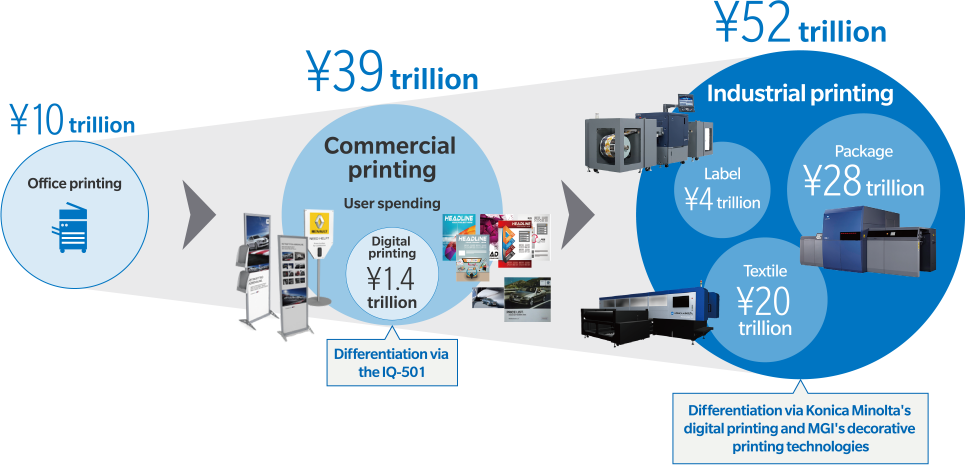 Source: Konica Minolta estimates based on data from studies conducted by research firms and Konica Minolta
Strengthening value added solutions through new platform business
To further enhance our ability to provide the IT services we have developed in the course of conducting our conventional businesses, we began rolling out the Workplace Hub (WPH)* in the summer of 2018 as a new business. WPH is a platform that helps customers utilize and analyze their corporate data and thereby improve productivity at their places of business while supporting workflow reform. To the roughly two million customers that own Konica Minolta MFPs, we will continue to offer value-added solutions by leveraging the WPH to provide a full range of IT services, including those related to IT system management and security.
*More information about WPH is provided in Konica Minolta's Integrated Report 2017.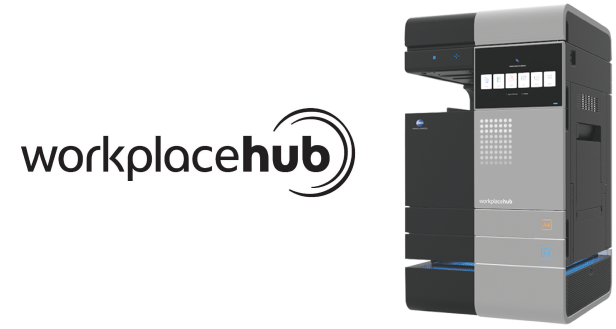 Interview with Cluster East Managing Director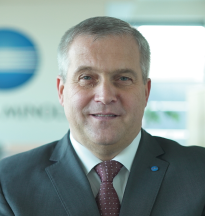 Roman Tihelka
Managing Director, Cluster East,
Konica Minolta Business Solutions Europe GmbH
The market leader for A3 color and monochrome MFPs in Eastern Europe
We are focused on expanding hybrid sales in Eastern Europe as well. 70% of our business goes through direct sales channels, and we build customer-oriented sales systems to provide solution services according to changing needs.
Having direct connections with so many customers is a major advantage for us. We get feedback from many of our customers and then develop and improve on our products and services within a short timeframe. The more companies that use our products and services, the faster this cycle becomes.
In terms of units shipped, we are currently the market leader in Eastern Europe for A3 color and monochrome MFPs (color MFPs: about 36%, monochrome MFPs: about 23%). Currently 40-50% of MFPs marketed in Eastern Europe are color models, and this is expected to grow to 80-90%, the current level in Western Europe. Given our strength in color MFPs, we will steadily capture demand and further expand our share in Eastern Europe to further enhance our presence in the market.
A focus on providing customers with more value propositions and developing talent
Our strategy in Eastern Europe is based on two pillars. The first pillar involves making value propositions to the customer through our products, solutions, and services. Key to this strategy is developing and providing IT services, and things are going very well in the MCS (Managed Content Services), which involves managing our customers' massive quantity of documents as digital data information and integrating it into a variety of business processes. We are also providing IT infrastructure services involving things such as storage, networks, and monitoring, while at the same time offering business process consulting services that include deploying ERP (core systems).
The second pillar involves finding talent and helping them grow. Along with actively hiring highly-capable talent and putting together training programs tailored to individual employees' careers, we are building work environments that will allow these employees to compete with each other. We have a talent exchange program in which 10 or more people have taken part every year.
Carrying out team selling activities
Recent years have seen a growing need for services to help digitize entire business processes. To capitalize on our opportunity to answer this need, develop business prospects through communication with customers, and thereby bring in signatures, we are conducting team selling activities. Our sales personnel identify sales opportunities and strengthen relations with customers, while internal consultants develop solutions that leverage specialized expertise in things such as content and video management. Through these efforts, we strive to provide customers with high-value services.
At a time when many enterprises are seeking to achieve sustainable growth by restructuring their business using digital technologies, we believe expectations are growing for our company. Rather than simply meeting our customers' needs, we strive to better understand each customer's business activities, identify potential issues that not even the customer was aware of, and propose solutions. While these are not easy things to do, we commit ourselves to identifying market changes, improving all necessary abilities and skills, and boosting our speed in order to continue to satisfy our customers' expectations and beyond.