Key Person Interview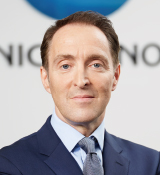 The Workplace Hub:
empowering our customers in the new IOT era
Dr. Dennis Curry
Deputy CTO at Konica Minolta, Inc.
The background and the impetus that led you to develop Workplace Hub
With digitalisation developing at lightning speed, we asked ourselves what this means for our own future. What technologies are driving behavioural change in the workplace and how can we make our mark in this new world? We want to not only transform ourselves, but also the market, and above all empower our customers in this new era of IOT.
We knew that to reap the benefits of digitalisation, there needed to be a bridge between our existing markets and the growth markets of the future. That bridge should maximise on the existing value and capabilities that we have in Konica Minolta, and represent greater value to the customers and society in general.
The catalyst came when there was the realisation that as a company, we already have a 1x1m2 space occupied by our MFPs in millions of offices and workplaces around the world. And so came the idea of adding value to that square metre, to not only give our customers what they need in today's workplace, but to also solidify our position in the IT services market for tomorrow.
From Business Innovation Centres to a market-transforming big bet
Our global distributed Business Innovation Centres were the perfect platform to build the concept that would fill the untapped needs of customers – and define exactly what that need is. The Business Innovation Centres are located near the customer base and pursue a customer-centric approach to creating concrete value-added solutions, which was the perspective needed for Workplace Hub.
Using our skilled BIC team's incubation knowledge as a foundation, across countries and with numerous ideas to help shape its growth into a business case, the Workplace Hub Group was born to bring the vision to reality.
The potential for Workplace Hub to be adopted by customers and to expand as a business
The fact that our devices occupy a square metre of our customers' workplaces allows us to quickly develop and test new value propositions based on the existing footprint. We can also leverage our extensive field support network and customers' trust in the quality of our service delivery. Therefore the potential for adoption ranges from those we have existing relationships with, to those who are new but also want IT to work on their terms.
Once initial acceptance is made, the opportunities to expand are endless. The centre of the office will become much, much more; it's a physical centre at the moment but it will become a cognitive centre. We are developing new IOT, AI and decision support capabilities and services and offerings, which will make our position in the market stronger than ever.
How you wish to see Workplace Hub develop as a business from here on out
At this stage, we envisage the first generation of services and applications will start offsetting any revenue gap caused by the transformation from paper to digital, and that we will gain important recognition as a provider of a broader range of smart workplace solutions.
Workplace Hub is the cornerstone towards the growth of our new platform orientated IT and future workplace offerings that can be quickly tested in the marketplace, thus allowing us to predict what clients want more precisely, and adapt our strategy and portfolio in any relevant direction with great agility. In other words, Workplace Hub will serve as the basis for creating new platforms in the future, thereby making our company more resilient towards the uncertainties of digitalisation.
What you currently hope to undertake now or in the near future to achieve the above
Using the core platform as a basis, we can expand into different verticals and markets to deliver targeted solutions. Workplace Hub provides a core system that will allow us to branch out aggressively into different industries and channels to deliver targeted solutions in a variety of areas such as IOT and AI orientated office services, manufacturing, and healthcare.