Message from the CEO of Ambry Genetics Corporation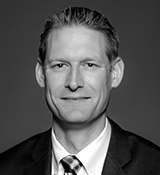 Leveraging the Resources and Technologies of Two Companies to Contribute to Precision Medicine
Aaron Elliott, Ph.D.
Chief Executive Officer
Ambry Genetics Corporation

ABOUT US:
Ambry is a molecular diagnostics company with a mission to understand disease better so cures can come faster. For nearly 20 years, our customers have come to trust our evidence-based research and quality genetic testing to help them find answers so they can more precisely guide patient care.
Our comprehensive test menu includes single-gene analysis, multigene panels, microarrays, exome sequencing and novel paired testing (germline/ somatic). We focus on hereditary testing for oncology, cardiology, women's health, preventive care, neurology and general genetics. Our Translational Genomics Lab (ATG Lab) is a unique lab service offering novel evidence through validated functional assays to bring clarity to variants of unknown significance (VUS). We developed the ATG Lab with the goal to give clinicians a better understanding of their patient's test results and offer clear guidance on future medical management.
Founded in 1999, Ambry began by sequencing samples from cystic fibrosis (CF) patients, using a methodology that produces more complete and accurate results. We continued to specialize in the application of new technologies by offering microarray, and in 2010, we were the first commercial lab to offer Next Generation Sequencing (NGS). The following year we became the first lab to provide CLIA-approved exome services for applications in clinical diagnostics. In 2012, we achieved another first with our hereditary cancer panel offering. Then in 2013, making both history and headlines, we took on the daunting challenge of eliminating gene patents and won in a precedent-setting case against Myriad Genetics. Through this crowdsourcing of genetic data from individuals with specific diseases, we believe we can accelerate scientific discoveries like new candidate genes and targeted treatments.
In 2016, we built a customized 65,000 square-foot highly automated CLIA/ CAP certified lab. To ensure proper tracking and testing accuracy, samples are DNA 'fingerprinted' before and after testing using a unique set of genetic markers. Our 'super lab' produces some of the fastest turn-around-times in the industry, with uncompromising accuracy and specificity.
At any one time, we have over 200 on-going research collaborations with the top clinicians and academic institutions in the world, in an effort to bring about a better understanding of genetic disease and clinical utility. Our methods of detecting deletions and duplications have been validated through extensive research, using more than 30,000 samples that we analyzed using arrayCGH and NGS. We have published the largest accuracy study to date for NGS panels and are the only lab with established and published criteria for validating genes. We continually keep our tests up to date and clinically relevant as new genes are identified.
Above all, Ambry is a place of taking risks, where passion and a patient-centered philosophy blend with sweat equity and innovative research. We are proud to be leaders of scientific innovation, not because of a profit-driving mindset, but with heart, guts and an uncompromising commitment to improve patient care.
WHY WE ARE PARTNERING WITH KONICA MINOLTA:
We strongly believe we have a responsibility to evolve science and move us closer towards precision medicine, which can ultimately improve patient care and quality of life. Unlike other labs that try to blur the line between screening and clinical diagnostic testing, Ambry focuses on quality and accuracy, above all else.
Over the years, Ambry has been approached regarding an acquisition and each time we asked ourselves the same questions. Does this company truly care about finding answers? Do they have what it takes to go the extra mile to improve patient care? Do they share the same vision to progress the science in a responsible and life-giving way?
Ambry is very excited to partner with Konica Minolta because together we can accelerate the development of new diagnostic tests for many different diseases for patients throughout the world. Together we have the combined resources, technology, and scale to advance biomedical research on a global scale resulting in better tests for doctors and more precise treatments for their patients.