Leveraging our connection with customers
to strengthen our solutions-oriented businesses
Konica Minolta has close to two million customers connected by a sales and service system that we have built up across 150 countries. This customer base is an asset that contributes greatly to our growth. With an emphasis on connecting with our customers directly at an early stage, we have built a direct-sales system that does not involve going through distributors. This allows us to get a keen sense of the issues our customers face in the workplace and to offer suggestions that meet their needs.
This extensive and profound connection with the customer is a strength unique to Konica Minolta. By making full use of this strength, we work to improve customer value and increase profitability by proposing not just standalone devices but solutions that include a variety of services.
In the Digital Workplace Business, for example, we have enhanced our ability to offer IT services by undertaking M&A and other moves beginning 10 years ago in anticipation of bearish print volume (PV) owing to offices going increasingly paperless. Meanwhile, we have also paired MFPs with IT services and conducted hybrid sales of solutions aimed at solving our customers' issues. We previously made sales calls every four or five years, coinciding with when our customers replaced their MFPs. Since we began providing IT services, however, we now provide suggestions to customers more often and have improved customer engagement. Through persistence in these efforts, we boosted the retention rate to 85% from what was once about 70% while increasing per-customer profit. Steady progress is being made.
During the period of the SHINKA 2019 medium-term business plan, we began rolling out the Workplace Hub next-generation platform with an eye to building a new business model not dependent on PV. Our direct connections with so many of our roughly two million customers will serve as a strength as we expand our business even further.
With regard to the Workplace Hub, we were unable to achieve the goals of the initial sales plan due to the time needed to complete a successful firmware version both in terms of customer satisfaction and expediency for us. However, fiscal 2020 will see us begin to bring together the Workplace Hub, MFPs, and IT services towards achieving the Intelligent Connected Workplace*, allowing us to expand the solutions and value we provide the specialized industries. Through this effort, we will continue contributing to better business efficiency and productivity.
*Intelligent Connected Workplace: A smart workplace environment that brings the necessary people and information together, and allows for creating value with anyone anywhere, and at any time.
Measures to boost sales by leveraging connections with customers

Seeking to improve business efficiency through a scientific sales approach
While cultivating new customers is critical for further increasing connections with customers, traditional sales approaches involve a lot of wasted effort and are inefficient. To solve this issue, we employ a scientific sales approach for our Business Technologies Business in the U.S.
For some time now, Konica Minolta has been creating a database of customer profiles. By analyzing this data using AI, we can identify promising goods and services according to industry or company size, and can determine profit ratio trends. We then create a pipeline (a list of prospective customers) for cultivating new customers. Using this list as a starting point for sales activities has enabled us to provide more effective proposals from early on in deal negotiations, resulting in better sales efficiency and customer satisfaction.
Our vast customer base is what makes this sales approach possible. With COVID-19 complicating in-person negotiations, figuring out how to assess customer needs remotely is key. For that reason, as well, we believe it is important to cross-deploy our scientific approach from the U.S. to other regions and from the Business Technologies Business to other businesses, ensuring it is used effectively. In the three years of the new medium-term business strategy, DX2022, we lay out a new initiative aimed at taking this approach a step further by using an AI employed for analyzing data to automatically generate the most suitable proposals based on customer type.
In addition, we will be deploying a system for scientifically evaluating and verifying how well we are doing in engaging customers. Up until now, our source of reference has been the Net Promoter Score (NPS), which assigns scores to how willing customers would be to recommend something to another customer. Now, we will take this to the next level and have our customers scored according to a standard of our own design— one which asks customers "do you plan to continue using Konica Minolta products or services?" We will then deploy our own evaluation system that will compile and analyze the assessments on a weekly basis, making use of our findings in sales activities.
Looking to create customer value through the One Konica Minolta approach
Through the connections we have with customers in a broad spectrum of industries, we are able to discern a diversity of undiscovered issues that our customers face— issues that present numerous business opportunities. We will capture every such opportunity and use them to expand our business. To this end, through One Konica Minolta, we go beyond business boundaries to provide unique solutions and create ever greater customer value.
For example, in response to the needs of schools looking to bolstering security, we provide IT-related security as well as solutions in the form of surveillance cameras that monitor for suspicious trespassers. We also seek to meet the needs of local governments interested in achieving operational reforms. In addition to document solutions that digitize and centrally manage large volumes of documents through the tracking and assessment of workflows, we even sometimes suggest healthcare-related solutions to improve operational efficiency at public health centers.
To carry out this multifaceted style of proposal making, we have consolidated each business's sales functions into a single sales subsidiary, replacing a sales system centered around specific business segments with one that can offer different solutions specific to our customers' industries and lines of business.
This gives us a deep understanding of the issues unique to each of our customer's industries and lines of business, and enables us to propose a variety of the best possible solutions. We also have the means to replicate elsewhere in the group successes achieved in one country or region.
In addition, Konica Minolta experts well-versed in security and other specific fields engage in talks with customers, creating opportunities to conduct assessments and implementations in the field. Going forward, in order to create even more of these opportunities, we will focus on cultivating experts in every business segment, for example, utilizing our European experts in a cross-border capacity by having them take part in deal negotiations with our Asian customers.
The extensive customer connections we have built up will drive our future growth, and I am confident that we can achieve greater growth by leveraging these connections across business borders. Under One Konica Minolta, we will continue upping the pace of our solutions proposals, one step at a time.
An interview with top personnel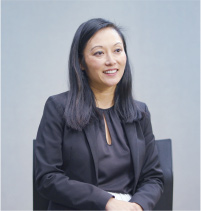 Kay Du Fernandez
Senior Vice President, Marketing,
Konica Minolta Business Solutions U.S.A.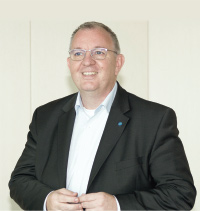 Olaf Lorenz
Senior General Manager,
Digital Transformation Division,
Konica Minolta Business Solutions Europe
Question 1: How do you strengthen the connection with your customers?
Lorenz

We pride ourselves on building long-term, honest relationships of value with our customers, as opposed to many other companies who still adopt a transactional attitude towards their relationships . We create these deep partnerships by talking with them and finding out their needs and expectations. We then measure the customer experience at various instances of our interaction. To enhance our customer experience further, we are working closely with our talented marketing and sales team.
Fernandez

In order to build good relationships with our customers, we need to get a deeper insight into their buying behavior. As a result, we have been utilizing a customer journey map for the past few years. All these customer touch points really help us to understand how we're interacting with customers at each stage of the awareness, consideration, acquisition, and adoption stage. By optimizing every single touch point, we can develop effortless, engaging, and relevant experiences. This has helped our digital transformation within our marketing department.
Question 2: What do you focus on in your marketing activities?
Fernandez

In the US, we are very much focused on demand generation. Customer data is key to ensure our customer segmentation is effective. We utilize AI to identify optimal and higher profit ratio groups, narrow down the potential target sectors, and target the right customers, all of which helps us to provide efficient and accurate solutions to companies with similar needs. These digital approaches ensure we can forge strong, long-lasting relationships. That's one of the areas of our strategy in the US, and we're very much focused on channel marketing as well. We readily share these tried and tested approaches with our 300 partners and support their sales activities, digital marketing, and social media strategy.
Lorenz

Much like the US, we have a scientific sales approach in Europe, whereby automated marketing and data analytics are crucial to understand our customers' needs. This helps uncover potential new customers and further bolsters existing relationships. For instance, we are a favored supplier of a major global automobile company because we have continued to add new product features based on customer analytics, ensuring their needs are met and they have a competitive edge. As a result of our productive partnership, they have continued to renew their contract with us for over ten years now.
Fernandez

Persona is very important for us, which is why we conduct a lot of data research to implement accurate customer segmentation in order to target a specific vertical or role within an organization whether it's a CEO, CIO, or a specific business department with the right messages to suit particular business needs.
Question 3: How would you enforce the business looking towards a post-COVID-19 era?
Fernandez

It's important to maintain a close connection with people during the current situation, despite having much less opportunity for face-to-face interaction. Consequently, we have adjusted our communication and marketing by promptly creating virtual events and webinars. These engaging events provide virtual demonstrations of our innovative products, such as the AccurioPress C14000. We have had upwards of 350 people attending these events since its launch, so they have been successful in getting people to interact with Konica Minolta, and converting active participants into customers.
Now, we are coming up with new ways to further improve this virtual experience. For example, we recently combined the physical and virtual, by mailing sample materials to attendees before a virtual demonstration of our group company MGI's innovative spot varnish printing device. In these changing times, e-commerce is now a top priority for us. As a result, we are working on automated transactions, as well as the most effective ways to sell online. This is a global project, which everyone on our team is working enthusiastically on.
Lorenz

Even before COVID-19, we transformed our business model from a transaction to a solution provider. If we take a look at the current office business environment, it is constantly evolving. We already offer our customers an Intelligent Connected Workplace solution as one of our major services, but the pandemic has now accelerated the need for further digitalization in the wider business society. Our solution would suit a post-COVID-19 world because it connects dispersed and variable workplaces, ensuring productive collaboration continues whatever the location. This demonstrates we are company that is at the forefront of teleworking solutions and shaping the future workplace through our innovative digitization practices.
Fernandez

We have also started a new initiative called Return to Work, which supports going back to the office with virtual health checks. This solution was put into practice within eight weeks, and was achieved through close collaboration between our enterprise management team, engineering team, and marketing team. Our quick deployment of this solution was due to understanding market needs under the current situation. We also collaborated with our group company, Ambry Genetics, who provided state-of-the-art genetic testing services to help us compliment our Return to Work solution. All of which shows we are practicing One Konica Minolta to its full potential.
Lorenz

Another example of us enacting One Konica Minolta is with our Box Defect Detection system, which is currently being developed in Europe. This sensing system uses video analytics, and has the potential to completely automatize manual processes by combining our camera technology, sensing technology, and other multiple equipment. This solution contributes to the manufacturing and logistic industries, and helps accelerate automated and remote work processes, which would be very useful in the current climate. We will continue to provide solutions demanded in the post-COVID-19 world, by concentrating resources from our different businesses to holistically provide necessary solutions for our valued customers.