The World's 1st Customer Contract for a LED Dome Planetarium Awarded to RSA Cosmos – a Konica Minolta Company
Tokyo (June, 13 2023) - Konica Minolta, Inc. (Konica Minolta) and its group company, RSA Cosmos, S.A.S. (RSA Cosmos), are announced the award of contract by the Indian Institute of Astrophysics (IIA) for the 8K LED Dome Planetarium project in Mysuru, India. The installation will be carried out with their Indian partner Orbit Animate Pvt. Ltd.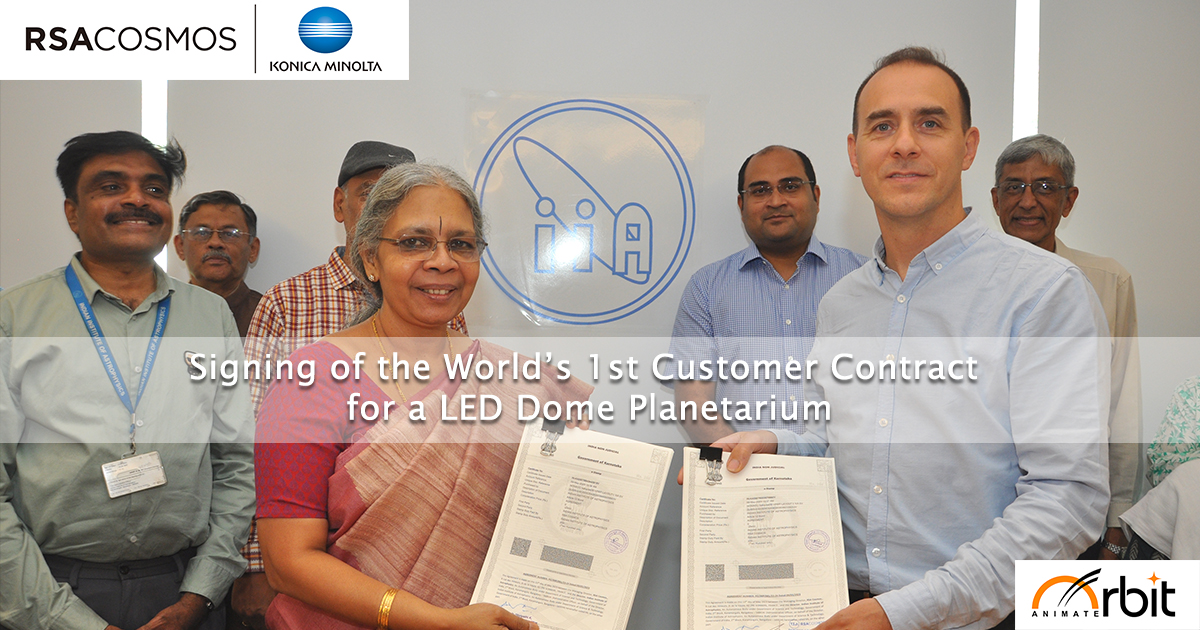 Setting yet another milestone in the planetarium industry, RSA Cosmos will bring the 1st LED Dome Planetarium to India and the 1st LED Dome Planetarium to the world supplied by a vendor to an independent customer.
The Indian Institute of Astrophysics (IIA), an autonomous institution under the Department of Science and Technology, Government of India, has achieved a significant milestone in the development of astronomy outreach in India by conceiving the COSMOS project that will feature this unique LED Dome Planetarium as its main attraction.
The LED Dome Planetarium, "COSMOS Mysuru Planetarium", will see the light in 2024, and will emerge from the ground in the City of Mysuru at the University of Mysuru (UoM) campus. It will accommodate 150 visitors at a time. This project is funded by MPLADS (Members of Parliament Local Area Development Scheme) funds from Honourable Finance Minister Nirmala Sitharaman, the Department of Science and Technology, and the Department of Atomic Energy, Government of India, and is supported by the Office of the Principal Scientific Adviser (PSA).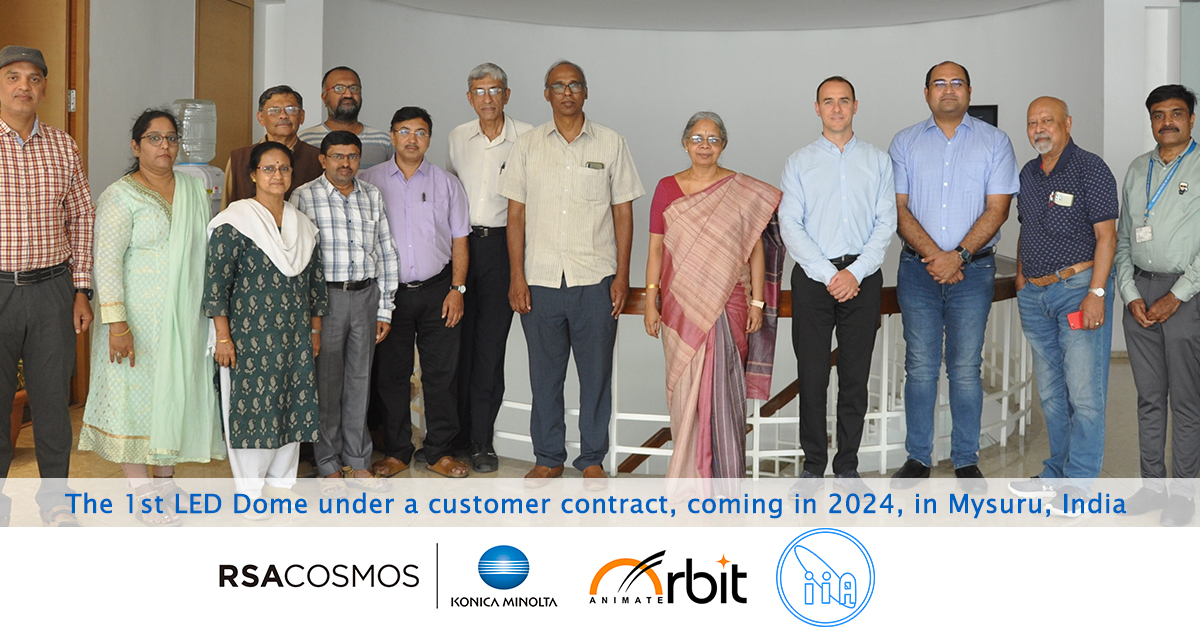 RSA Cosmos and its partner in India, Orbit Animate, will install a 15m tilted dome which will comprise of numerous panels of LED lights in true 8K resolution, directly controlled by RSA Cosmos's technology, along with their astronomical software, SkyExplorer.
Unlike a conventional projector-based fulldome system widely used today, the LED Dome system produces images by using LED elements that emit light on an immense color spectrum. Characterized by its higher luminance and wider color gamut, the system can reproduce highly realistic beautiful starry skies and astronomy visuals. Powered by SkyExplorer, the most stunning and realistic images in real time are achieved, with unprecedented image quality, stunning brightness, and unparalleled levels of contrast.
The Konica Minolta Group can install LED Dome Planetariums for every resolution from 4K to 16K +, for every diameter & tilt and for every design & shape wishfully desired.
The Konica Minolta Group has been selected for their expertise and technological know-how in LED Domes brings outstanding immersive experiences to life.
"The advantage with LED Domes is that they provide much better contrast with 8K resolution. There are only two such installations in the world for public viewing, and both are in Japan operated by the same Konica Minolta Group," says Prof. (Dr.) Annapurni Subramaniam, IIA Director.
The Konica Minolta Group brought to life the 1st two LED Dome Planetariums opened for public experience.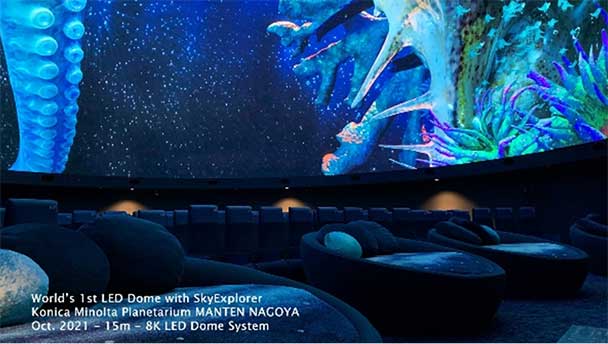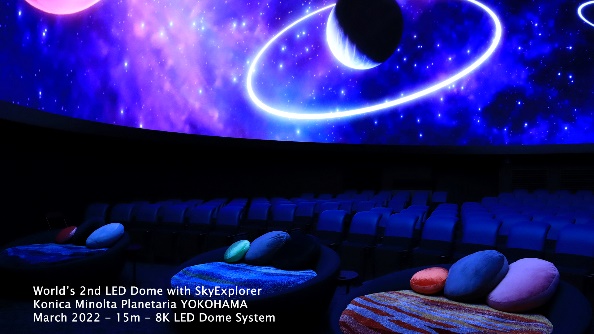 On October 27th, 2021, they opened "Konica Minolta Planetarium MANTEN NAGOYA", and on March 24th, 2022, only 5 months later, they opened the 2nd one "Konica Minolta Planetaria YOKOHAMA", both located in Japan. They directly manage & operate these two Planetarium theaters, and provide all the insight and knowledge to install a fully operational LED Dome that promisingly delivers ground-breaking immersive experiences.
About RSA Cosmos
RSA Cosmos is one of the largest manufacturers specializing in digital planetariums that offer big data of the stars and planets as photo-realistic digital CG images. The company was established in 2003 as a spin-off of the planetarium business from RS Automation Industry, a machine manufacturer in France. In 2009, RSA Cosmos developed SkyExplorer, advanced digital planetarium software for photo-realistic rendering, since when the company has rapidly expanded its business. RSA Cosmos became a Konica Minolta Group company in 2019. Currently, it is developing a technology to visualize industrial big data such as in the manufacturing industry for B2B customers by utilizing its technology for visualizing big data of the stars and planets in 3D.