Konica Minolta Planetarium Theaters
Konica Minolta Planetarium is the only major manufacturer of planetariums that operates its own theaters. The two planetarium theaters "MANTEN" and "TENKU" are located in Tokyo, having a combined yearly attendance of more than 800 thousand visitors. Both theaters are especially well known for their "Relaxation Programs," where pleasant aromas and soft music fill the dome, providing a meditative and healing environment.
Konica Minolta Planetarium "MANTEN" in Sunshine City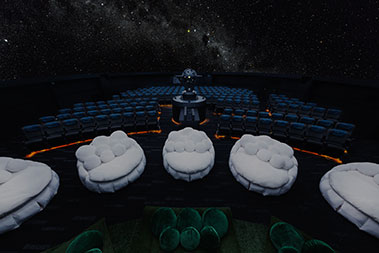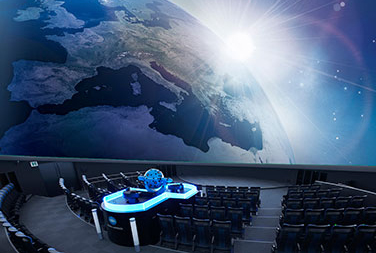 "MANTEN" is located in Sunshine City, a commercial complex featuring office buildings, an aquarium, shopping center, a theatre, a museum, a hotel and many restaurants. It is also located just above the company headquarters. "MANTEN" made its third renewal in December 2015, following 2007 and 2011. The latest optical projector Infinium Σ has now been installed delivering an inspiring starry sky. Moreover, the digital planetarium, dome screen, audio system, and seating have also been renovated. New types of seating have been introduced, "Lawn" and "Cloud" seats. Visitors can now lie on artificial grass or on a large white sofa to relax and have a perfect view of the night sky.
Konica Minolta Planetarium "TENKU" in TOKYO SKYTREE TOWN®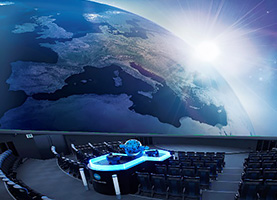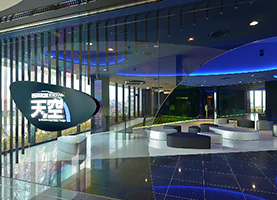 "TENKU" opened on May 22, 2012 inside TOKYO SKYTREE TOWN, a multipurpose facility including office buildings, academic institutions, exhibition halls, commercial facilities, an aquarium and shopping center. Above the town is TOKYO SKYTREE, the tallest structure in Japan at 634m. Visitors enter through a modern "foyer" where tickets are purchased. From the foyer is a tunnel that leads to the dome, lighted in blue and white to raise expectations for a journey through the universe.
Custom seating was designed and produced for "TENKU". It features a mesh material applied to the reclining high back chairs. This mesh creates a hammock-like comfort, perfect for simulating the experience of floating in outer space.
English Audio Guides
English audio guides are available free of charge at both "MANTEN" and "TENKU". Please inform staff at the ticket counter if an English audio guide is needed. Please note that some shows do not support audio guides and that there are limited numbers.