KONICA MINOLTA PLANETARIA TOKYO
KONICA MINOLTA PLANETARIA TOKYO is a brand-new theater, which opened in Yukakucho, Tokyo on December 19th 2018. This is Konica Minolta Planetarium's 3rd direct management theater.
PLANETARIA TOKYO is Japan's first fulldome theater complex consisting of two dome theaters, a VR attraction, a cafe and a shop.
PLANETARIA TOKYO is located in Yurakucho Mullion, the iconic building complex near Yurakucho station. In 1938, Yurakucho was the location of Tokyo's first ever planetarium. 80 years later, we unveiled this brand-new planetarium in the same historical area.
DOME1 Digital Multi-purpose Theater
This magnificent dome theater perfectly conveys our mission to pursue new possibilities of the planetarium with the concept: "FUTURE". We continually challenge ourselves to develop new kinds of planetarium performances. Imagine a new style of show programming that combines a starry night talk and musical, live music where you can enjoy both fulldome images and music, a bar-style planetarium where you can marvel at a truly realistic starry sky while enjoying your favorite beverages. Experience an overwhelmingly immersive feeling with 8K imagery projected from the floor to the zenith as the entire dome space wraps around you.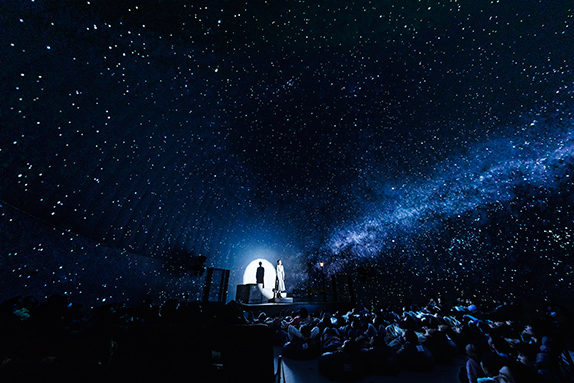 DOME2 Planetarium Fulldome Theater
A beautifully designed dome theater that is equipped with an integrated system of both the optical planetarium and digital planetarium, based on the "LEGACY" design concept. The optical planetarium "Cosmo Leap Σ", which received the GOOD DESIGN AWARD 2018 Gold Prize, projects incomparably beautiful stars shimmering in the dark sky, while at the same time being compact in design. Visitors will enjoy a variety of unique planetarium shows with "Cosmo Leap Σ", "Media Globe Σ" digital planetarium and the latest "SOUND DOME®" system.
SOUND DOME® is a trademark of Konica Minolta Planetarium Co., Ltd.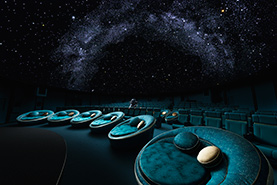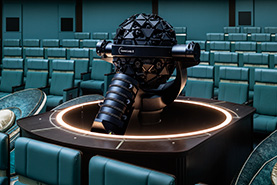 Multilingual audio service
Multilingual audio service is available for some shows for free of charge at "PLANETARIA TOKYO". English, Chinese and Korean are available and an audio system is equipped with each seat. Please note that the languages available differ according to programs.