Konica Minolta Planetarium "MANTEN" in Sunshine City
"MANTEN" is the first planetarium that became under direct management of Konica Minolta Planetarium. Having the idea of "enjoying thoroughly the starry sky," we provide the impression of the starry sky entertaining many adults. "MANTEN" is a new sensational planetarium theatre also known to be an attractive place for dating.
"MANTEN" is located in Sunshine City, a commercial complex featuring various facilities including office buildings, an aquarium, a shopping center, a theatre, a museum, a hotel and many restaurants.
Planetarium Projectors
Konica Minolta Planetarium products are known to project accurate starfields with true gradation. The optical planetarium "Infinium Σ" provides the most realistic and beautiful starry sky that can be experienced. A dark black night sky with sharp bright stars fill the dome.
By 6 high-resolution projectors and a state-to-the-art dome screen, seamless full dome images surround the audience providing an immersive image experience.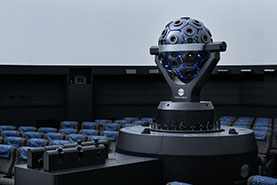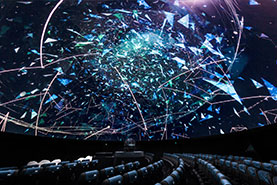 "Lawn" & "Cloud" Seats
Two types of seating, "Lawn" and "Cloud" seats have been newly introduced in front of the theater starting from December 2015. Visitors can watch the night sky by lying down on "Lawn" seats, or can feel drifting in the night sky when on "Cloud" seats.
One of the main ideas of renewing "MANTEN" in 2015 was to provide the planetarium as a relaxing environment. The black interior design with warm candle-like lighting also builds up the atmosphere.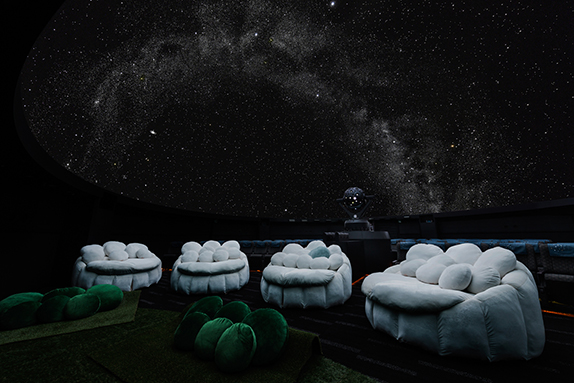 English Audio Guides
English audio guides are available free of charge at "MANTEN". Please inform staff at the ticket counter if an English audio guide is needed. Please note that some shows do not support audio guides and that there are limited numbers.