Konica Minolta Planetarium "TENKU" in TOKYO SKYTREE TOWN®
"TENKU" opened in TOKYO SKYTREE TOWN® on May 22nd 2012 under the direct management of Konica Minolta Planetarium and had a full renovation in November 2017.
TOKYO SKYTREE TOWN® is a multi-purpose facility, including office buildings, academic institutions, exhibition halls, commercial facilities, an aquarium, shopping center and a planetarium. Above the town is TOKYO SKYTREE, the tallest structure in Japan at 634 meters.
Planetarium projection and premium seats
The combination of "INFINIUM S," the optical planetarium projecting beautiful realistic stars and "Media Globe Σ 4KTE-L," the digital planetarium demonstrating dynamic images gives an immersive experience and great attraction.
Three premium seats shaped just like a crescent moon are located at the front of the dome. These seats, with their charming form and comfortable texture, are completely custom-made. They will enhance your planetarium experience, making your time with someone special even more special.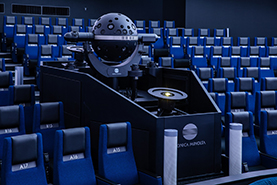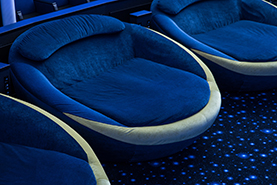 SOUND DOME®
The latest 3D SOUND DOME® system has been installed, which offers the finest acoustic experience, making the sounds truly come alive like never before. A total of 43 speakers and 4 woofers have been packed into the dome, offering a whole new level of refinement to the movements of the sound– not only front and back, and left and right, but also circular movements.
SOUND DOME® is a trademark of Konica Minolta Planetarium Co., Ltd.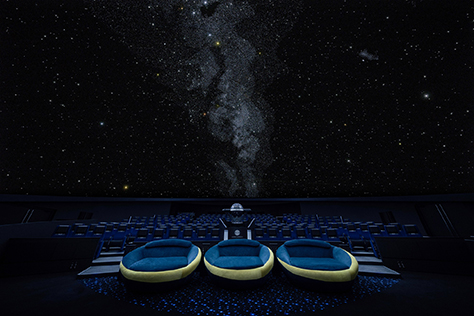 Multilingual audio service
Multilingual audio service is available for some shows for free of charge at "TENKU". English, Chinese and Korean are available and an audio system is equipped with each seat. Please note that the languages available differ according to programs.