Konica Minolta Planetarium "TENKU" in TOKYO SKYTREE TOWN®
"TENKU" opened in TOKYO SKYTREE TOWN® on May 22nd 2012 under direct management of Konica Minolta Planetarium. TOKYO SKYTREE TOWN® is a multi-purpose facility, including office buildings, academic institutions, exhibition halls, commercial facilities, an aquarium, shopping center and a planetarium. Above the town is TOKYO SKYTREE, the tallest structure in Japan at 634 meters. Not only the tower but the town is an attraction for many visitors from foreign countries.
Dome Screen & Seating
A gentle slope with stepped seating allows stars to be projected horizontally as the true sky, with image projection filling the dome from the front surrounding the audience, giving an immersive experience and great attraction.
Original seating has been produced introducing mesh material to the back of the chair, not seen in any previous planetarium chairs. Applying mesh material to high back type chairs create a hammock-like comfort, as if floating in outer space.

Foyer
The "foyer" is the lobby where the ticket counter is placed, fantastically lighted in blue and white to raise expectation for a journey to the universe. From the foyer is a tunnel that leads to the planetarium dome, where space exploration begins.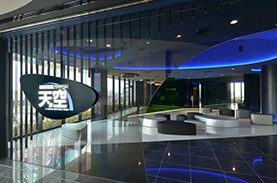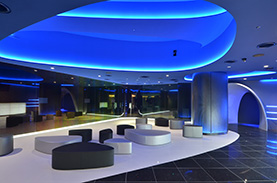 English Audio Guides
English audio guides are available free of charge at "TENKU". Please inform staff at the ticket counter if an English audio guide is needed. Please note that some shows do not support audio guides and that there are limited numbers.