Konica Minolta With You, Inc., Konica Minolta's Special Subsidiary that Aims to Promote Employment of People with Disabilities,
Receives the Governor of Tokyo Award among Excellent Company Awards for Employment of Persons with Disabilities
Konica Minolta, Inc. (Konica Minolta) announced that its special subsidiary*, Konica Minolta With You, Inc. (Konica Minolta With You), received the Governor of Tokyo Award among Excellent Company Awards for Employment of Persons with Disabilities hosted by the Tokyo Metropolitan Government.
Excellent Company Awards for Employment of Persons with Disabilities
In order to create an environment where people with disabilities can play an active role in the workplace, the Tokyo Metropolitan Government selects companies in Tokyo that make distinctive and excellent efforts to employ people with disabilities and awards them the Excellent Company Award for Employment of Persons with Disabilities as one of the companies that make outstanding efforts. In addition, the initiatives of the award-winning companies are widely introduced through the metropolitan government's website and case studies to raise awareness of the importance of employing people with disabilities.
Reason for the Award
Konica Minolta With You was recognized for its distinctive and outstanding efforts to create an environment in which people with disabilities can thrive in the workplace.
During the first three years of employment, the company takes a long-term perspective in human resource development by providing employees with experience in a variety of tasks through job rotation and assessing their aptitudes.
The company clarifies the type of person and skills it is looking for, and incorporates them into its own wage policy, and raise salaries based on individual abilities.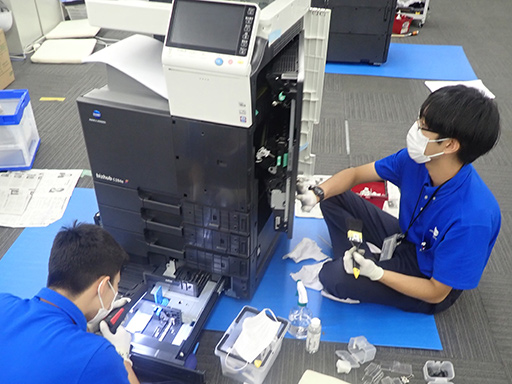 Unique Career Support Program
At Konica Minolta With You, employees with disabilities rotate jobs within the company for the first three years, being assigned to a different job each year. Experiencing different jobs helps them to discover aptitudes for jobs they thought they were not good at, and improve their ability to perform various tasks. The program thus helps employees achieve personal growth and development.
In the fourth year, each employee is formally assigned to the department that is considered most suitable based on their three years of experience and that is likely to help the employee design their career path. The employees also participate in training offered by a career development school for people with disabilities. Moreover, the company provides career development support to employees with disabilities by: applying the same job-grade program (personnel treatment program) as for employees without disabilities (instructors); grouping them in three different courses in consideration of individual aptitudes and preferences for the purpose of performance evaluation; offering carefully-planned training programs for employees with disabilities; and carrying out long-term individual job capacity-building plans.
Konica Minolta With You
Konica Minolta With You was established as a special subsidiary* of Konica Minolta with the aim of helping people with disabilities achieve social independence through employment. The company offers high value-added services such as digital printing, an area in which Konica Minolta excels, and related business, while working to include people with disabilities in the local community on an equal footing with those without disabilities.
The word "You" in the company name refers to not only people with disabilities but also all stakeholders associated with the Konica Minolta Group. The phrase "With You" is meant to remind the public that the relationships between people with and without disabilities are mutually beneficial and supportive, and convey the hope that its employees with disabilities can work in cooperation with all its stakeholders, including customers, business partners, local residents, government officials and educational personnel, and thus create added value as independent members of society, and grow together.
Company name
KONICA MINOLTA WITH YOU, Inc.
Head office location
Konica Minolta Tokyo site Hachioji
2970 Ishikawa-machi, Hachioji City, Tokyo
Representative
Teruaki Tonomura, President
Date of establishment
October 1, 2013
Capital
10 million yen
Number of employees
160 as of April 2020, including 108 with disabilities
Business

Digital printing and related business
Data entry and scanning
Gardening, production of processed goods related to gardening
Café and shop service
Vending machine management
Replenishment of copier paper, collection and shredding of confidential documents
Machine maintenance
Sorting, collection and delivery of mails
Management of company history documents
Konica Minolta With You is striving to create an environment that enables people with disabilities to work as independent members of society by formulating career advancement plans for them so that each employee can achieve personal growth through meaningful employment.
*Special subsidiary means a subsidiary that takes special measures for employment of people with disabilities under the Japanese Act on Employment Promotion etc. of Persons with Disabilities.