Language of Light
3.Instrumentation
3.2 PHOTOMETER
3.2.3.4 LUMINOUS INTENSITY METER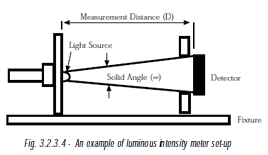 Luminous intensity represents the flux flowing out of a source in a given direction per solid angle and it is used to quantify the power of a light source. As the definition implies, luminous intensity measurement involves several geometrical intricacies, such as measurement direction and amount of solid angle. Light sources are rarely spatially homogeneous, leading to the questions on which direction and how much solid angle should be used to carry out the measurement.
Hence, to measure the luminous intensity of a light source meaningfully, an agreed-upon fixture that defines the solid angle encompassed by the measurement and that orients the light source repeatably in an specified direction must be used. In other words, such meters have to be configured for the geometry of the source under test.
Basically, there are no off-the-shelf luminous intensity meters and comparison of measured data from two different luminous intensity meters serve no purpose, unless their measurement geometries are identical.
Note: Solid angle can be calculated from the known detector's area and measurement distance. Detector is used to measure the flux reading in lumen.