January 27, 2015
Simultaneous worldwide introduction planned for the summer of 2015.Comprehensive worldwide support system offers service and calibration in North America, Europe, China, Asia, and Japan!
R & D Preview:
Auto Scan Spectrophotometer FD-9
Giving shape to ideas based on customer criticisms of other previous automatic colorimeters as "impractical and troublesome" or "inconvenient to use".
With more and more emphasis being placed on automation and greater efficiency in order to improve productivity and quality in various fields, demands for automatic color measurement that reduces manual labor as much as possible while being fast and accurate have been increasing even in processes where color is measured and controlled numerically. In order to meet these demands, Konica Minolta has developed the Auto Scan Spectrophotometer FD-9 for the graphic arts and printing fields.
Below is just a brief preview of how much more efficiently the FD-9 can measure printing charts compared to previous similar instruments.
Customer: "We want faster automatic color measurement. But we also want to maintain measurement accuracy." Ultra-high-speed spot measurements can be performed.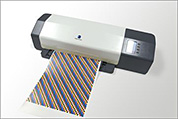 Auto Scan
Spectrophotometer FD-9
The time from inserting the chart to output of measurement results for a 1,500-patch chart is approximately 4 minutes. With the FD-9, the data for multiple measurement conditions (M1, M0, M2) can be obtained simultaneously, the actual measurement work needs to be performed only once.
Many people have the impression that "Automatic color measurement" means "Scan measurements" which means "Reduced measurement accuracy". But with the FD-9, the color measurement sensor stops above each patch to take the measurement and performs such spot measurement repeatedly at ultra-high speed.
Customer: "Even if we use automatic color measurement, automation can only be used for part of our work. When measuring large numbers of charts, in the end there is still the labor of inserting a chart about once every 10 minutes." Optional automatic sheet feeder enables continuous measurement.
(Maximum capacity: 100 sheets)
The optional automatic sheet feeder enables up to 100 charts to be loaded into the feeder and measured continuously. Since there's no need for frequent setting of charts, color measurement can be performed overnight to improve work efficiency and reduce labor.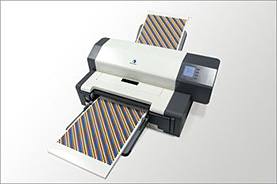 With optional automatic sheet feeder
Customer: "It's very inconvenient to have to reformat our charts just to be able to perform automatic color measurement. Plus, with some charts reformatting is not possible." Free format function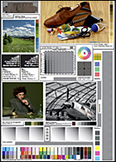 Chart Example 1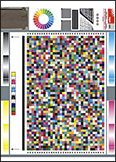 Chart Example 2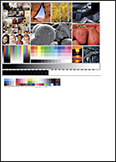 Chart Example 3
With the FD-9, there's no special original Konica Minolta format, and there's no need to reformat charts. Even printed materials that mix charts and images such as those shown at left can be measured just as they are.
Customer: "On the printing floor, we want to use one color-measuring instrument for multiple printing machines."IP connection and built-in display
In addition to USB, IP connection is also possible. Plus, the FD-9 has a built-in LCD to improve operability for workers.
Customer: "We want faster servicing and calibration." Worldwide service support network
Konica Minolta has service and support facilities not only at the manufacturing plant in Japan but also in North America, Europe, China, and Asia, enabling us to offer rapid service and support of the FD-9 when needed.
The Auto Scan Spectrophotometer FD-9 also has various other features added in response to comments from customers. You can look forward to seeing them all when the FD-9 is introduced to the market (planned for the summer of 2015).
*

Product images are design images. Actual product design and other information subject to change without notice.