Konica Minolta Launches Compact, Lightweight, Easy-to-Use Color Readers CR-10 Plus and CR-20
Successors to popular Color Reader CR Series offer enhanced features with simple operation
Tokyo (November 17, 2015) - Konica Minolta, Inc., Sensing Business Unit (Konica Minolta) is pleased to launch Color Readers CR-10 Plus and CR-20 at the end of November 2015.
As the successors to the original Color Reader CR Series, the CR-10 Plus (successor to the CR-10) and CR-20 (successor to the CR-11, CR-13, and CR-14) retain the light weight and compact size of the previous models while offering additional functions and improved PC connectivity with standard-accessory software to enable more efficient management of measured data. Both models enable quick and easy measurement of colors to help companies and their suppliers achieve efficient product quality control.
Since the launching of the original Color Reader CR Series in 1994, the various models in the series have been highly popular in the market for entry-level color-measuring instruments. Through the experience of more than 20 years with the Color Reader CR Series, Konica Minolta has a deep understanding of the diverse demands of this market, and the new CR-10 Plus and CR-20 offer upgraded designs and additional functions at low prices to satisfy on-site testing and data processing for quality control.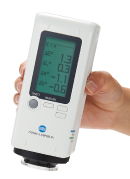 Color Reader
CR-10 Plus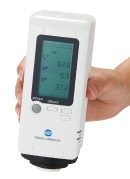 Color Reader
CR-20
Main Features
Simple, 3-step operation
CR-10 Plus: Switch on. ⇒ Measure target. ⇒ Measure sample.
CR-20: Switch on. ⇒ Do white calibration. ⇒ Measure sample.
Compact, lightweight bodies
Large, easy-to-read display
Enhanced functions
Storage for up to 1,000 measurements (including target data on CR-10 Plus)
Software for connection to PC included. Connection to computer is via USB, and the software for data processing and managing instrument settings is stored in the instrument itself.
(CR-10 Plus only) Pass/fail judgment results based on user-defined tolerances are clearly indicated on the display and by sound. (CR-10 Plus only)
(CR-10 Plus only) Optional accessories offer Ø5mm measuring area in addition to the standard Ø8mm measuring area.
(CR-20 only) Measurement results can be displayed in one of eight color spaces/colorimetric indexes including L*a*b*, Munsell, whiteness index, etc.
As a global leader in the measurement of color and light, Konica Minolta has devoted itself to developing accurate, stable measuring instruments and convenient software for efficient management of measured data to provide solutions for a broad range of applications. Konica Minolta strives to live up to its brand proposition "Giving Shape to Ideas" by offering high value-added products and solutions to assist customers with their manufacturing and quality control needs.