Konica Minolta's CSR Policy
Evaluation of CSR by External Parties
Awards for Corporate Governance and IR Activities
Corporate Activity Award (Japan)
Konica Minolta's efforts in establishing objective and specific standards of independence for outside directors, and its publishing written disclosure of selection criteria in order to appoint highly independent outside directors, were recognized with the fiscal 2010 Corporate Activity Award from the Tokyo Stock Exchange. (February, 2011)
The 19th Nikkei Environmental Management Survey
Konica Minolta, Inc. was ranked first place for two consecutive years in the overall manufacturing sector at the 19th Environmental Management Survey conducted by Nikkei Inc. (January, 2016)
Environment Minister's Award for Global Warming Prevention Activity

Konica Minolta, Inc., and its production subsidiaries have been recognized by the Ministry of the Environment, Government of Japan, with a "2013 Environment Minister's Award for Global Warming Prevention Activity (Implementation of Countermeasures)." (December, 2013)
Green Apple Award 2013 (The United Kingdom)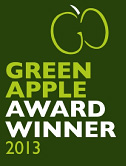 Konica Minolta Business Solutions (UK) Ltd., won the Green Apple Award from the Green Organisation in recognition of its recycling activity of used packaging materials. (November, 2013)
Eco Mark Award 2012
Konica Minolta Business Technologies, Inc., won an "Eco Mark Award 2012" Bronze Prize from the Japan Environmental Association in January 2013.
Hong Kong Green Awards 2012
Konica Minolta Business Solutions (HK) Ltd., a sales company in Hong Kong, won a Green Management Bronze Award (Corporate) in the Hong Kong Green Awards 2012 organized by the Hong Kong Green Council.
Konica Minolta Business Solutions (UK) Ltd., has won the prestigious Green Apple Award in recognition of its innovative environmental project, "OPS Green Audit Process," an original program that conducts a comprehensive analysis of a customer's document workflow, including its environmental impact. The Green Apple Awards are organized by the Green Organisation, an independent, non-profit environmental group dedicated to promoting environmental conservation. (November, 2011)
Konica Minolta Business Solutions U.S.A. was awarded the 2009 Evergreen Award in the Technologies and Electronics category by the U.S. General Services Administration (GSA), an important government agency. The Evergreen Award, which was established in 1998, is given to companies that proactively engage in environmentally friendly corporate activities. The award was given in recognition of Konica Minolta's environmental activities, such as providing energy-saving products, promoting zero-waste activities, and recycling toner cartridges. (March, 2010)
Sustainable Building Special Award
Konica Minolta Opto, Inc., completed the construction of a new building at the Osakasayama Site in Osaka, Japan. It won the second annual Osaka Sustainable Building Special Award for fiscal 2008, which is awarded by the Osaka prefectural government. (April, 2008)
1st Responsible Care Award
Konica Minolta Holdings, Inc., received the 1st Responsible Care Award sponsored by the Japan Chemical Industry Association and the Japan Responsible Care Council. (May 2007)
The 8th Quality Management Level Research
Konica Minolta, Inc. was ranked first place in the eighth Quality Management Level Research by the Union of Japanese Scientists and Engineers. (November, 2014)
iF Product Design Award 2013

Konica Minolta's color MFP (multi-functional peripheral) bizhub C554 series won a German iF Product Design Award 2013 in February 2013.
Telework Promotion Awards
Konica Minolta received a Telework Promotion Award presented by the Japan Telework Association. (January, 2011)
Kurumin certification for efforts to foster the next-generation
Konica Minolta Business Technologies, Inc., and the Konica Minolta Technology Center, Inc., obtained Kurumin certification from the Japanese Ministry of Health, Labour and Welfare for efforts in helping to foster the next generation. (May 2007)
Good Design Award (Universal Design)
Konica Minolta's bizhub C650/C550/C451 and bizhub C353/C253/C203 color MFPs, as well as the next-generation multi-unit REGIUS Unitea clinical system, received Japan's Good Design Award in fiscal 2007. (October 2007)
Recognition for CSR activities at Konica Minolta group companies in China
■Magnolia Award
The former CEO of Konica Minolta (China) Investment Ltd., a Chinese management company, received the Magnolia Award from the Shanghai government, and he was recognized as an honorary citizen of the city. (October 2009)
■China Award for Outstanding Business Credibility
Konica Minolta (China) Investment Ltd., a Chinese management company, received the 2008 China Award for Outstanding Business Credibility from the China Enterprise Confederation/China Enterprise Directors Association (CEC/CEDA). This award is given to companies that are highly regarded in Chinese society for their aspirational management philosophy and outstanding management system, as well as their reliable business activities and proactive social responsibility. (February 2009)
■Dalian Hope Process Contribution Award
Konica Minolta Opto (Dalian) Co., Ltd., a production company in China, has been recognized for its contributions to the Hope Process, a program to help Chinese children attend school. It received the Dalian Hope Process Contribution Award from the Dalian Committee of the Communist Youth League, the Dalian Youth Development Foundation, and the Dalian Hope Process Office. (March 2008)
■Company with Reliable Labor Guarantees
Konica Minolta Business Technologies (Wuxi) Co., Ltd., a production company in China, has received recognition for its efforts to develop good labor-management relations and for respecting employees. The company has been recognized as a Jiangsu Model Company with Harmonious Labor Relations by the Jiangsu Harmonized Labor Relations Tripartite Committee. It has also been named a Wuxi Leading Company with Harmonious Labor Relations by the Wuxi Leading Group for Building Companies with Harmonious Labor Relations, and has been called a Company with Reliable Labor Guarantees by the Wuxi Municipal Bureau of Labor and Social Security. (December 2007)
■Magnolia Award
The CEO of Konica Minolta (China) Investment Ltd., a Chinese management company, received the Magnolia Award from the Shanghai government. (September 2007)