Konica Minolta to Unveil New Inkjet Textile Printer "Nassenger PRO120" at ShanghaiTex 2013
-- Unique Automatic Printhead Maintenance System for Stable, Night-Time & Long-Hour Continuous Printing --
Tokyo (May 16, 2013) - Konica Minolta, Inc. (Konica Minolta) will be unveiling for the first time a new inkjet textile printer, the Nassenger PRO120, at ShanghaiTex 2013, an international textile and garment machinery exhibition to be held at Shanghai, China, from June 10 through June 13.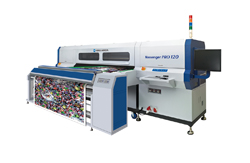 As the third model in the Nassenger PRO series, the new, high-performance Nassenger PRO120 has the maximum print speed of 120m2 per hour, twice as fast as that of the popular model, the Nassenger PRO60 introduced last year. Equipped with high-density, independently-driven, water-based inkjet printheads, the Nassenger PRO120 is optimized for sample manufacturing to production in small lots. Konica Minolta's unique Automatic Printhead Maintenance System supports smooth, continuous printing for long hours of or through night-time operation, contributing to stable print quality and labor-saving for operators. With optional dryer and textile winder, the Nassenger PRO120 offers comprehensive inkjet printing solutions from unwinding, printing, drying through winding. With a small footprint of approximately 15m2, the new model is compact to install within limited space in the manufacturing floor. The nine-color ink lineup has been designed so that the textile design and its brilliant colors will take advantage of digital printing into high-quality output.
Digital inkjet textile printing has been drawing interest and seeing new needs, as manufacturing sectors in China look to adding values and increasing productivity. Building on its top-tier position in the European market, as well as for future development in China and other countries in Asia, Konica Minolta enhances the Nassenger PRO series with the addition of the Nassenger PRO120 as its mid-range-speed model utilizing the company's strengths to meet the needs for sample to full-fledged production with high quality.
The Nassenger PRO120 will be unveiled at ShanghaiTex 2013 (June 10 through June 13, Shanghai, China) and later be exhibited at FESPA 2013, an international digital printing equipment exhibition to be held at London, the U.K., from June 25 through June 29.
Major Features of the Nassenger PRO120
High-density 1024-nozzle independently-driven inkjet printheads
Maximum Print Speed of 120m2/hour
Konica Minolta's unique Automatic Printhead Maintenance System
Reinforcement of extended continuous Print Support Functions
9-color ink lineup with high-capacity 5-liter bottle of each color
Maximum print width of 1,850mm
For more information, please visit: