NASSENGER PRO120
Enhanced long-time continuous print support function that enables sample to small lot production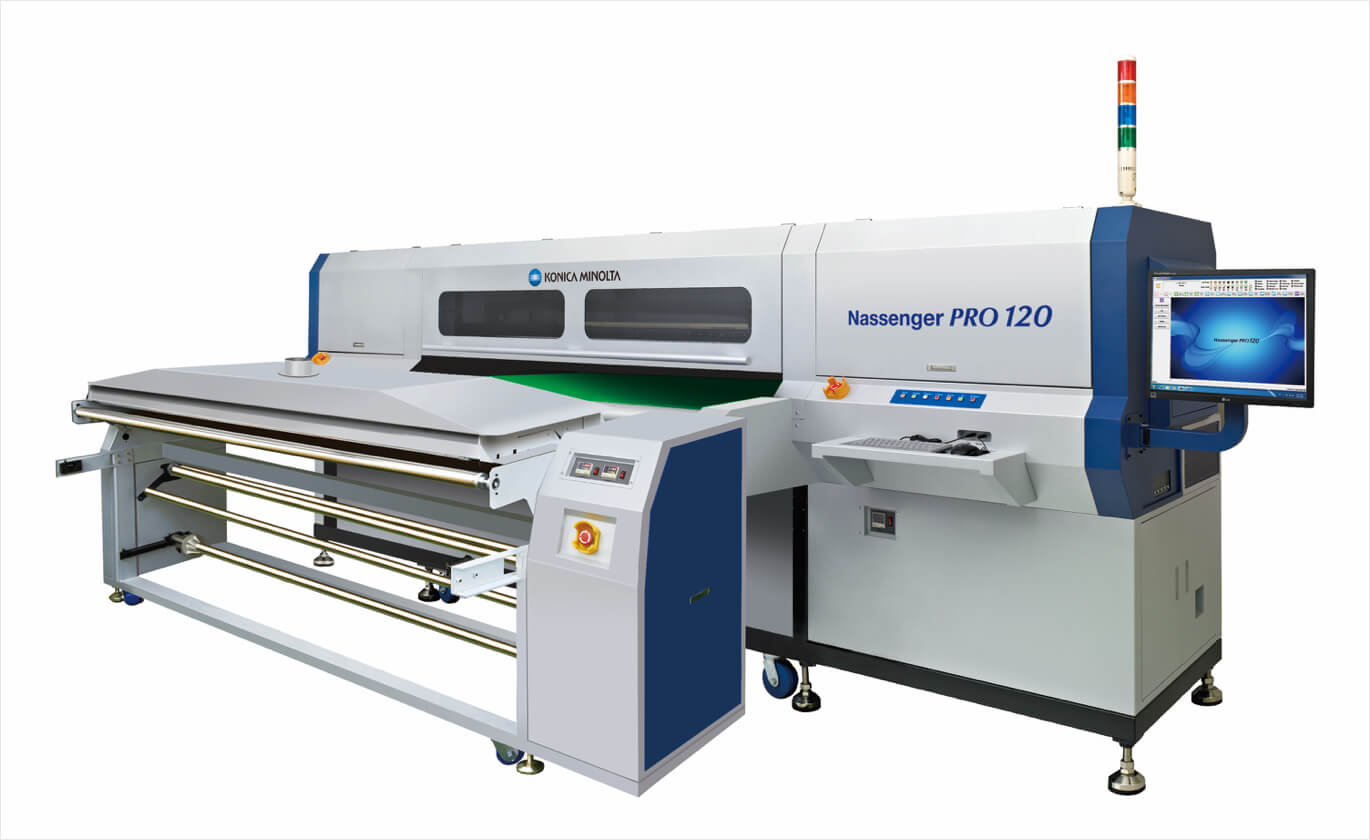 - High-density 1024-nozzle independent-drive inkjet printheads
Mounted with 9 high-density water-based inkjet printheads. The printheads feature an independent drive system that allows simultaneous emission from each nozzle to realize high productivity. These are high-performance inkjet printheads designed exclusively for the Nassenger PRO Series.

- Maximum print speed of 120m2/hour
Maximum capable of print speed of 120m2/hour. Production ranging from sample printing to high volume printing can be handled by a single unit.

- Konica Minolta's unique automatic printhead maintenance system
Stable emission from inkjet printheads is essential to ensure consistent print quality. Nassenger PRO120 is equipped with an automatic head maintenance function that uses a laser-based nozzle detection function to ensure stable production over a long period of time. It also contributes to operator labor savings.
- Enhanced Long-time Continuous Printing Support Functions
To facilitate smooth long-time printing, it has been enhanced that support functions such as fabric wrinkle detection , fabric entrapment detection, and automatic fabric end detection. A new function to display print job history has also been added.
- Maximum printing width: Up to 1,800 mm
Capable of printing fabric widths up to 1,800 mm, the unit is ideal for a wide range of printing applications ranging from fashion apparel to interior products such as bedding. The unit's ability to handle fabric thicknesses up to 3 mm also makes it suitable for the printing of items such as towels.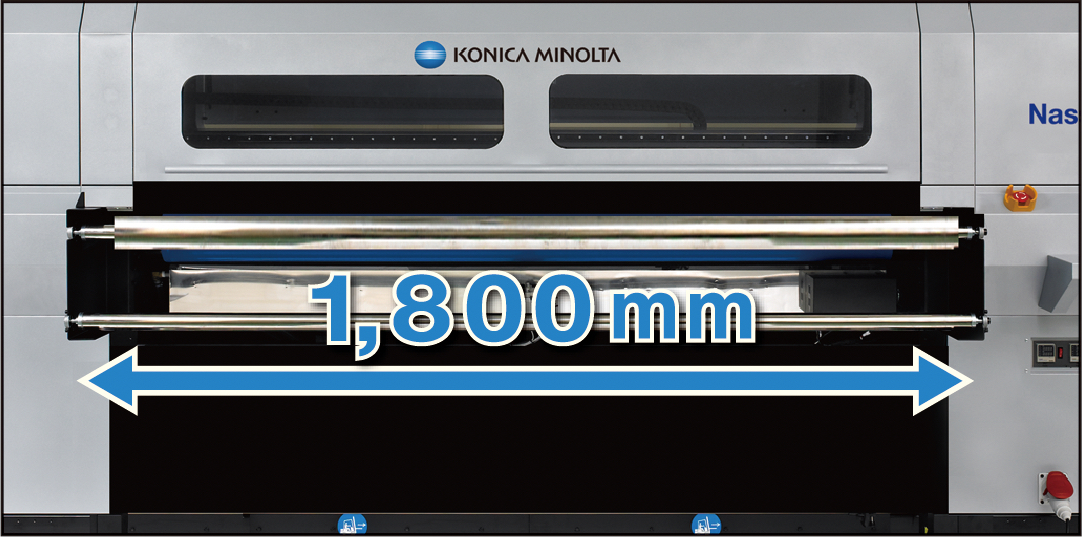 - Total Inkjet Textile Printing Solution
Nassenger PRO120PRO120 comes with a dryer & winder, providing a total solution from unwinding to printing, drying, and winding. Installation space is compact, requiring only about 15 m2.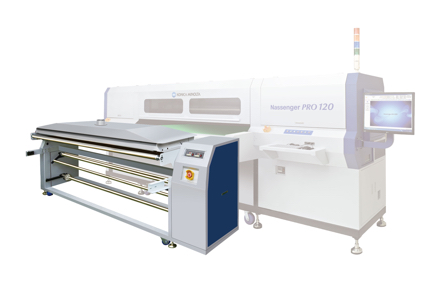 - High-quality inks enable flexible color reproduction
Nine colors (four basic colors + two special colors + three light colors) can be installed as standard. The system can use disperse dye ink and reactive dye ink developed by Konica Minolta with excellent color reproduction. Konica Minolta has been developing and supplying its own inks, heads, and printers to the digital textile printing market since 1999, so the inks are optimally designed to bring out the best performance of the heads and printers. The ink bottle contains 5L of ink, so it can be used for continuous printing, increasing printing productivity.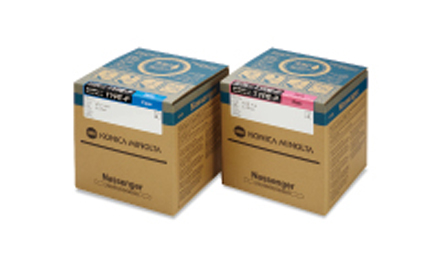 - Inkjet textile printing with consideration for the global environment and safety
Nassenger PRO120 is an environmentally friendly printing system that reduces waste (ink and water) compared to conventional screen textile printing methods.
The ink for Nassenger has undergone various safety tests to confirm its safety. It is a high-quality ink with high fastness to washing and rubbing.