Konica Corporation
March 2, 2003
4-megapixel high-quality digital still camera in a stylish compact body The New Konica Revio KD-410Z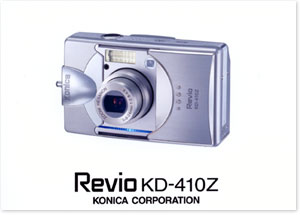 Tokyo (March 2, 2003) -- Konica Corporation showcases a 4-megapixel, optical 3x digital still camera with an ultra-slim, ultra-compact body, the Konica Revio KD-410Z at the PMA Show being held from March 2 to 5, in Las Vegas, USA. The new camera has a sleekly styled design and features Dual Slot, which accommodates the two most popular image storage media: SD Memory Card and Memory Stick. It will be launched in the US market starting this spring.
The Konica Revio KD-410Z has a classy, stainless-steel exterior and a sliding lens cover. The attractive, ultra-compact body is the result of Konica's renowned optical and high-integration mounting technologies. The camera is fitted with an optical 3x ZOOM HEXANON lens, which is very compact yet offers superlative photographic performance. The lens is easy to operate and realizes the full potential of the high-resolution CCD. The camera also has a very high image resolution of 4 million effective pixels (4.13 million total pixels). This draws on Konica's original Hybrid Adaptive 'A*IPS'*1 image processing technology to capture images with excellent realism and beauty, as well as faithful color reproduction. (*1'A*IPS': Pronounced A-Star IPS. 'A' refers to the automatic functions such as 'automatic exposure', 'auto-focus' and automatic white balance', while 'IPS' stands for 'image processing system.')
Thanks to a new signal processing engine, developed in-house by Konica, the Konica Revio KD-410Z has an ultra-fast startup time of 1.3 seconds*2. Versatility is enhanced by Dual Slot, which accommodates both SD Memory Card and Memory Stick storage media. Dual Slot helps broaden the scope for using captured images, facilitating interface with such devices as personal computers, PDAs, mobile phones, and digital VCRs. The camera has a host of other photographic modes, including up to 30 seconds of movies with voice, continuous shooting mode with 1.3 seconds between frames, and a macro photo mode allowing shots as close as 6 centimeters from the subject. These and other functions guarantee maximum photographic enjoyment in almost any situation. (*2 Using a 16MB SD Memory Card under normal conditions of continuous use)
The Konica Revio KD-410Z offers superlative performance and a wide range of shooting and playback functions-all inside a slim, compact, and stylish body. It combines realistic image quality with the fun that only digital cameras can provide. The camera is suitable for all users, from high-end amateurs who demand top image quality to those who enjoy processing and editing images on a personal computer. We are confident that the Konica Revio KD-410Z will satisfy a broad spectrum of customers.
Notice to U.S. Investors
This press release includes forward-looking statements that reflect the plans and expectations of Konica Corporation and Minolta Co., Ltd., in relation to the proposed share exchange and integration of management and the benefits resulting from them. To the extent that statements in this press release do not relate to historical or current facts, they constitute forward-looking statements. The forward-looking statements are based on the current assumptions and beliefs of Konica Corporation and Minolta Co., Ltd. in light of the information available to them, and involve known and unknown risks and uncertainties. Potential risks and uncertainties include, but are not limited to, the ability of Konica Corporation and Minolta Co., Ltd. to integrate their operations effectively, as well as the factors identified under "Forward-Looking Statements" of the Annual Report 2002 of Konica Corporation and "Disclaimer Regarding Forward-Looking Statements" of the Annual Report 2002 of Minolta Co., Ltd. Such risks, uncertainties and other factors may cause the actual results, performance or financial position of the new corporate group referred to in this press release to differ materially from those expressed or implied in the forward-looking statements. Konica Corporation and Minolta Co., Ltd. undertake no obligation to update publicly any forward-looking statements after the date of this press release.
This press release relates to a proposed share exchange which involves the securities of two Japanese companies, Konica Corporation and Minolta Co., Ltd. The share exchange is subject to Japanese disclosure requirements that are different from those of the United States. Financial information included in the document has been prepared in accordance with Japanese accounting standards that may not be comparable to the financial statements of United States companies.
It may be difficult for you to enforce your rights and any claim you may have arising under the U.S. federal securities laws, since Konica Corporation and Minolta Co., Ltd. are located in Japan, and some or all of their officers and directors are residents of Japan. You may not be able to sue the companies or their officers or directors in a Japanese court for violations of the U.S. securities laws. It may be difficult to compel the companies and their affiliates to subject themselves to a U.S. court's judgment.
You should be aware that Konica Corporation and Minolta Co., Ltd. may purchase securities otherwise than under the share exchange, such as in open market or privately negotiated purchases.