Konica Corporation
Minolta Co., Ltd.
August 4, 2003
Aiming for Further Development


Konica Minolta -- Establishment of a New Symbol Logo

Tokyo, Osaka (August 4, 2003) -- Konica Corporation (Fumio Iwai, president) and Minolta Co., Ltd. (Yoshikatsu Ota, president) announce that Konica Minolta Holdings, Inc. (Fumio Iwai, President & CEO) will be launched on August 5, 2003, as a new holdings company formed through an exchange of stock by Konica Corporation and Minolta Co., Ltd. In conjunction with the commencement of this new company, the new Konica Minolta Group symbol logo will officially go into use as of tomorrow, August 5. Konica Minolta Holdings, Inc. will also begin incorporating this logo into the corporate logos of each of the Group companies, and applying the logo to the products and services provided by companies.

<Konica Minolta Management Philosophy and Vision>

Management Philosophy: The Creation of New Value
Management Visions:
-- Innovative Corporation That Continues to Create Impressions in the Field of Imaging.
-- A Global Market Leader That Offers Advanced Technology and Reliability.
Corporate Message: "The essentials of imaging"

<Konica Minolta -- The New Symbol Logo>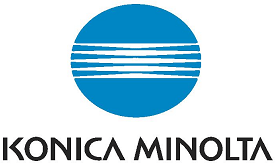 <Konica Minolta Group -- Concept behind the New Symbol Logo>
The new symbol logo consists of a symbol mark and a logotype, and the design expresses the values that Konica Minolta provides to its customers.
<Symbol Mark>
This "Globe Mark", resembling a globe, represents the limitless expansion of Konica Minolta and the new value it offers to customers around the world.
The oval form is an expression of the trust and feeling of security given to customers and the harmony of the wide spectrum of technology. The five lines represent light and express the wide range of technical capabilities in the field of imaging. The blue color of this symbol mark expresses ingenious innovation, and the color has been named "Innovation Blue".
<Logotype>
This logotype is an expression of the precision and feeling of quality in the technologies and products created by Konica Minolta in the field of imaging. At the same time, it shows that the brand will continue to bring fresh surprises to customers.
With this new symbolic logo, the Konica Minolta Group aims to continuously provide new value, and become an essential company to its customers.