Regaining the trust of stakeholders is my greatest mission
Over the past couple of years, the business environment that the Company operates in has been extremely harsh, and we confront numerous management issues. For the fiscal year ended March 31, 2022, revenue rose¥48.0 billion year on year to ¥911.4 billion, but we recorded both an operating loss of ¥22.2 billion and loss attributable to owners of the Company of ¥26.1billion primarily because of about ¥20.0 billion of one-off factors, which included an impairment loss of about ¥11.0 billion on goodwill. This was the second consecutive year of an operating loss.
Under these harsh conditions, I took up the position of President and CEO, Representative Executive Officer in April 2022. My greatest mission is to forcefully pull the whole group forward so that Konica Minolta can once again soar as a growth company. I recognize that the greatest tasks I have been given are to restore the confidence of employees and to work to regain the trust of all stakeholders, including shareholders/investors and customers. To achieve these tasks, I will retain the good aspects of policies that the Company already has, of course, but also plan to courageously change aspects that are judged to require change.
At the financial results briefing session held in May of this year, after the performance summary I summarized what we achieved and what we did not achieve in fiscal 2021. After objectively recognizing the results of the strategy we have promoted and the remaining issues, I will link those to an explanation of our future policy of "therefore, we will do this from now." In this way, I would like to win the understanding and trust of all stakeholders.
Promoting management that stresses cash flows
Fiscal 2022 is the final year of the medium-term business plan DX2022, which we have promoted since fiscal 2020, but considering changes in the environment, both within and outside the Company, we have revised downward the consolidated earnings forecast for fiscal 2022 from the target announced in DX2022. We are still planning to reach the numerical targets inDX2022 for the sensing, material & component, healthcare (medical imaging),and industrial print businesses. For other businesses, however, it appears only realistic to give up on the targets, so we do not expect to achieve the numerical targets for the Group (operating profit, operating profit ratio, operating cashflow, and ROIC).
For past medium-term business plans, there have been numerous times when we were unable to achieve targets for in-house reasons, even putting aside the impact of dramatic changes in the external environment. I think that we should once again seriously reflect on this fact. Going forward, the policy will be to calmly ascertain both opportunities and risks, separately considering what we should do, can do, and cannot do. For items that we should do, we will set realistic targets that we can truly commit to with all stakeholders, including employees, after ascertaining and acquiring the capabilities required to do them.
In order to get the Company back on a growth trajectory, we will promote management that prioritizes cash flows even more than we have in the past. In addition to reinforcing our ability to generate cash in each business, we will optimize the allocation of resources so that we can make greater use of generated cash to boost not only business growth, but also corporate value.
Although we had to give up on achieving the numerical targets inDX2022, there has been, of course, no change in the plans to undertake the two transformations of our business portfolio—that is, "transformation into the Digital Workplace Business using the customer base of the Office Printing Business" and "business growth in the measurement, inspection, and diagnosis fields." Initially the top priority will be a recovery in earnings, but I think that we should also steadily take the necessary steps to transform the business portfolio from a medium-term perspective with a goal of fiscal 2025.
Working to generate cash from stable profit businesses
Quickly rebuilding the office printing business and the production print business, which saw a dramatic decline in profitability in fiscal 2021, and restoring them as businesses that generate stable cash, is the most important current issue to achieve the desired business portfolio transformation.
To rebuild the office printing business, we will promote efforts related to both production and sales. While demand for hardware is recovering, following the decline in the previous fiscal year due to the COVID-19 pandemic, production has not kept up with demand. As of the end of fiscal 2021, there was an order backlog of about ¥51.5 billion. The main reasons for the delay in production are shortages of parts and materials, such as semiconductors, as an external factor, and the impact of a decline in the ability to supply toner as a result of an accident at the Tatsuno Factory of Konica Minolta Supplies Manufacturing Co., Ltd., in July 2021, as an internal factor.
Business Portfolio Management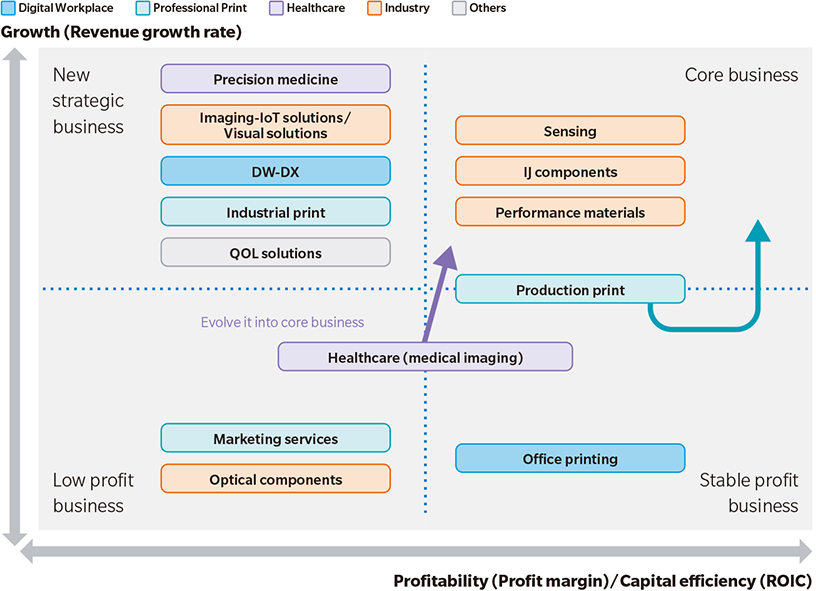 Since then, the parts and material shortage has been slowly improving, and in November of last year, operations at the Tatsuno Factory were relaunched, which resulted in the production system being restored in April. In addition to quickly moving forward with production and shipments, and turning the order backlog into cash, we will restore our production system to meet market demand and tie this to greater revenue and profit. In terms of sales, we will not only conduct face-to-face sales activities, but also expand remote sales activities using phones, e-mail, Internet, and other media, and move forward with digitalization, which includes effective AI-based customer targeting and automated creation of proposals. These will increase the efficiency and further raise the quality of sales. We have also started to review structure-related issues, including the optimal assignment of human resources, by leveraging these DX activities.
On the other hand, we have confirmed that the production print business has experienced a recovery in printing demand faster than the office printing business. This was the result of the market reconsidering the advantages of digital printing as a consequence of the COVID-19 pandemic. A large percentage of commercial printed material consists of flyers, posters, and material for events, such as concerts and seminars, but since the start of the COVID-19 pandemic, there were a larger number of cases where it was impossible to decide whether to hold these physical events until the last moment. Under these conditions, the market once again recognized the various benefits provided by digital printing compared to analog printing, such as being able to print in a short time, no constraints on having to print a certain number of copies, no need for skilled workers to maintain stable printing quality, no need to hold unnecessary inventories even as the price of materials and paper rose, and no wastepaper. Therefore, the production print business is expected to see a rapid recovery in fiscal 2022 or after.
Reinforcing investment in growth fields of core businesses
For the sensing, performance materials, and inkjet component businesses, which are positioned as core businesses, we will certainly continue to invest in growth fields in each of these businesses.
For example, for the sensing business, we will promote automated, or more labor-efficient visual inspections of cars and other items, and will promote businesses in the fields of recycling, food, and pharmaceuticals that leverage hyperspectral imaging technology, which makes it possible to measure nonvisible parts of the light spectrum. We also plan to examine M&As that make use of investment and lending as a way to further accelerate growth.
Turning to performance materials, we are aiming to increase our share in the field of optical films for displays by expanding the use of not only phase difference film for polarizers used in displays, such as genre top LCD TVs, but also various other functional films that leverage our strength in production technologies. As for films for large TVs, demand for which is expected to increase, we are planning to strengthen related efforts, including capital expenditures.
Promoting selection and concentration for growth investments
We will proceed with what we call "selection and concentration," by narrowing down investment fields while also making these growth investments. When optimizing the allocation of limited capital, it is important not only to add but also to subtract. I think that this should be our basic stance not only for business units, but also for every project.
Over the past five or six years, the Group has been sowing the seeds for the future in numerous fields. It is not necessarily true, however, that all the efforts have grown and borne fruit. In fact, in fiscal 2021, we posted a massive impairment loss on goodwill, and I once again deeply feel the importance of dispassionately analyzing and organizing current conditions to make effective growth investments.
When managing our business portfolio, we plot all businesses on a graph with two axes, "growth" and "profitability/capital efficiency," and then group each of the businesses into one of four categories—that is, core businesses, stable profit businesses, low profit businesses, and new strategic businesses(see page 12). We properly ascertain the positioning according to each business's category and its issues, and strengthen each business's ability to implement measures.
For example, the precision medicine business is expected to require additional investments to leverage the market potential and improve competitiveness, therefore, we will continue to examine making use of external capital. On the other hand, the imaging-IoT solution business, in which MOBOTIX announced an impairment loss in fiscal 2021, has generated results from its development efforts. And there is expected to be new demands in several fields, for example response to natural disasters, such as earthquakes, floods, and landslides. Because of this, we have strengthened collaborations with other companies and aim to make it profitable.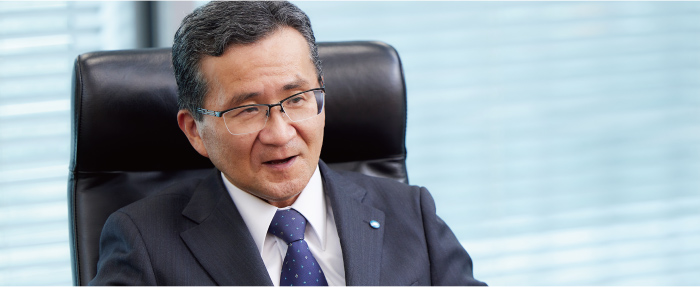 In addition to the M&As discussed above, we have promoted numerous in-house incubation projects to create new businesses. We decide whether or not to continue growth investments in the stage-gate process. To be more strict about this decision, not only the responsible party but third parties, including corporate divisions, participate in the process. Furthermore, a rule was added that the CEO, which I am, has to look over progress every two months, even for projects that were passed at the stage-gate. Through this check system, which is stricter than before, we will make balanced growth investments by determining whether we maintain investments in projects that should continue to be fostered, or terminate investments in projects that should be ended.
Focusing on our strengths: imaging technology, genre-top strategy, and frontline capabilities.
I think that the Company's greatest strength is its imaging technology, which came from cameras and photographic film. We have provided value to society through products, services, and solutions in numerous fields, such as quality inspections, diagnosis, and nursing by applying and developing imaging technology, the so-called "power to make the invisible visible." This is why our management vision is "imaging to the people."
There has been no change in our desire to deliver value based on imaging technology that leads to solutions to various social problems. Even when transforming the business portfolio in the future, the question of "what can we do for people's desire to 'see'" should play a central role. We are aiming to create new value by continuing to refine our imaging technology, which includes integrating it with DX.
"Genre-top strategy," which we have been promoting since the management integration, is another strength of the Company. Considering the size and strength of the Group, we should admit there is a limit to the goal of"being number one overall," in which a company dominates all fields. Therefore, we have captured the top position in some fields by narrowing our target to domains primed for growth and prospects for success, focusing resources on those domains, and making use of strategic tie-ups and M&As. All the fields where the Company boasts top market share are the fruit of this strategy, such as A3 color multi-functional peripherals (MFPs), color digital presses, diagnostic ultrasound systems, light source color measuring instruments, and VA-TAC films. Our genre-top strategy does not mean momentarily capturing the top share by simply reinforcing sales and promotions. It is impossible to maintain the top share for a long time in this way. We need to create products that are truly competitive by integrating the functions of all divisions, from development through production, sales, and marketing, and properly communicating that value to customers. Along with these activities, we need to strive to maintain the top position while keeping an eye on the next stage. Becoming the genre top means that we lead the market, which includes strong price control capabilities, and brings greater profitability for companies. It is exactly now, when we are struggling with earnings, that we should be aware of the importance of the genre-top strategy and move forward selecting targets and concentrating management resources from the perspective of company-wide optimization.
Another strength of the Company is our frontline capabilities, the ability of the workforce to respond when faced with a crisis or difficulty. The world is facing greater uncertainty regarding the future, as we are experiencing the COVID-19pandemic, which has been going on for more than two years, and the situation in Ukraine. But I believe our capability to respond to the various issues that arise during emergencies and bring situations under control quickly is certainly no worse than other companies. The Company has overcome various issues in the past through its frontline capabilities. The 6 Values, the Company's corporate culture, are probably the backbone for our frontline capabilities. The 6 Values are a common language for Konica Minolta's 40,000 employees throughout the world to share value, and I believe that sharing these common values and having employees throughout the world possess the same awareness of issues makes it possible to continue to overcome changes and crises.
I would like to further strengthen the unity of the corporate group and have all companies align their efforts to get the Company on a new growth trajectory by reconfirming and clarifying the strengths discussed above throughout the Group.
Formulating a management strategy that incorporates material issues
Sustainability is now a common issue throughout the world, and since the integration of Konica and Minolta in 2003, the Company has positioned sustainability as the core of management. In 2020, we evaluated the impact of social and environmental issues on the Company from an opportunity and risk perspective with an eye toward creating a sustainable society that we should achieve in ten years, in 2030. By back-casting from there, we identified what we should do as five material issues.
For each of the current businesses, we are striving to implement value creation that reflects the five material issues. For example, in the Industry Business, we are working to resolve the issue of passing on the skills of top workers by automating the inspection process, which relies on the skills of experienced workers at production sites, and reducing the number of required workers, and contribute to greater quality of end products, and improve fulfillment in work and corporate dynamism (material issue). In addition, services that detect signs of and prevent accidents at warehouses and factories contribute to ensuring social safety and security (material issue ). Furthermore, for the Professional Print Business, reducing transportation, storage, waste, and intermediary materials by offering technologies that make production of the proper amount at the proper time and at the proper location possible contributes to addressing climate change (material issue ) and using limited resources effectively (material issue). Through the Healthcare Business, we also contribute to supporting healthy high quality living (material issue ) through precision medical care and early detection and diagnosis.
It is also important to clarify what type of business strategy will solve the various problems identified as material issues in the medium and long term. Therefore, I think that business divisions, too, must more seriously consider sustainability and implement related efforts. To reinforce these aspects, the planning and strategy divisions, which are responsible for formulating the medium- and long-term management strategy and other activities, will work together with the business divisions to formulate the next medium-term business plan to realize both corporate growth and a sustainable society.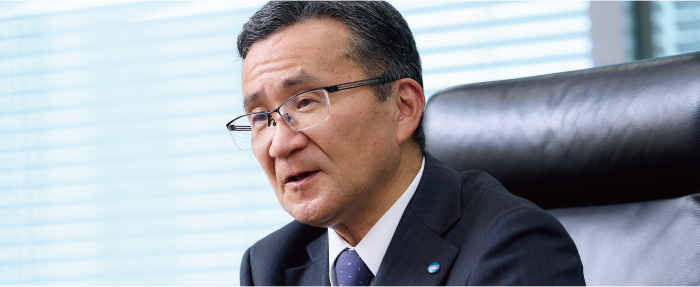 Thoroughly embracing reality-based practice in my own management philosophy
My experience as the CEO of Konica Minolta Business Solutions U.S.A., a U.S.-based sales company for the Business Technologies Business, from 2013through 2016, had a major impact on my basic approach as a manager. Because my predecessor was approaching retirement, I was selected at the age of 49 and took up the position. The company had just grown to have 8,000employees through M&As with multiple IT service companies, and stronger management was required. At that time, I adopted three rules for myself. The first was "decide." This refers to the fact that as the local CEO, I made the final decision. The second was "thoroughly listen to all that people have to say." In particular, when I was not sure what to do, I tried to carefully listen to the view of frontline staff, particularly sales staff who often dealt directly with customers, because they had the best understanding of the situation. The third was "make meticulous preparations and keep things simple." To steer an organization, one has to consider various things, but ultimately it is important to explain things to people in easy-to-understand terms. When I was serving as the CEO of that company, I wrote these on a piece of paper and attached it to my desk so that I would not forget and would often refer to it.
As the CEO of Konica Minolta, I plan to always try to follow these three rules. As the top of management, I am determined to take responsibility for results. Before making decisions, I will ascertain conditions by thoroughly listening to what people around me and frontline staff have to say. Then, when communicating decisions to both people in the Company and larger society, I will speak in a concise and easy-to-understand manner after making careful preparations. I will not forget this.
Another my belief is that you have to deal with people as you really are. You must not unrealistically puff yourself up. I properly communicate both good and bad things to stakeholders. I applied the same perspective when setting the fiscal 2022 budget. I talked about this to some of the people who joined the Company this year, and shared that I think an important determinant of whether work is successful or not is whether one can build long-lasting relationships. To build such relations, it is important for people to show who they really are and win the other person's understanding.
I will deal with customers, and all stakeholders, including employees, shareholders/investors, business partners, and members of local communities, with my reality-based attitude and work to increase corporate value through dialogue with all of them. I hope for the continued understanding and support of all Group stakeholders.