REMAINS of the DINOSAURS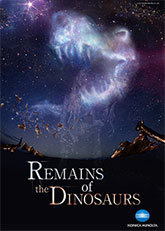 ©TOPPAN PRINTING Co.,LTD.
Running Time: 25min
Target Audience: from Kids to Adults
Release: 2015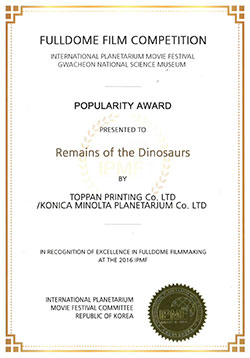 This show won popularity award at 2016 IPMF, International Planetarium Movie Festival in Korea, hosted by the Gwacheon National Science Museum.
2016IPMF Official Site: http://kipmf.org/
What does the latest science say about the dinosaurs? Have they really disappeared from the earth? Get the real story featuring cuttingedge findings in this entertaining and educational story of scientific discovery. See the dinosaurs digitally recreated in stunning detail based on beautiful, mysterious fossils and other remains. Immerse yourself in a forgotten world as the dome fills your vision with authentic CG dinosaurs brought to life from archeological skeletons. This is a movie experience rooted in real science, sure to spark the curiosity of adults and children alike.
Trailer
©TOPPAN PRINTING Co.,LTD.
All images, sounds, scenario and text on this site are copyrighted by Konica Minolta Planetarium Co., Ltd. and other copyright holders.
Any unauthorized copying, posting or distribution of these materials is prohibited. All rights reserved.