External Assurance
Konica Minolta engaged KPMG AZSA Sustainability Co., Ltd. to provide assurance on whether its data on CO2 emissions from procurement, research & development, production, product distribution, sales and service, and product usage; energy use; waste discharged externally from manufacturing; atmospheric emissions of volatile organic compounds (VOCs); water consumption; the number of regular employees (by gender); and the percentage of employees with disabilities have been measured, gathered, and disclosed in accordance with the criteria set by the Group. Indicators that have been assured by KPMG AZSA Sustainability Co., Ltd. are marked with ★.
Click image to enlarge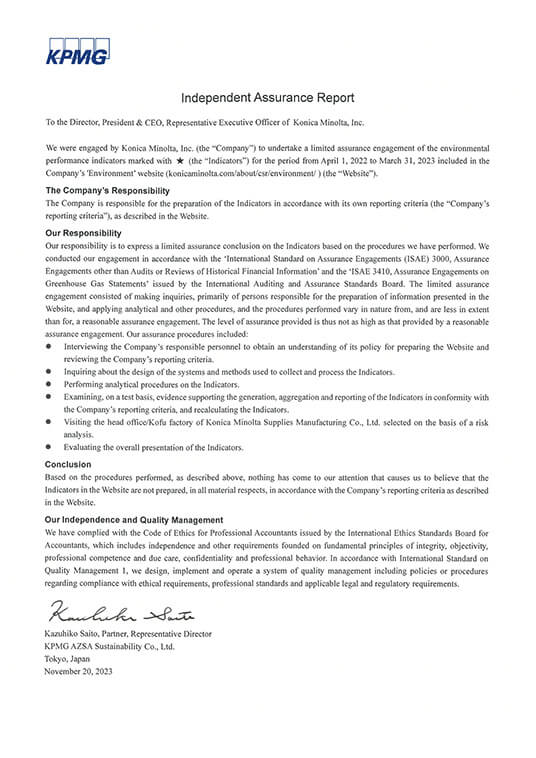 Comment from the Assurance Provider
Shutaro Takakura, KPMG AZSA Sustainability Co., Ltd.
Konica Minolta has announced its new commitment to achieve "Carbon Minus" status by 2030, well ahead of its previous 2050 target, on this year's sustainability website. In fiscal 2019, the company reports a 50% reduction in CO2 emissions throughout its entire lifecycle compared to fiscal 2005 levels, by purchasing renewable electricity at some of its manufacturing/sales facilities, and by placing power-saving multi-function printers on the market. It is becoming increasingly important to reduce greenhouse gas emissions not only from one's own operations but also across the entire value chain. In response to this, the company has expanded the scope of its Medium-Term Sustainability Strategy 2022 and set a target to reduce an amount equivalent to two-thirds of the company's entire CO2 emissions, including those of its value chain, externally through cooperation with customers, suppliers and society. In the future, we expect the company to engage in emission reduction activities with an even wider range of stakeholders.
Regarding human resource data, the company has disclosed information with an emphasis on gender diversity and work-life balance. We believe it will become equally important to disclose information on global human resource utilization in the future. In addition to an increase in demand in the office business field due to the progress of the digital revolution, demand is expected to increase worldwide in the healthcare business field due to the improved quality and access of healthcare services. We look forward to seeing the company expand its reporting to include strategies for how to utilize global human resources in response to the increase in demand for these products, as well as targets and achievements based on those strategies.