Business Technologies Business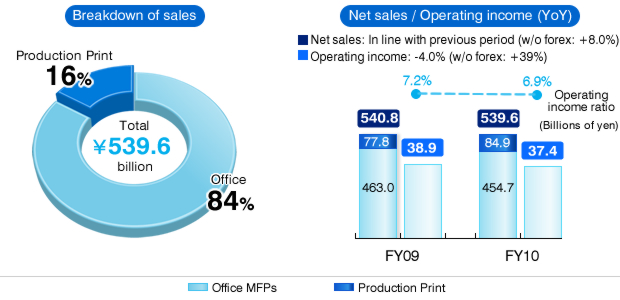 In the office field, demand for MFPs for offices gradually continued to recover in the Japanese market and major overseas markets. Sales of the color MFPs and monochrome MFPs of the bizhub series, which focused on facilitating customers' efforts to reduce TCO (total cost of ownership; denoting total costs for implementation, use, and maintenance of MFPs), were solid in the US market and major markets in Europe. As a result, sales volumes for the fiscal year under review rose from the previous year. The bizhub 184/164 series, which was launched as monochrome MFPs for emerging markets only, contributed to the expansion of market share, especially in the Chinese market.
In the production print field, we launched three new color products, bizhub PRESS C8000/C7000/C6000, in addition to the existing bizhub PRO series, and started to develop the digital commercial printing field in earnest. With many inquiries for those new products in the US and European markets, sales volumes of color and monochrome products rose from a year ago.
Overall, in our Business Technologies Business we sought to boost sales of new products having enhanced market competitiveness in the office and production print fields in line with our "Genre-top" strategy. We also started to provide OPS (Optimized Print Services) on a global scale, in response to increasing market needs. At the same time, to strengthen our IT services capability, we established an alliance with Getronics N.V. (Netherlands) in Europe in November 2010, and we acquired All Covered Inc. of the United States in December 2010. As a result, sales in the Business Technologies Business were ¥539.6 billion, on par with the previous fiscal year. Operating income came to ¥37.4 billion, down 3.9% year on year. Excluding the adverse effects of exchange rates of ¥45.9 billion on sales and ¥16.7 billion on income, net sales and operating income rose 8.3% and 39.0%, respectively.


Under G PLAN 2013, we are targeting sales for the Business Technologies Business of ¥700.0 billion for FY March 2014, the final year of the plan. To reach this target we will continue to launch strong products in the office and production print fields over the next three years, with the goal of further increasing our competitive strength. Our focus for driving growth in this business will be on the three fields of production print, emerging markets, and services centered on OPS.
In production print we will continue to expand our business domain from our area of strength in light production to cover medium and heavy commercial printing also. We will actively seek to form strategic alliances to achieve this. Moreover, we will concentrate on our customer-oriented approach of acquiring a solid understanding of our customers' needs by industry type and business categories. In this way, we plan to achieve the top position in the market for color print volume.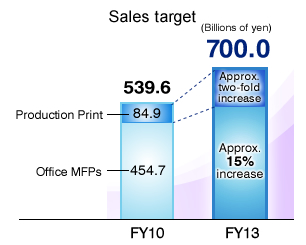 In emerging markets, we will continue to strengthen our position in the Chinese market for office MFPs, where we have built a strong business foundation. At the same time, we will expand our sales in other regions of Asia, including India, Indonesia, and Thailand. To achieve this we plan to accelerate our efforts to establish subsidiaries and to develop a sales network based on them.
In the OPS business, we will strengthen our service capabilities and enhance our global lineup of service offerings. To achieve this, we will actively seek to promote M&A activities targeting IT services companies. We also have concluded multi-year global agreements with several global major accounts and received GMA projects. We will continue to add more as a means of reinforcing our ability to provide services.
By following through on these key policies, we aim to achieve average annual sales growth for this business of 9% in real terms over the three years covered by G PLAN 2013. Our A3 color MFPs, which underpin our growth, seem well placed to maintain average annual growth in unit sales of 15%, and provide stable revenue. We also plan on our growth driver, color production print products, achieving average annual growth of 25% over the three-year period.