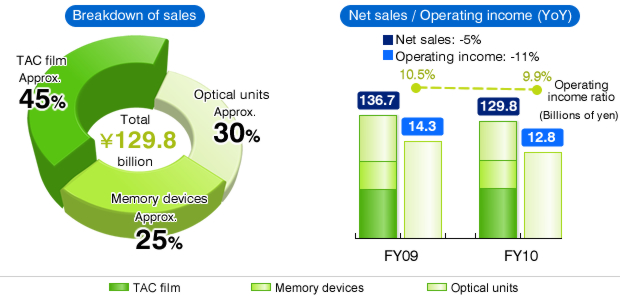 In the display materials field, we saw liquid crystal display panel production start to recover in October 2010 after production adjustments by manufacturers that began in the summer of 2010. With the development of new VA-TAC films for increasing viewing angle and the start of shipments of TAC films for IPS panels in the second half of the fiscal year, we saw solid sales of products that represent the Company's strengths. Overall sales volumes of TAC films rose from a year ago.
In the memory devices field, sales volumes of pickup lenses for optical disks increased year on year, led by pickup lenses for Blu-ray Discs™. Sales volumes of glass substrates for HDDs also rose, led by high-density recording products, including 320GB. However, the growth was not as strong as originally anticipated, given the effects of prolonged production adjustments in the personal computer and digital home appliances industries since last summer.
In the image input/output components field, sales volumes of lens units for digital cameras and video cameras rose year on year, but volumes for mobile phones with cameras fell sharply, partly as a result of weak sales of models equipped with the Company's products.
Of our mainstay products in this Business, sales volumes of plain TAC films and VA-TAC films rose steadily as production adjustments by customers ended relatively early and we worked to expand sales. Sales volumes of glass substrates for HDDs were also solid. However, sales volumes of pickup lenses for optical disks were sluggish overall, reflecting prolonged production adjustments by customers. Sales of lens units and related items were also weak. As a result, sales of the Optics Business stood at ¥129.8 billion, down 5.1% year on year, and operating income was ¥12.8 billion, declining 11.0%.


In the Optics Business we have continued to position the TAC film business as our main revenue base for the next three years. For other business units we will firmly grasp growth opportunities, with a view to establishing secondary and tertiary pillars of revenue. Our quantitative targets for this Business are for sales of ¥200 billion by FY March 2014.
In terms of growth drivers, we will focus on thinner TAC films, growth areas in optical units, and new fields.
In TAC films, we will launch new VA-TAC products that adapt to new technologies such as LED backlights, 3D, and other advances in large-screen LCD televisions, taking advantage of our strength in thin and extra-wide films. We also intend to develop new customers by launching products for IPS panels, and to expand our customer base by meeting prices in the Chinese market.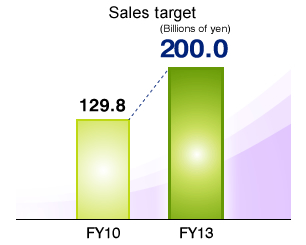 In the optical unit field, over the next three years we plan to expand our business scale in growth areas, namely lens units for smartphones and digital cinemas, and interchangeable lenses for digital single-lens reflex cameras.
In new fields, we will accelerate the commercialization of LED lighting components so that these can contribute to earnings. In three years time, we aim to raise their share of sales to around 10% of the total for the Optics Business.