Redefining the risks and opportunities facing our company
as society is dramatically changed by COVID-19
COVID-19 has had a major impact on societies and economies around the world, greatly accelerating changes to our values and the way we work and live, and has had a great impact on the business of the Konica Minolta Group. This year has seen the Group face many new risks and opportunities due to such changes to society and human behavior.
Such risks include an acceleration in the decline of print volumes due to the reduced numbers of employees commuting to an office caused by the expansion and normalization of working from home. This is a structural change that we were expecting to happen gradually, but COVID-19 has certainly accelerated such change. In anticipation of the shift to reduced print volumes, we have been seeking to transform our Office Printing Business to solutions and IT services for a long while now. Although the cancelation of events and closing of stores has led to a drastic decline in demand for commercial printing, this is a temporary phenomenon caused by COVID-19, and after the pandemic subsides, I expect demand to recover, particularly for the digital printing provided by the Company.
On the other hand, COVID-19 has accelerated behavioral changes in the way we live and work, which can be expressed by keywords such as individualization/ decentralization and remote/non-contact services, and has led to demand for safety, security, and health. I believe that such changes to society provide us with a new business opportunity. For example, the popularization of working from home has increased the importance of information security. This has led to various customers asking us for proposals on workflow reforms that utilize the advanced security technologies and digitalization of the Company, and our solutions have been well received. Various workplaces have also been investigating methods for avoiding infection and ensuring social distancing, and this has led to many inquiries about projects such as temperature screening services via image diagnosis, remote medical care at hospitals, and services for automating the inspection process at factories. With COVID-19 also increasing consumer interest in health, I feel that demand for services that support personalized medical care and early diagnosis will certainly grow.
Completing the two portfolio transformations
essential to achieving long-term growth
In order for the Company to achieve sustainable growth and enhanced corporate value, we must make sure to implement business structure reforms from the perspective of these risks and opportunities. That is the most important challenge that I face as CEO. We have been promoting the three-year DX2022 medium-term business plan since fiscal 2020, and the fundamental objectives of DX2022 are to "leap to highly profitable businesses through DX" and to "evolve into a company clearly committeed to solving social issues." In order to achieve these objectives, I have resolved to complete two portfolio transformations.
The first such transformation is to shift our Office Printing Business, which focused on MFPs, to the Digital Workplace Business. COVID-19 has led to a change from employees concentrated at an office to decentralized work via working from home. Companies now have a pressing need to maintain information security and ensure efficient workflows. Workplace Hub is a solution that links cloud computing with edge commuting to provide new information security measures, and has the ability to respond to such requirements in detail. There is also a shift toward digitalizing the workflows for paper-based application and approval at companies, government, and local municipalities, and we will proactively approach such document digitalization needs with security technologies. We have already been deploying managed IT services to markets in Europe and North America in order provide centralized management of IT infrastructure at small and medium-sized companies, and we will further strengthen this business. In short, we will robustly promote our goal of creating advantages for the Company via security.
The second transformation is a company-wide business portfolio transformation to reduce our dependence on the Office Printing Business, which currently accounts for about half of our revenue, and accelerate growth in our Industry Business and Healthcare Business. In regard to sensing in the Industry Business, we have established the top position in the world in the field of measuring instruments for displays. By utilizing this strength, we will further expand our business in the area of displays, and expand our business into new areas other than displays, such as visual inspections for automobiles and component inspection for food and pharmaceuticals. In the field of imaging IoT, we have established technologies for detecting and analyzing behavior based on the intelligent edge processing cameras of German company MOBOTIX. We will combine these AI (artificial intelligence) network cameras, sensing devices, and analysis software to provide a new platform called FORXAI. By linking with the technologies and products of various business partners, we will meet the needs for safety/security and non-contact services/labor saving at various worksites, including monitoring at plants, warehouses, and logistics areas, as well as thermal cameras for the automatic measurement of body temperature combined with facial recognition and services for watching the elderly at nursing facilities.
In the Healthcare Business, we will aim for further growth in the field of early diagnosis, which we excel in. Our digital X-ray diagnostic imaging systems have evolved from still images to the real-time capturing of video, and that video can now be combined with AI dynamic analysis to support more accurate interpretation and diagnosis by doctors. These cutting-edge Konica Minolta technologies are well-received at medical sites, and contribute to achieving early diagnosis and reducing workloads. In the field of precision medicine, our United States subsidiary Ambry Genetics has advanced technology in the area of genetic testing, and Invicro in the field of image diagnosis. We will utilize these strengths to provide genetic testing services for healthy people, as well as pharmaceutical development support services. We will also start providing the LATTICE multiomics platform that integrates the gene and diagnosis image data that we have accumulated. These efforts will enable us to contribute to quality of life (QOL) improvement with early diagnosis and early treatment via various approaches.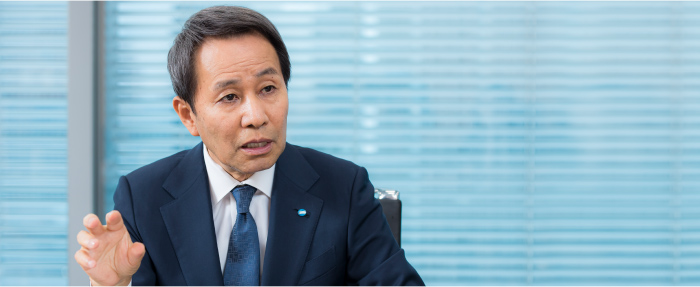 Starting to rebuild our management system
in order to accelerate the speed of executing transformations
We have set the ultimate goal of these two transformations for fiscal year 2025, but to ensure that a certain level of results have been achieved by 2022, the final fiscal year of our DX2022 medium-term business plan, we will dramatically shift our management resources such as our R&D and human resources to these growth areas. On the other hand, we recognize that our failure to increase the speed of these transformations during the previous medium-term management plan is a major issue, and will also promote drastic reforms of our management system. Therefore, over the past few months, I myself have identified issues via a thorough examination of our management system, and am currently working on restructuring the Company in a manner that can solve those issues.
One key point of management reforms is speeding up decision-making and actions via the adoption of the OODA (Observe-Orient-Decide-Act) loop. Rather than carefully planning before executing initiatives in an unpredictable business environment subject to drastic change, the OODA loop should enable us to get closer to achieving our goals by clarifying what we want to achieve, determining the best course of action based on the information at the time, and immediately taking action. In order to effectively operate this new decision-making framework, we are currently investigating a method for collecting and analyzing reports from various business sites and reviewing our framework for conducting meetings and making decisions. At the same time, we recognize that department autonomy is extremely important for speedy decision-making, and have adopted a policy of proactively delegating authority closer to business sites in the future.
Of course, efforts to further strengthen digital transformation (DX) are also essential for accelerating the two transformations. We are promoting DX from two perspectives: "Business DX", which maximizes the value provided to customers by digitally evolving businesses, and "Operational DX", which aims to improve all of our operations across the entire company. Business DX overlooks customer business processes to visualize issues that the customer themselves may not have realized, in order to derive optimal solutions together with the customer and assist business process and business model reforms. In addition to combining AI and IoT with the imaging technologies that form the basis of our strength, we plan to build a platform that will enable us to link with the technologies and services of various partners, and provide solutions to a wide range of customers. On the other hand, operational DX will involve efforts such as expanding the digital manufacturing built at our Malaysia factory to other factories, achieving high-precision forecasting by utilizing AI at SCM, and optimizing the maintenance services provided to our customers in the field.
Placing sustainability at the foundation of management strategy
to improve our medium to long-term corporate value
To formulate DX2022, we held deep discussions on what we want society to be like a decade from now in the year 2030, and what environmental/social issues we will need to solve in order to achieve that vision. As the world moves toward an autonomous distributed society that develops sustainably, we have redefined our purpose as contributing to "Support people to achieve their own purpose" and "Realize a sustainable society."
This is the stance that has been at the foundation of our management strategy since the merger between Konica and Minolta in 2003, and since being appointed President, I have focused management based on my belief that contributing to the realization of a sustainable society where everyone can live with a purpose is the only way to achieve the sustainable growth of the Company. This idea has carried over to our employees and we are seeing more and more voluntary initiatives, such as projects for solving social issues that were proposed and started by young employees. I find it extremely encouraging that we have such human resources that truly want to improve the world.
In fiscal 2020, we clarified our five material issues for contributing to solving social issues via our business activities as "Improving fulfillment in work and corporate dynamism," "Supporting healthy, high-quality living," "Ensuring social safety and security," "Addressing climate change," and "Using limited resources effectively." In regard to climate change in particular, we have worked toward long-term goals since establishing the Eco Vision 2050 long-term environment plan in 2009. In fiscal 2020, we pushed forward our timeline for achieving carbon minus status to the ambitious target of 2030. We aim to increase the amount that we can contribute to reducing CO2 emissions at client companies and business partners compared to our own CO2 emissions, by sharing our expertise and knowledge on environmental management in order to reduce the environmental impact of the entire value chain. As for material issues not related to the environment, we will continue to quantify the social and economic impact that our business activities have, and set specific KPIs to accelerate our initiatives.
Guided by our philosophy—"The Creation of New Value," we will continue to create environmental/social value and economic value via all kinds of business activities. We will also contribute to a sustainable society as a company clearly committed to solving social issues, while simultaneously improving our medium to long-term corporate value, and I hope for the continued support of all of our stakeholders.